Find Out More About One of Laura Ashley's Most Popular Prints
Every home should have a link to the past to give it heart and soul. No one understood that connection better than Laura Ashley herself, as she often looked to the Victorian era for inspiration to create rooms that felt lived in and undeniably special.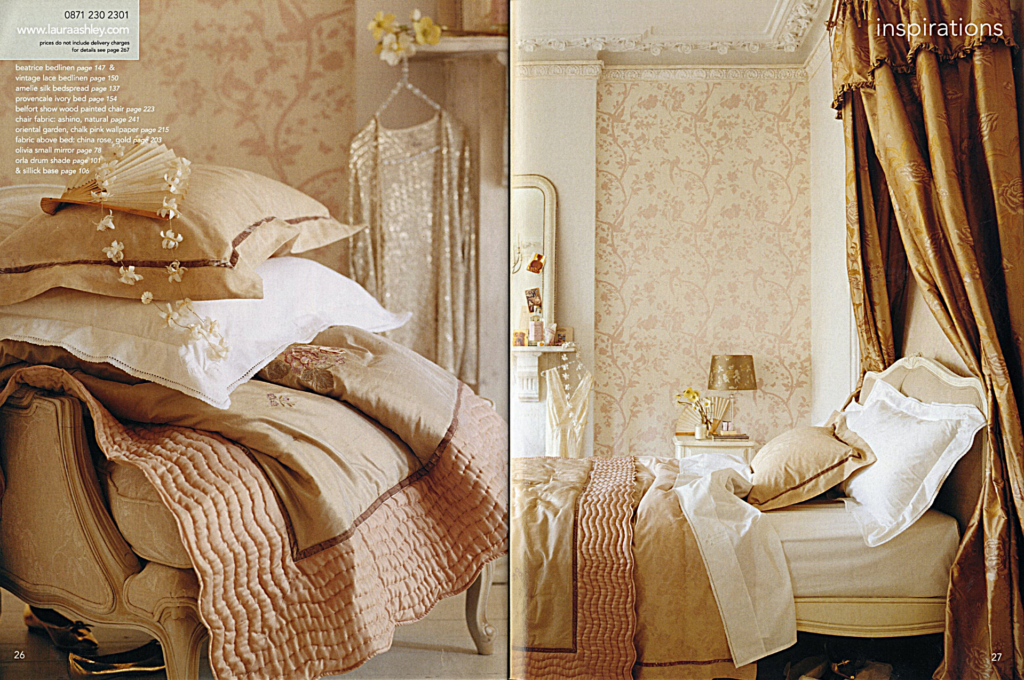 Home decor with a vintage pedigree is new again thanks to the resurgence of traditional design. Oriental Garden, one of the best-selling prints in Laura Ashley history, offers just the right amount of history that transcends design trends while still feeling fresh and modern.
Cosy enough for a country cottage but modern enough for a city apartment, the print features a nod to nature with the elegant archive depiction of beautiful silhouetted birds and butterflies in an exotic garden. Available today in three hues, Duck Egg, Off White, and Chalk Pink., Oriental Garden's of-the-moment styling feels current due to the timeless monochromatic print, making it one of the brand's best selling prints.
Oriental Garden was first introduced to the Laura Ashley Home collection in 2005 as a wallpaper. However, the design was originally inspired by another famous Laura Ashley print, Summer Palace, which has been in the line since 1988. Oriental Garden is a monochrome version of the colourful Summer Palace print, giving the design a modern edge.
The original Oriental Garden wallpaper included Duck Egg and Chalk Pink colourways in 2005 with more colours offered in 2006 and 2007, including Linen, Charcoal, Eau de Nil and Natural/Charcoal.
The success of the wallpaper print leads to Oriental Garden drapery being added in 2007 in Duck Egg, Linen and Charcoal hues.
In 2012, 2014, and 2015 Oriental Garden wallpaper was updated with a Pearlescent background in Natural/Charcoal, Natural, and White respectively. While 2015 also introduced an expanded drapery collection offered in the famous print in Duck Egg, Linen, Eau de Nil, and Voile.
What colourways of Oriental Garden would you like to see return? ? Tell us more in the comments below or by tagging Laura Ashley at @lauraashleyusa or use the hashtag #lauraashleyusa.