Whether you're kick-starting a make and do project or choosing from our new ready made curtains, learn about all of our beautiful drapery fabric!
Encompassing both archive and new season prints, our fabric collection holds a whole range of designs ready to inspire you. Whether you're a fan of our iconic prints like Summer Palace or prefer a simple stripe, there's something to suit every abode. Join us as we share the rich heritage of our fabric factory…
Located in Cummersdale, England, our factory has a heritage dating back to 1835. Being the most versatile fabric printer in the UK, we couldn't think of a better place to get our much-loved fabrics printed. Specializing in printing, dyeing and finishing high quality fabrics, our factory also offers a unique combination of traditional skills and innovative thinking.
Workers at Cummersdale have always taken tremendous pride in their work but it wasn't until the 1960s where the factory saw a big change, introducing automatic horizontal screen printing and rotary screen printing. By 1977 the traditional hand block process had been phased out.
Taking you on a tour of our fabric factory, we thought we'd give you a brief look into how it's made. Firstly, our fabric comes into the factory where it is prepared to the correct shade of white! Yes, believe it or not, there are numerous shades of white. The colour is mixed into large 25 Kg  pots which would print around 500 meters (550 yards) of cloth. There is around one pot of colour for each colour in the design… that's a lot of colour!
Our cloth is printed via the conventional rotary screen method. We're proud to say our flat bed and rotary printing machines are the biggest and most modern in the UK. Each screen represents one colour within the design.
Cloth is then put onto inspection machines where it is inspected for faults and rolled into various piece lengths before being palletized for delivery into the Laura Ashley distribution center. The inspection process remains one of the most critical; ensuring each piece of Laura Ashley fabric is picture perfect before making its way to our distribution center and eventually your homes.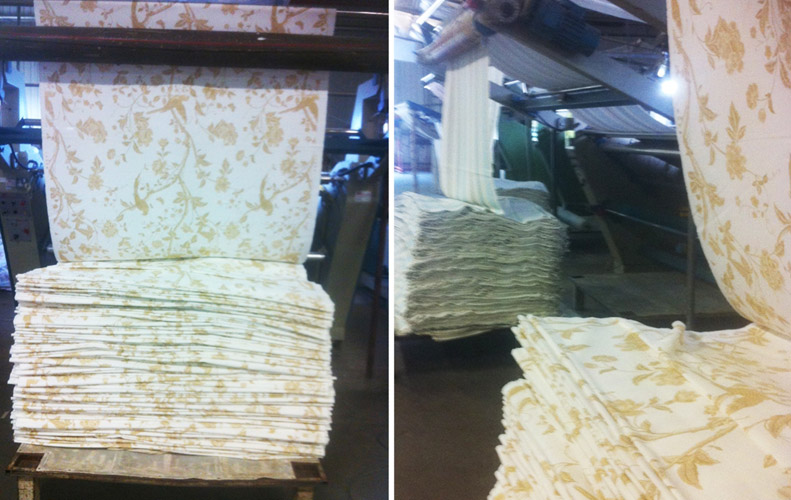 Feeling inspired like we are? Begin a refresh of your home!