Colour is a natural pick me up, powerful mood booster, and an easy way to transform your space. It doesn't matter if you are looking for restful, peaceful colours or if you want to up the energy level, there is a colour out there for you.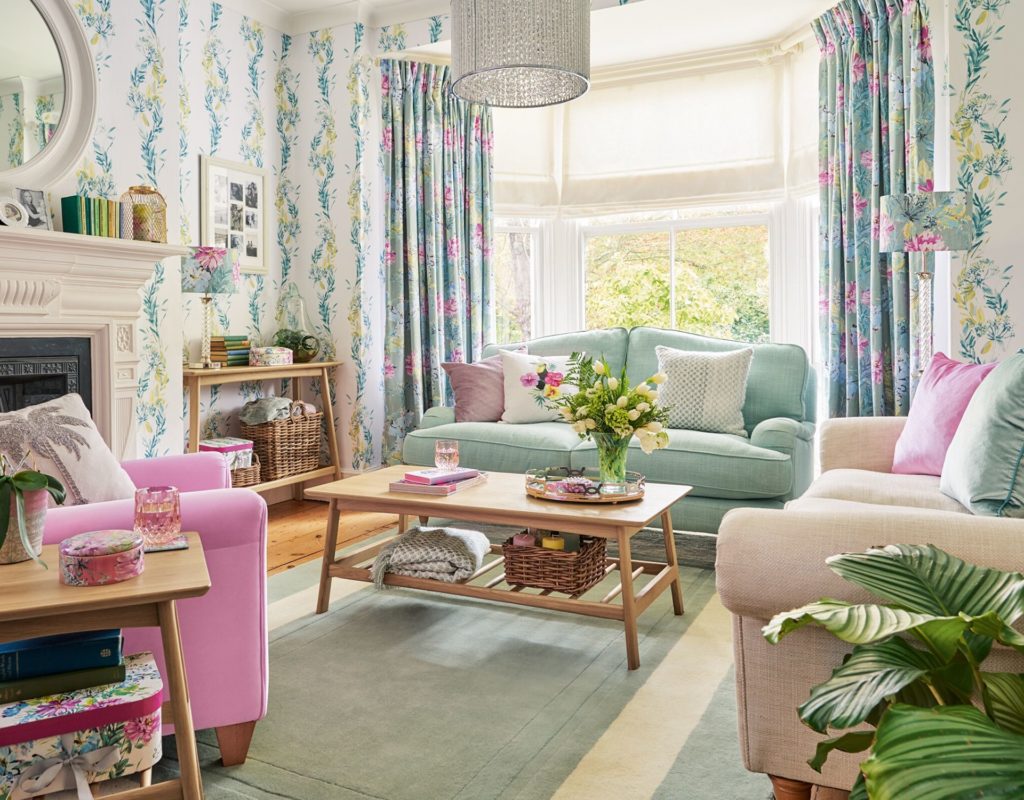 If you are wondering how and where you should jump into the world of colour, here are five tips to get you started.
We believe in the power of decorating with colour but it can be intimidating for those new to the practice. Start small by bringing in accessories, such as throws and cushions. You can easily change these out with the seasons or even when you change your mood.
Colour isn't always about choosing bold, vibrant statement. Muted hues and subtle shades are also a great way to incorporate colour into your interiors.
Powder rooms and dining rooms are great spots to experiment with rich hues, dark colours, and bold choices. The powder room is small enough to take on a statement wallpaper print without being overwhelming. We love a dining room painted or wallpapered in a colour that looks lovely by candlelight. Among our top favourites, are a soft pink or a deep midnight navy.
Having trouble choosing complementary colours? You aren't alone. An insider tip is to look at the colour wheel if you need inspiration for what colours work well together or turn to nature. Green grass and a blue sky are naturally beautiful together and will look brilliant in your home too!
Pick a palette and repeat it. Fan of classic blue and white? Use it throughout your home and pair it with pops of yellow for an unexpected punch.
Looking for more colour inspiration? Here are ideas to brighten any room with colour!

Yellow: This colour is a great choice as it coordinates with nearly every colour. A bold yellow accent cushion will brighten up a room and give it that warm pick me up. Don't be afraid to add some sunshine to the bedroom with a subtle yellow bed set to create a space where you can relax and unwind. A soft and snuggly yellow throw is also an easy way to incorporate positivity and happiness into a family room. Yellow can take you into the gold tones, which is very welcoming for an entryway or guest room.

Pink: This colour isn't just for kids . It's sophisticated and adds feminine strength to any room and also looks wonderful by candlelight. If you are going to think pink, decide if you want to go bold or want subtle accents of pink to perk up a space. A pink statement accessory such as curtains or cushions offer the perfect amount of colour to bring in that fun, feminine feeling to a bedroom. Look for different shades of pink to find your favourite tone such as floral blush duvet to keep things looking fresh in the bedroom or a bright pink print with oversized peonies.

Blue: You'll never tire of classic blue. Blue adds a hint of beauty and sophistication that every home needs. Consider adding a blue duvet cover to add that oceanic, easy-breezy feeling into the bedroom. From the kitchen to the bathroom, blue decor is always trending. You can't go wrong with a classic blue and white floral wallpaper for an effortlessly chic room.

Green: Bright or subtle, green is our go-to colour to bring nature indoors. Green gives a calming energy that can only be achieved through the harmony of nature. Choose a large scale leaf print for curtains or just a pop of green on a pretty floral wallpaper. Accent with solid green cushions or checks and stripes. The easiest way to define a space with colour and to set the tone of the room instantly is with a rug– stripes or leaf prints always do the trick to give a room a fresh look.

Let us know how you decorate with colour Laura Ashley style!