12 New wallpaper designs to get now

Whether you live down a country road, have a Victorian home in the heart of the historic district, or live in a modern penthouse in the city, we have a new wallpaper line that will fit your home's architecture.

To help you choose a wallpaper, here are ideas based on where you live.
Historic District: Wallpaper is an ideal way to highlight architectural details often seen in historic rooms. Many have formal living rooms, unique arches, and wainscoting that is calling for wallpaper with personality. A sophisticated wallpaper mural like the Talbenny Mono Wallpaper Mural adds a statement-making impact that allows a room to feel bolder and bigger. Or honour the home's history by choosing a print with a pedigree, such as the Elwyn Grape Wallpaper, which is both rustic and inviting with its beautiful leaf trellis design that takes inspiration from the Laura Ashley archives.

Waterfront: When designing your waterside home, opt for wallpaper with varying shades of blue. Blue is a light and relaxing shade that has the same energy as the river or lake. The classic tone-on-tone stripe in the Lille Matte Blue Sky Stripe Wallpaper is always a go-to for waterfront homes. If a room with a view of the dock is your cup of tea, then reach for the stunning floral Rambling Rector Sky Blue Wallpaper that feels like summertime in a wallpaper.

Country: Living in the countryside casts a wide net for carefree life filled with tall grass and wildflowers. Channel that free spirit and tap a vintage-inspired floral printed wallpaper. The Charlotte Wallpaper in either Coral Pink or Pale Gold offers sunny yellow tones or rosy pinks that meet blossoming blue sweetpeas cast amongst scrolling tendrils, making it the perfect wallpaper for a fresh country style.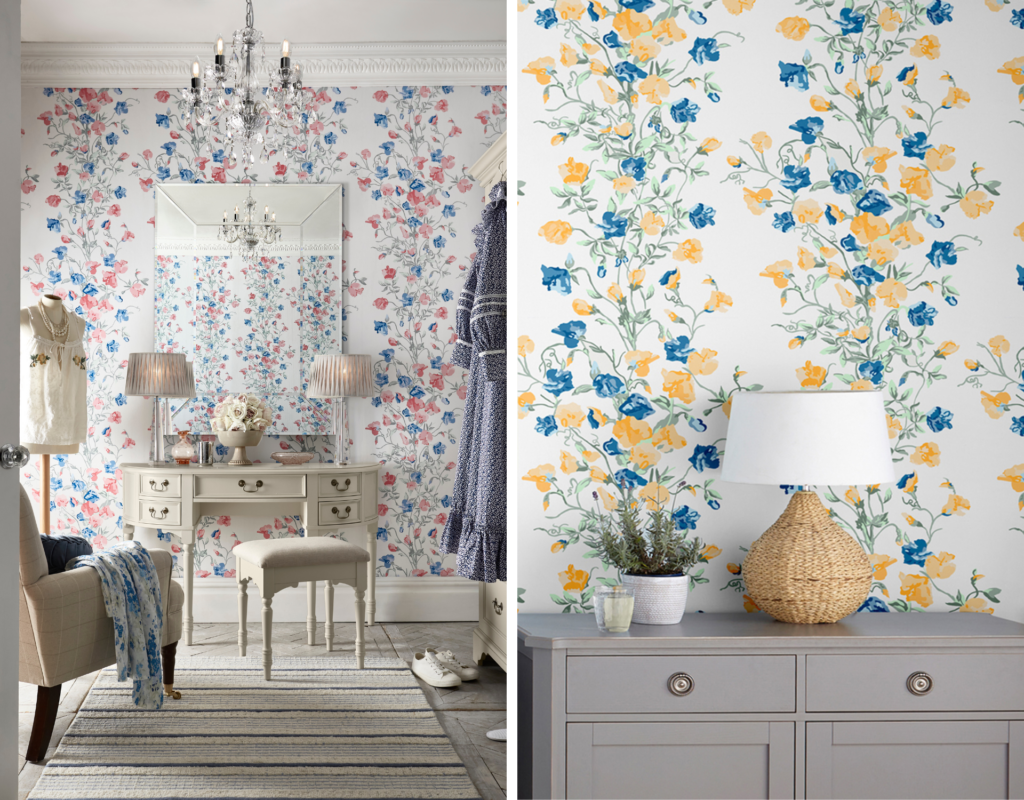 City: Some people's hearts were made for the city. The classic architecture of structured buildings is often mimicked in interior design because clean lines help combat the hustle and bustle of downtown living. Channel city-chic style by selecting our new panelled wallpaper, Redbrook Wood Panel. The unique wallpaper makes the room feel like it has wood panelling but at a fraction of the cost. Now available in Blush and Dove Grey, this wallpaper gives the room a modern edge while keeping it classic.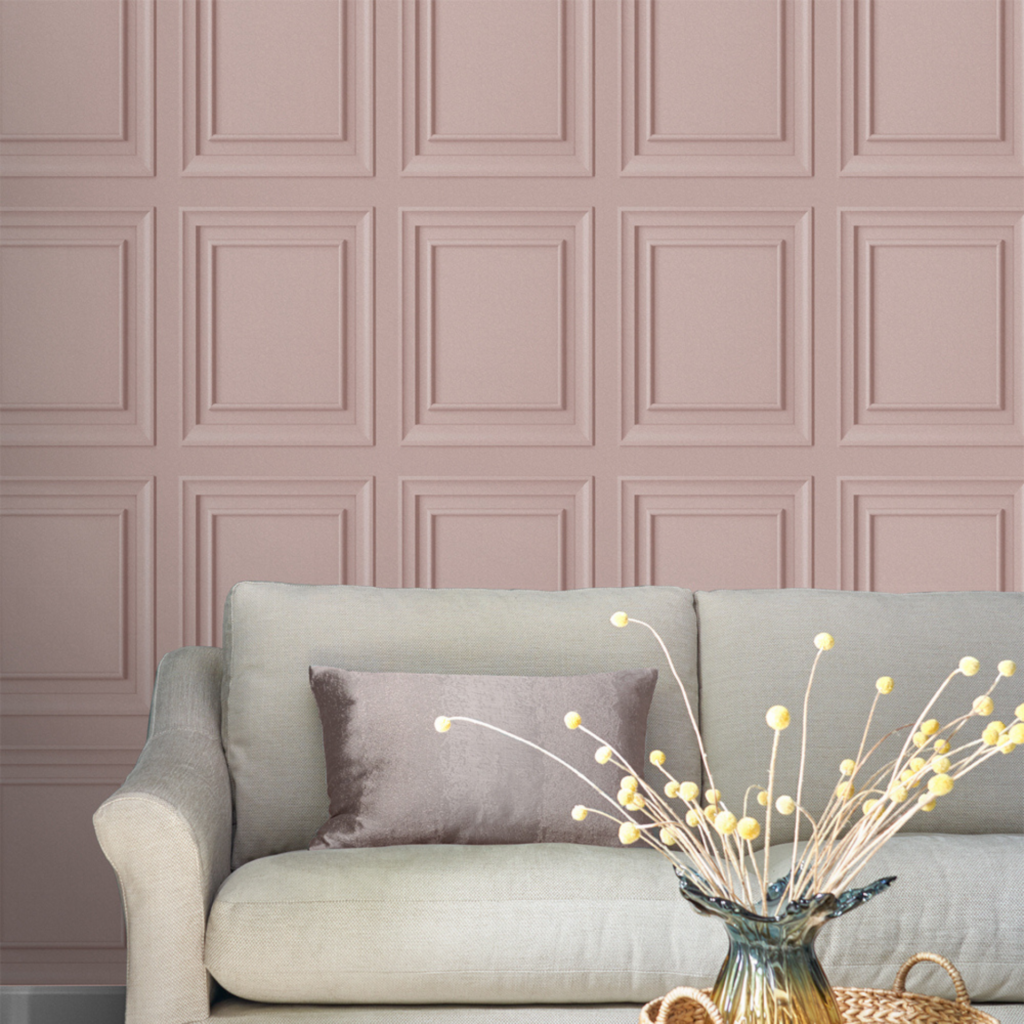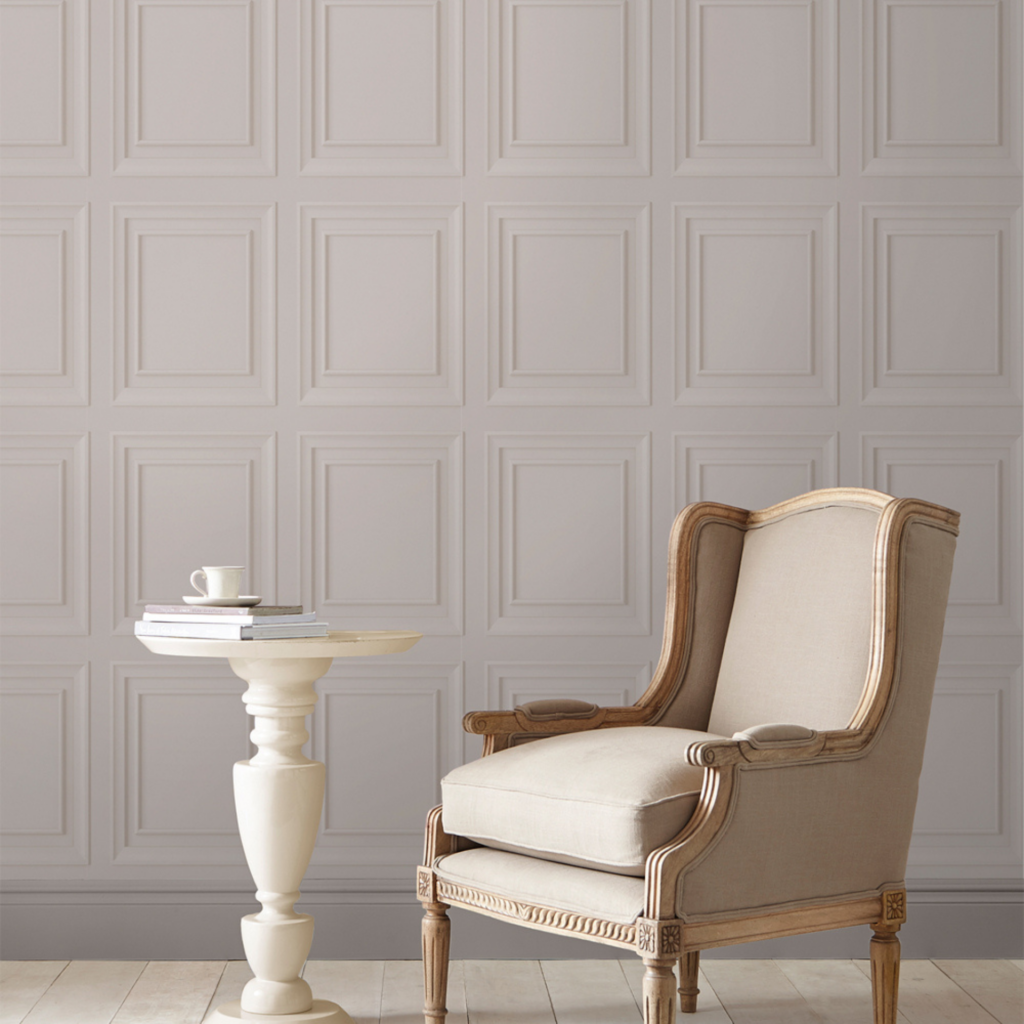 Farm: If you live on a farm or embrace farmhouse style, chances are you love to enjoy early mornings as much as afternoon sunsets on the porch. Your home should feel as warm and welcoming as the morning sun on the surrounding fields. Aviary Natural Wallpaper, with its charming birds and butterflies, is an ideal choice for farm style. The farmhouse aesthetic also embraces bringing nature indoors, which is why the understated Erwood Wallpaper, available in Pale Dove Grey or Eau de Nil, is a delightful print with intertwined leaves dancing up the walls.

Seaside: For a modern take on coastal beach decor, encourage your rooms to radiate the same coastal ambience as your environment by selecting a pattern with seaside birds and deep navy blue. The Animalia Midnight Wallpaper, which is also available in several colour palettes, features graceful cranes in flight and is a sophisticated and stylish way to bring the environment indoors without being kitschy.

TIPS ON HOW TO CHOOSE WALLPAPER
No matter where you live or what your favourite aesthetic is, here are a few simple tips on how to choose wallpaper:
Did you grow up with Laura Ashley wallpaper? We want to hear! Comment below or tag us at @lauraashleyusa or use the hashtag #lauraashleyusa.