See How Interior Designer Maggie York Transformed Her Boys' Room with Wallpaper
Known for her love of blue and white and inspiring spaces that feel as breezy as a day at the beach, Maggie York, the interior designer behind the blog and Instagram @MargaretofYork, believes that your home should be a place you never want to leave. She says, "My signature is achieving a crisp and clean aesthetic while expertly mixing pattern with texture."
Before starting your next room redo, we turned to Maggie to find out her tips to transform a room using wallpaper and her musts before you think about hanging the first roll.

In the midst of the pandemic, I was finally able to start catching up on some of my own home projects. I knew my boy's bedrooms needed some extra attention. My 9-year-old and 6-year-old were sharing a room and my 4-year-old had his own. It was time for Henry, my 9-year-old to get his own room and Tal (6) and Wells (4) were excited to share a new room together. I wanted this to be exciting for all of the boys so I thought it was the perfect time to make some changes to the spaces.


I wanted to start with the walls. I am a huge fan of wallpaper. I love how it instantly transforms a room. Every time I walk into a wallpapered space I am instantly happier. It just adds so much character! I have been a fan of Laura Ashley all of my life so I was thrilled to be able to select one of their beautiful wallpapers for my boy's shared room! I am a lover of stripes, especially blue and white and the classic stripes on the Heacham Stripe work well in any style of home both horizontally or vertically.
1: When selecting wallpaper for a space it is important to consider the style of the room you are decorating. In this case, I thought of three words to describe the feel I wanted for the room. Casual, Timeless, and Playful. My instant thought was a classic stripe, and it definitely fit into all three categories! I also knew I wanted to wallpaper their entire room so I needed to figure out the correct amount to order.


2: Determining the amount of wallpaper needed is key! I always use a wallpaper calculator and then I order 1 roll more than needed in order to ensure that all the rolls come from the same batch!
3: Dye lots can vary so it is better to be prepared and have backup from the same batch just in case!


4: It is also very important to make sure your walls are smooth for your installer. If your walls have texture on them you will need to have them skim coated in order to provide a smooth surface. Your installer may be able to do that for you too! In our case the walls were smooth so no added prep was necessary!
My boys were thrilled when they saw the paper on the walls. It was an instant transformation! The perfect backdrop for their space! I love walking into their new shared space and seeing how happy they are with it!


Blue and white aren't just for the walls. To complement the Heacham Striped Wallpaper, Maggie recommends these Laura Ashley accessories and decor.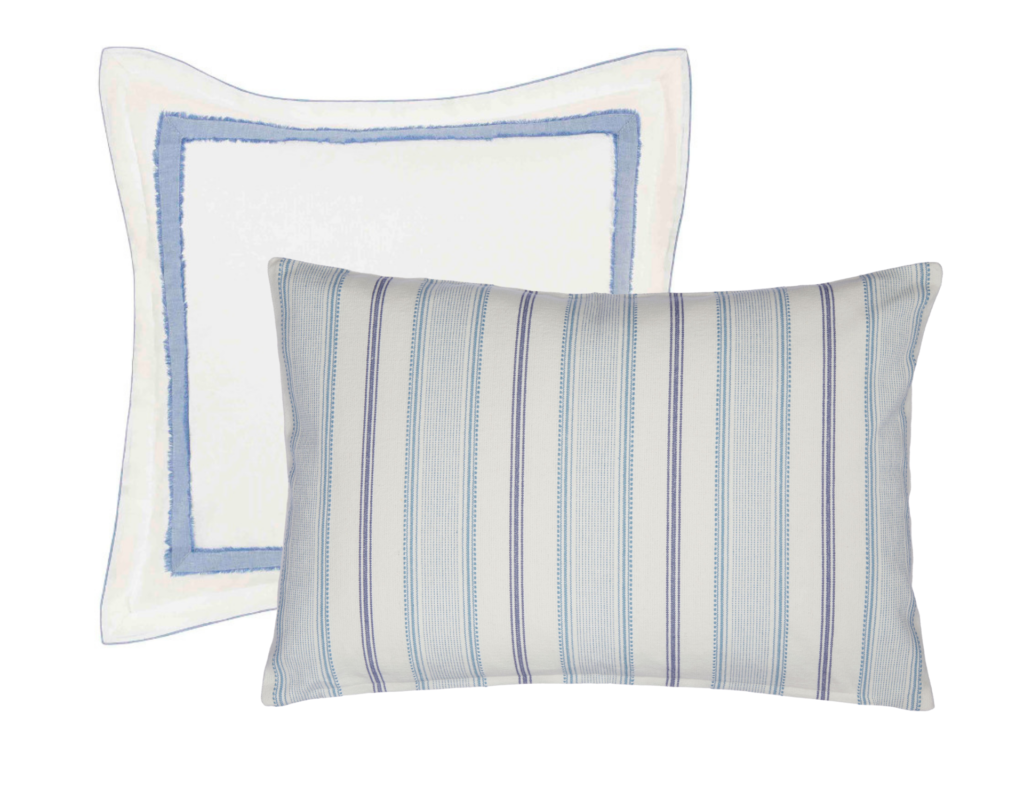 "Use the coordinating Heacham Stripe Cushion to put across the front of the Mila Blue European Sham," says Maggie. If you like more pillows for the bed and love to layer, the Liana Chambray Throw Pillow is her top choice.
For a personal touch, add framed photos. Maggie says, "Love these frames for a bedside table."
Do you love the Heacham Stripe Dark Seaspray Wallpaper used in Maggie's boys' room? We have a collection of Heacham fabric, wallpaper, and cushions in several different colours. Stripes are timeless and a great wallpaper choice if you want to play it safe or need a print that mixes and matches well with other styles. Be sure to check out our other stripe wallpaper options.