We are thrilled to introduce you to Gemma Doney, who will be sharing her renovation successes as she converts a nearly 200 year old house in Lincolnshire room by room with her family.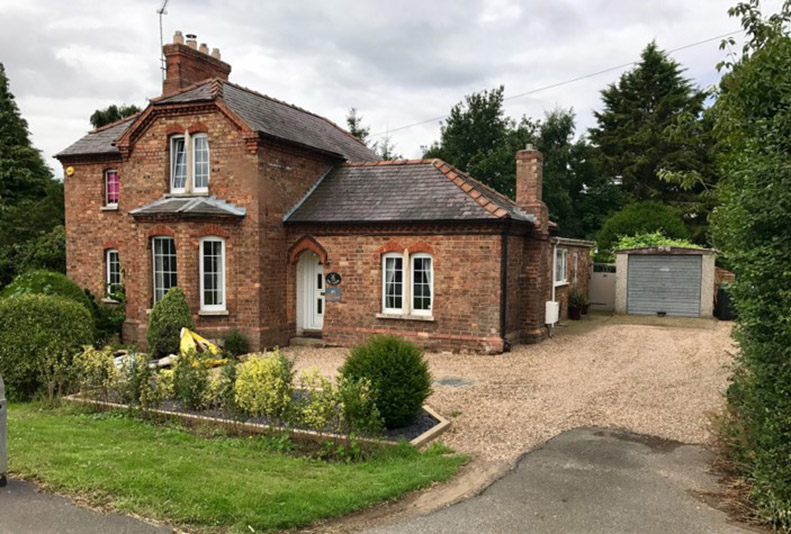 We are a family of four – me (Gemma), my fiancé, our daughter and our beagle pup. In July 2016, we took a leap of faith and sold our newly built three bedroom semi-detached house and bought "Mill House" – a four bedroom, detached, 200 year old house with the remains of an old flour mill in the garden.  Despite the woodworm, flooded cellar, crumbling internal plaster and dated décor, we were in love. Mill House was everything we wished for our little family and more, or at least it would be in time…and so our interior design journey began. What followed was a massive renovation project as we uncovered each layer (literally) of history.
For me, it's the little details that make our house a home.  As much as I appreciate simple, white interiors, I love nothing more than a room with splashes of colour, pictures on the walls, ornaments strategically placed and home accessories dotted about.  I think it's safe to say that I am a huge Laura Ashley fan and most definitely home interiors obsessed. I can often be found creating mood boards and dreaming about the design of my home. I find that researching and deciding on a colour scheme and accessories is often just as enjoyable as decorating the room itself and watching that vision come to life.
We still have a lot of work to do but within a year we have renovated our guest room, daughter's bedroom, living room and my home office – three of these rooms were stripped completely back to brick including all walls and the ceiling, then re-insulated and fully plastered. Each room was decorated using Laura Ashley wallpaper to create feature walls and styled using a different range of home accessories throughout.  I love the colour pop of the feature walls in each room and this is emphasized by the sheer quality of the wallpaper. In our previous home, we purchased many different brands of wallpaper and rarely did the pattern have an exact match- whereas throughout the 12+ rolls of Laura Ashley wallpaper that I have used so far, each strip has matched up perfectly from floor to ceiling creating a perfect finish and focal point on each room.
Before and After Photos:
Daughter's Room
Spare Room
Living Room
The rooms we have left to renovate are the main bedroom, hallways, utility room, kitchen, bathroom, wet room and playroom/family room so stay tuned for my next update!
Don't miss out on the Laura Ashley wallpaper sale – 30% OFF extended for a limited time!