How to Match Sleepwear to Their Sleep Style
There is no secret that kids need sleep, but finding the right pajamas that match your little one's sleep style can be tricky, especially as the weather warms. If you are confused about which pajamas are right for your littles, you are not alone, and we want to help.
Knowing how important sleep is for growing kids, we have created a super-soft and comfortable sleepwear collection focused on sleep style and fit. To help you decide which is the best option for your child, we've rounded up the best summer-time pajamas for infants and toddlers.
Best Fit for Toddlers: Getting the best-fitting pajamas is the key to a good night's sleep. The fit should be snug and not tight. Even if you are tempted to size up since they are growing, be careful because you don't want infants and toddlers to be in pajamas that are too loose.
Best Warm Weather PJs: If your baby is waking up flush, they are too hot, which can mean a restless night's sleep for everyone. Help keep them at the perfect temperature when the summer heats up with a short sleeve two-piece set.
Best Footie Pajamas: If your home tends to cool down a bit at night, footie pajamas are a great way to keep toddlers warm. For summer nights, resist putting them in hot flannel pajamas and choose cotton PJs but with cosy and secure feet. Our Newborn Seaside Sleep & Play comes in a two-pack so the best footie pajamas are always on hand.
Best Two-Piece PJ Sets: This style is one of our most popular two-piece pajama sets for little ones. Perfect for warmer weather, this pajama set will help them drift off to dreamland.
Best Zippered PJs: If your little ones still need a nighttime diaper change, look for pajamas with a zipper to make changing them a breeze so they can get back to bed quickly. Irresistibly snuggly, our Newborn Cars Sleep & Play PJs come with two pajamas that have an auto-theme. Ideal for little ones obsessed with cars, the cosy pajamas also feature a convenient front zipper.
Best Pajamas for Girls: Go girly with this pajama set featuring blooming hydrangeas in shades of pink. Adorable and comfortable for summer nights, this set gets extra nods since it is made out of super soft 100% cotton.
Best PJ Set: The Newborn Boats Sleep and Play comes in a two-pack. Let your baby dream big in our cloud theme pajamas or set sail to sleepy time in our anchor theme PJs. The zippered front also makes diaper changes at night simple while the footie PJs will make your little one stay comfortably cosy during summer nights.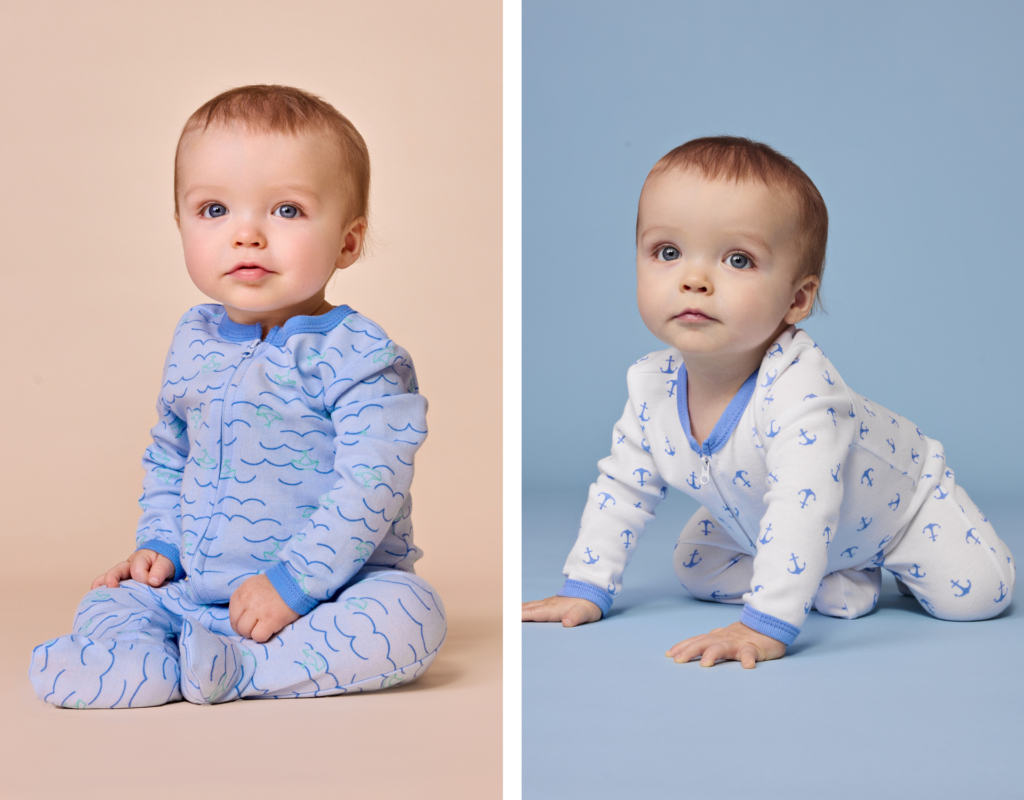 Setting the stage for a good night's sleep doesn't stop at the right pajamas: Make sure your little one is as snug as a bug in a rug by also having a nightly routine that signals that it is time for bed. Parents for generations love a pre-bed bathtime routine with bubble bath, shampoo, and lotion infused with soothing ingredients to help induce sleep.
Do you have any infant sleep tips that have worked for you? Share by commenting below or by tagging us @lauraashleyusa or using the hashtag #lauraashleyusa.