How to choose wallpaper plus easy tips for hanging wall murals
New eye-popping wallpaper designs and timeless wall murals have us swooning. Fit for a maximalist, the large-scale scenes in murals add drama, sophistication and whimsy, which is why the appeal of a wall mural has seen a resurgence in popularity over the last couple of years.
Whether you want to try a bold, big mural or stick to traditional wallpaper, our new wallpaper mural collection and coordinating repeating wallpaper prints will create a room with just the right amount of drama and depth.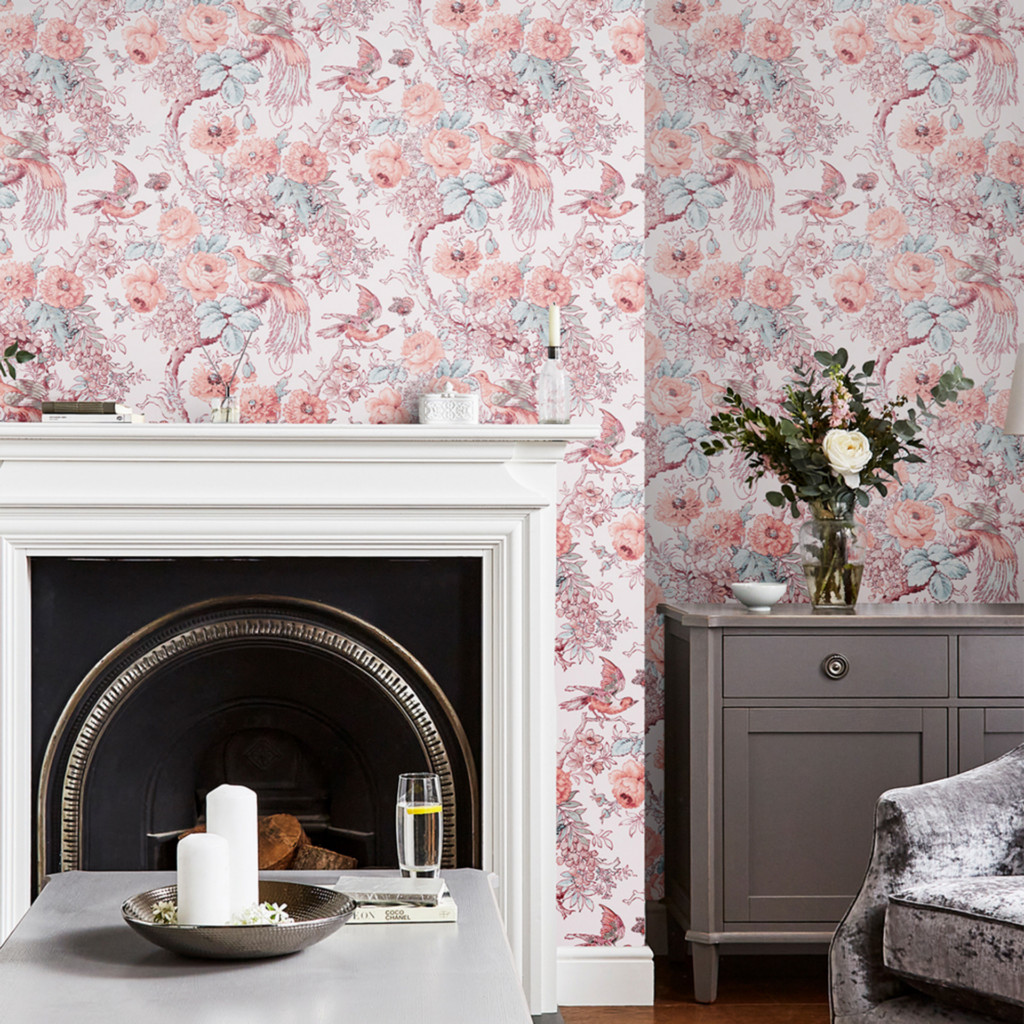 Here are our easy ideas to help you choose a wallpaper that will personalize each room in your home. To take the guesswork out of installing wallpaper, we have also included simple tips on how to hang murals.

Give small rooms big decorating ideas: Scene-stealing wallpapers and wall murals are a simple way to add personality to your interior design, especially in rooms lacking architectural details such as bedrooms and baths. Choose colourful, optimistic floral prints to bring the outdoors in and add a pop of colour. Aveline Rose is a classic English garden floral print straight from our archives. For a modern take on the romantic floral print, choose the Aveline Rose Wallpaper Mural with oversized blown-up roses and convolvulus, which would look great in a nursery too.
It's okay to love formal spaces: Design is highly personal. Don't always worry about what the trends are, timeless spaces that speak to you will make you happy for years to come. For those who love formal living rooms, dining rooms, and bedrooms, choose prints that err on the side of sophistication. Our new Belvedere Pale Seaspray Mural is full of glamour and the perfect choice to create a stunning environment. If a mural is too bold, choose a classically ornate print like the Belvedere Pale Iris. The repeating pattern with elegant peacocks prancing among timeless florals is ready for formal rooms.
Fill rooms full of wonder: Whimsical designs are having a moment. After the challenges of the last couple of years, many of us reenvisioned how our homes should feel. Ushering in joy with designs that feel light and carefree top the list of changes that people are making to their homes. Our iconic archive print Summer Palace got a magical makeover in a new wallpaper mural with birds ready to take flight and blooms that feel like they are opening before your very eyes. For a more traditional take, try our repeating wallpaper in the same print but scaled down.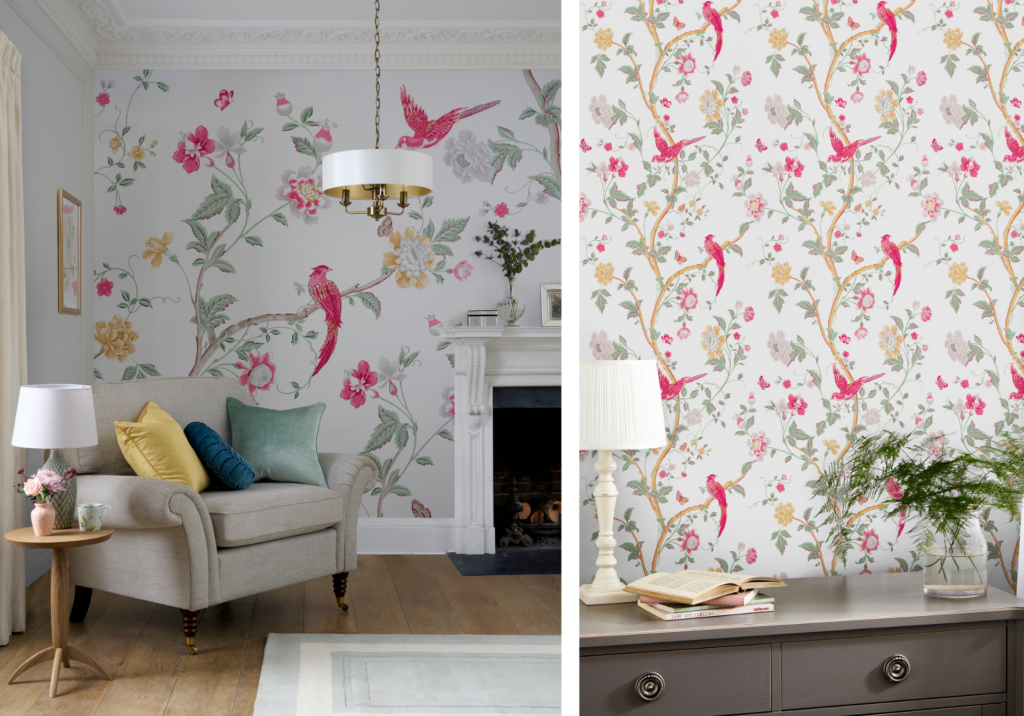 Treat wallpaper like art: There is no need to buy additional art when the sumptuous designs and high-quality wallpapers make our new line feel like a piece of art in itself. Our mesmerizing Birtle Blush Wallpaper Mural, which was taken directly from our famed archives, is an ideal choice for an exotic feature wall. If you want to wrap an entire room in a repeating print, our Birtle Blush Wallpaper packs personality but in hushed subtle shades that are as feminine and romantic as it gets.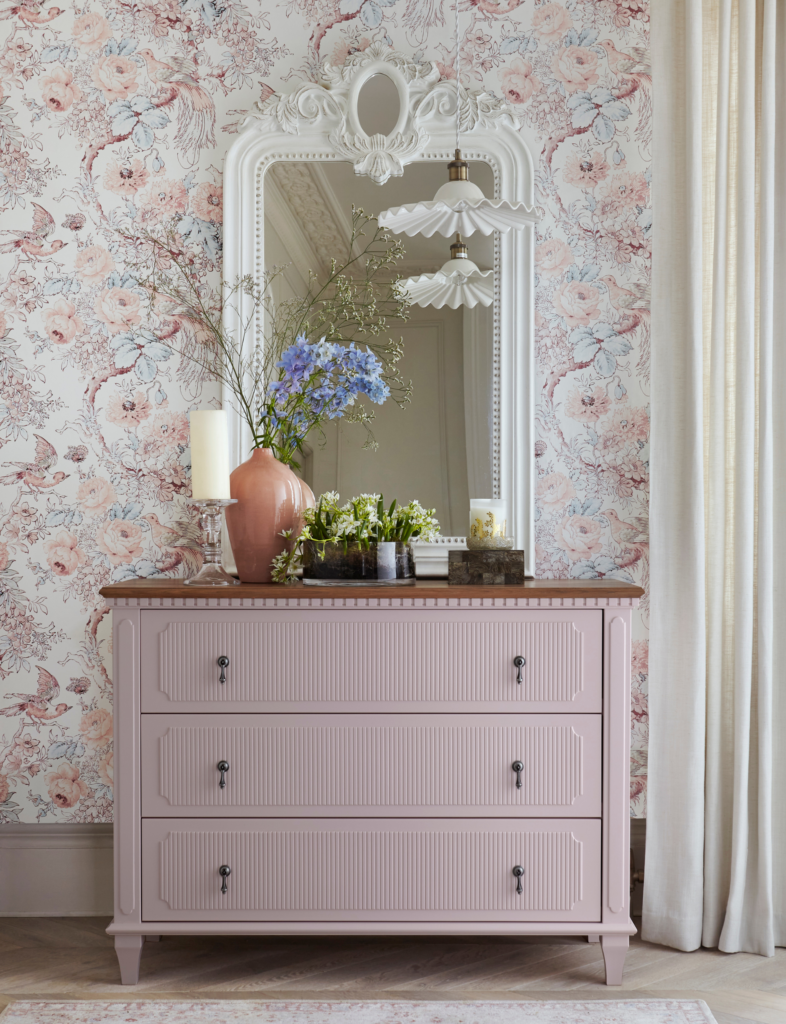 Add instant drama with bold blooms: If you want a wallpaper that can hold its own, now is the time to embrace larger-than-life wall murals or wallpapers that are blooming with florals. Visually striking murals are the way to go if you want to go big with our new Rosemore Grape Wallpaper Mural. This wall mural adds charismatic country charm to any room. A slightly different print, Hepworth also features florals in purple and green hues that give this repeating pattern the same romantic floral charm.
How do you install wallpaper wall murals?
If you are worried about installing wallpaper or wall murals, our new paste-the-wall technology is DIY and designer-approved.

Choose quality wallpaper that is easy to install and remove. Wallpapers have come a long way. Our innovative paste-the-wall application makes our newest collection easy to stick on the wall and simple to remove when you are ready for a change.
Laura Ashley murals come on one roll with 6 referenced panels. Each panel is labeled and easy to hang. Carefully unwrap and cut off the instructions that are included at the end of the roll.
What are the tools you will need
Wall Filler
Stanley Knife
Scissors
Wallpaper Paste
Plumb Line
Scraper
Tape Measure
Sand Paper
Brush
Smoother
How to prepare your walls
Fill and sand any imperfections on your wall.
Clean the wall with detergent or sugar soap.
How to line up and paste
Measure 48cm out from your starting point and use a plumb line to draw a vertical line. This gives you a straight edge to line the right hand edge of your first panel.
Mix paste according to manufacturers' instructions then apply your paste the wall paste on the first section of your wall.
TOP TIP: Your mural comes in sections, we recommend cutting each piece as you go. This way you can't get the panels mixed up. Hang your first drop with the right-hand edge aligned to your plumb line working from left to right.
When you are happy with the position, smooth down and trim the excess.
Continue to cut and paste each section as you go.
Spongeable
The adhesive may be wiped gently from the face of the wallcovering with a damp cloth at the time of hanging.
Wall murals have a rich history and have been used in homes for hundreds of years. It's time to try it in your home. Tell us what room in your house would look great with a mural. Comment below or tag us at @lauraashleyusa or #lauraashleyusa.