If you are shopping for a great holiday outfit or you are starting to think about what to wear on New Year's Eve, we've rounded up our favourite dresses that will be just right for the occasion. Velvet, saturated colours, checks and colour blocking are perfect for winter parties and will get you through the season looking effortlessly chic in figure-flattering silhouettes.
But what do you do if you have a mini-me that needs to be outfitted too? We've taken the guesswork out of it and paired each fabulous frock with a coordinating party dress for your favourite little girl. Not everyone wants to wear a mummy and me matching outfit, even though you know how much we love that, so this shopping guide is for the mum who wants their little one to coordinate and complement her look!
1. Combine the colours of the season. This rich evergreen Pinafore, in a luxuriously soft velvet finish, is a gorgeous addition to any wardrobe. Need to dress it down? Pair it with a blouse and tights for a more casual look. Your little one will be party-perfect standing next to you in this sleeveless red bodice dress with a shimmering tartan plaid skirt.
2. Check, please! Featuring a classic navy check, this Tunic Dress is an effortlessly stylish look for more casual get-togethers. It's also a great go-to if you need to go straight from the office to a holiday event. The tunic style is so flattering and leaves a little extra room so you don't have to worry if you have an extra holiday treat. Little girls always want to dress like mummy, so give them a plaid dress of their own but in a complementary burgundy plaid with a sweet bow detail at the waist.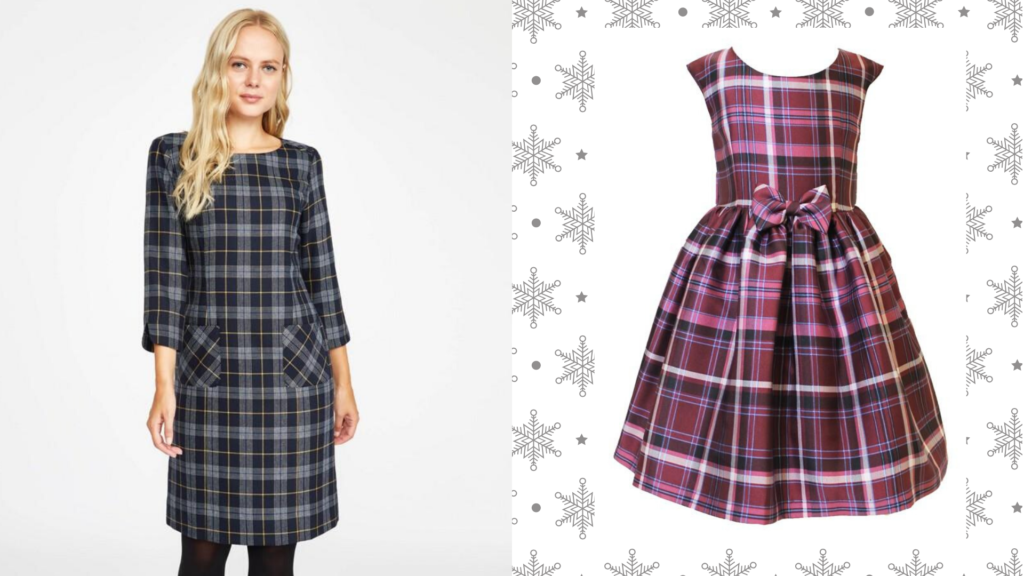 3. Channel the '60's. Go for a timeless and effortlessly stylish dress with a bardot neck to frame your face just like Megan Markle likes to do when she wants to stand out in a crowd. It is sure to become a favourite in your wardrobe thanks to the three-quarter sleeves and flattering design. Your mini-me will feel special in her own black and white check toddler dress with…wait for it…. bell sleeves. The pink flower detail at the waist just makes it that much better!
4. Be the light. Lively mustard yellow will be sure to bring sunshine to any soiree, especially on a cold day. The classic cord dress is a statement in style and can be paired with a simple turtle neck or blouse for a sophisticated but comfortable look. What little girl can resist a party dress with all-over gold dots? The answer? None. They will feel festive, special, and comfortable with the dress' full, tiered skirt.
5. Embrace effortless style. Our Evergreen/Black bardot neck color-blocked dress features three-quarter sleeves makes going out on a cold night so much easier. Plus this flattering design is perfectly versatile to go from office to evening with ease. Your toddler will be free to move around the party with you in this empire waist, traditional red plaid dress with a ruffle neckline and flutter sleeves.