Shop our new glassware and dinnerware for a refined rustic look

Your next dinner party just got a chic new twist with our new Laura Ashley dinnerware and glassware collection.

Designed to feel unique with an organic, handmade artisan look mixed with sophisticated and refined details, the two new dinnerware collections and glassware range are a beautiful addition to any table setting. The vision for this collection was to create special dishes that make everyday meals and gatherings unforgettable.

The new handmade Belvedere plate collection is designed with one of Laura Ashley's most iconic prints and features the signature sophisticated peacock mixed with other natural and floral elements. The highly stylised plates are designed to mix and match and feel collected over time for a look that is quintessentially English.

If you want to take your table decor to the next level, look no further than our Artisan range of dishes, bowls, mugs and serving bowls. The unique combination of the milky-white glaze and organic shapes mixed with the simple but sophisticated details and subtle floral design make this collection timeless.

Our just-launched glassware collection is mouth-blown, which gives each glass a unique, one-of-a-kind look that will make guests feel special as they sip out of the balloon glasses, champagne flutes, and red and white wine glasses. A touch of traditional mixed with a nod to the Victorian era, the new glassware and water pitcher include fine details and unique flower-shaped silhouettes that are not only graceful but also stylish.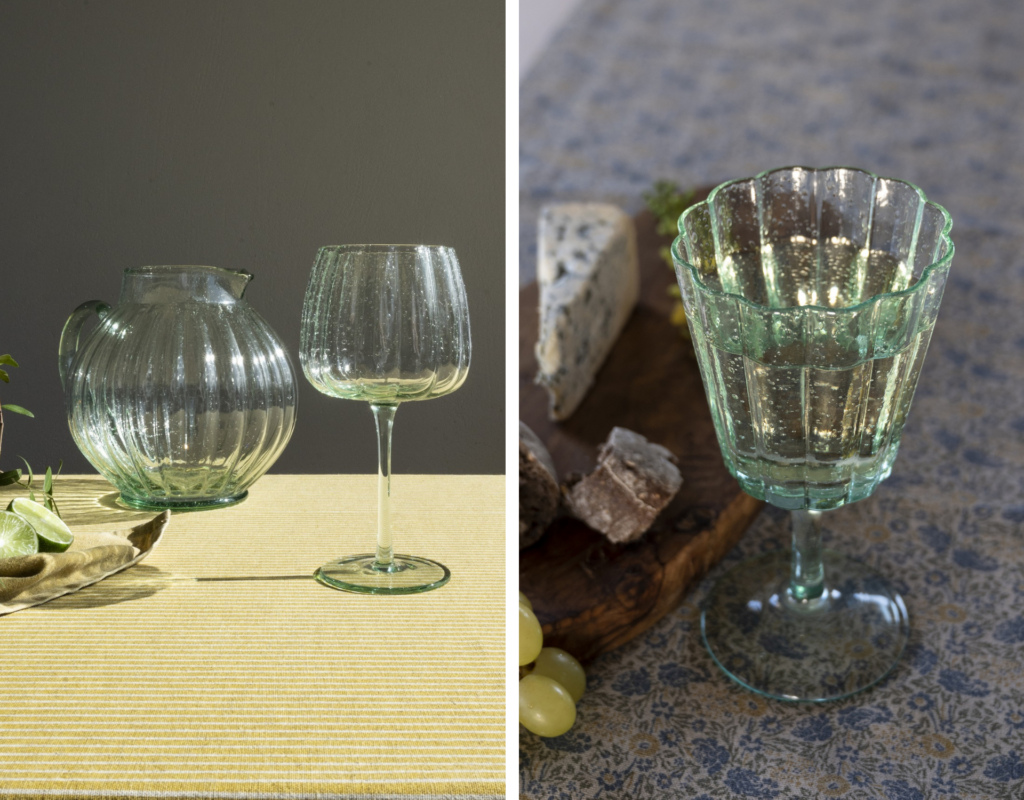 So invite your friends over for dinner or enjoy a cup of tea in the morning. It's time to make every meal feel special. For your next gathering, here are our no-fail tips for a fun dinner party:

1 – Start with a tablecloth: When hosting a party, start with a clean and clutter-free table and add a tablecloth to create a lovely backdrop for your beautiful floral dishes and stemware. Go all in on florals and mix prints for a maximalist look that feels collected over time or pair floral print plates with a solid or stripe tablecloth for a more subtle, sophisticated tablescape.
2 – Next, consider the colour scheme of your table setting: Begin with the intention that every meal should be memorable. The Laura Ashley dinnerware collection includes a variety of floral designs, so choose a colour that complements the flowers on the dishes. Soft pinks, blues, and greens are perfect for a spring or summer table setting or choose deeper, rich colours for fall and winter.
3 – Impress guests with your table setting: Make your table as unique as you are by mixing and matching the Laura Ashley dinnerware collection to create a unique and personalised look. Use different patterns and colours to add interest and depth to your table setting.
4 – Plan for plenty of plates: Whether you are planning for multiple courses or serving just one dish, decide what plates you need for a seamless guest experience, from appetizers to dinners to desserts. Our new dinnerware collection includes a full range of dishes, including dinner plates, luncheon plates, salad plates, appetizer plates, serving bowls, deep plates, and mugs so you can find what you need for your event.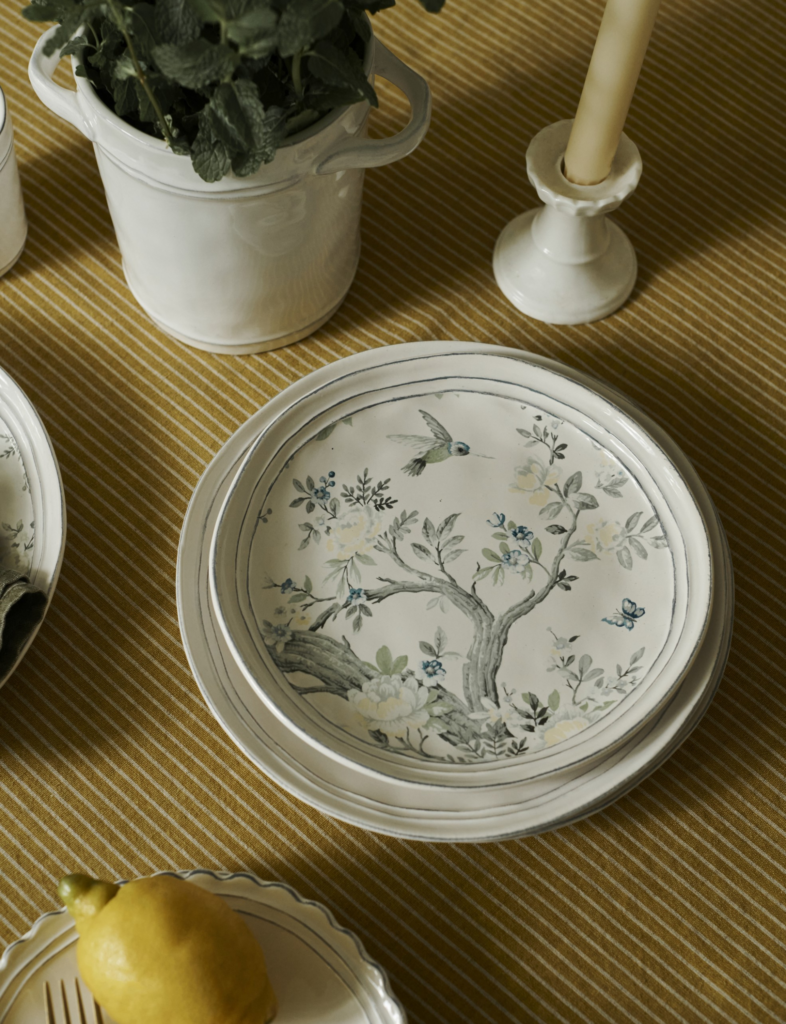 5 – Add glassware to your table setting: Glassware elevates the look of your table and creates a more elegant atmosphere. Keep a variety of drink options available, including alcoholic and non-alcoholic beverages, and be sure to have the appropriate glasses for water or wine on your table.
6 – Think about the details that make it special: Create a welcoming atmosphere by having a music playlist ready to go, soft lighting, and simple greenery for a centrepiece, and plan the seating arrangement before guests arrive by assigning guests with similar interests or backgrounds to encourage conversation. Small details like tying the napkin and silverware with twine and placing it on a dish at each place setting or selecting dishes with special details, such as our scallop edge dishes, are a way to make each place setting stand out.
7 – Have a plan for serving dinner: Whether you're serving buffet-style or plated, have several deep dishes and bowls available. They offer the ideal serving dishes for everything from salads to pasta.
8 – Remember to have water close by: No dinner party should be complete without a water pitcher and water glasses. Good food and lots of conversation can make guests thirsty. A water pitcher nearby lets guests easily refill their water glasses if needed. Our new glassware and water pitcher come in clear or green, which can mix and match for an eclectic look.
With these tips and the beautiful new Laura Ashley dinnerware collection, you're sure to host a memorable and elegant dinner party. Happy entertaining!
Tell us about your favourite entertaining tips. Comment below. We would love to see your next picnic, dinner party, or brunch. Be sure to tag us at @lauraashleyusa or use the hashtag #lauraashleyusa.