Get a first look at our new line of Laura Ashley X LowTides beach essentials and best sellers

To say we are excited for summer is an understatement. If you are like us and can't wait for warm weather, time on the water, and relaxing by the sea, you must know about our amazing line of beach chairs and beach towels in collaboration with LowTides Ocean Products.

Our first collaboration was such a success that we decided to expand the collection to offer a wider range of beach chairs, and we even included a beach chair designed specifically for little ones.
Dune High Beach Chair: Beach gear must be easy to use and have all the special features to keep you worry-free while your toes are in the sand. The Dune High Beach Chairs hit all the marks.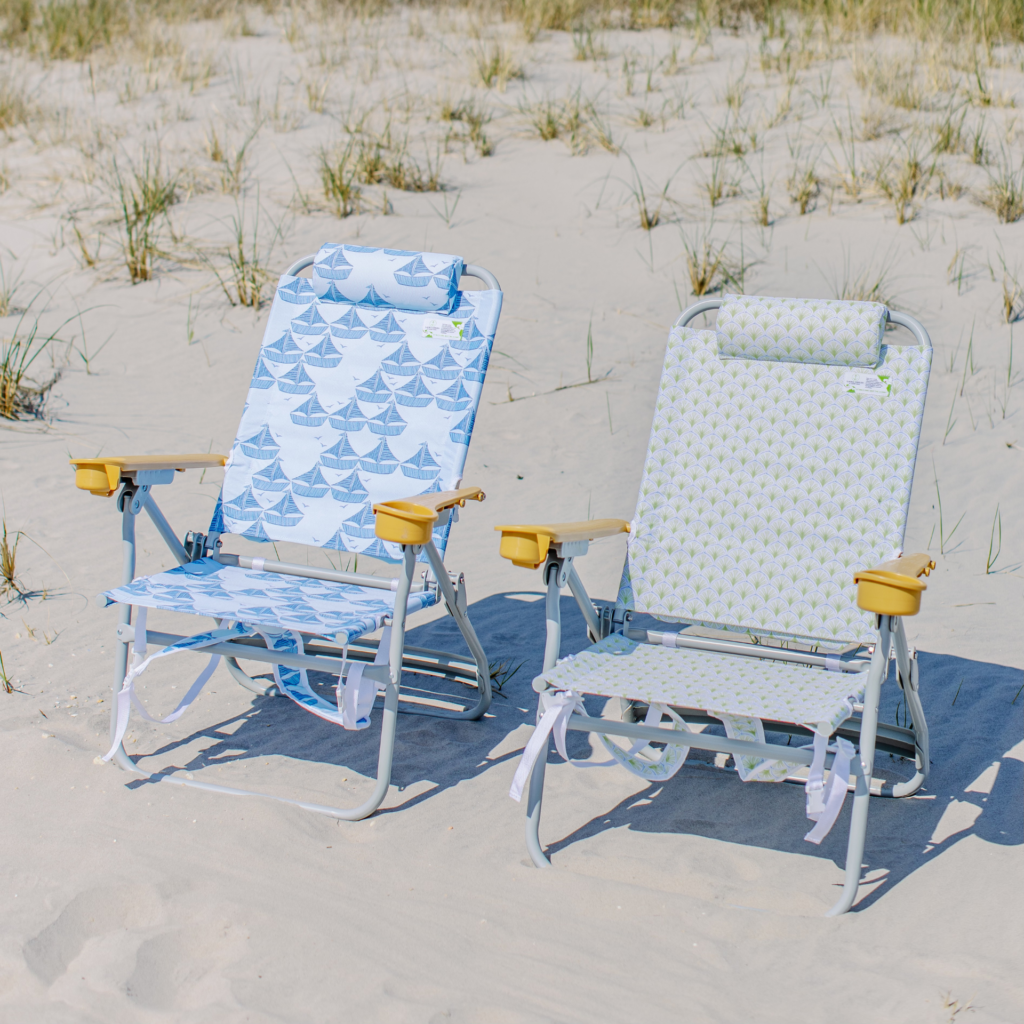 Between the backpack straps for easy carrying, easy fold technology, XL cup holders, and pouches for plenty of storage, the Dune High Beach Chair also has five reclining positions and a comfortable headrest perfect for relaxing at the beach. It sits 15 inches from the sand, making it ideal for those who like to sit a little higher than traditional low beach chairs.

Two fresh prints this season include Palmetto, an archival geometric print first launched in 1986, now in seaworthy green and blue hues, and Sailboats, a playful sailboat print in classic blue and white. Built with upcycled ocean-bound plastics, the Dune High Beach Chair is also lightweight and made with REPREVE, a water and stain-resistant fabric made from 100% recycled materials.

Water Resistant Multipurpose Beachpac: Be beach-to-brunch ready with our new and innovative Multipurpose Beachpac. Wear it as a crossbody or waist pack for a hands-free tote to carry to the beach or to dine out, and while you are at the beach, our Beachpac connects to the Dune High or Sandbar Low Beach Chairs for easy access all day long.

Made from 100% REPREVE material and thoughtfully designed with water sealant zippers and magnetic closers, keep your valuables dry, safe, and sand free in any of the four pockets.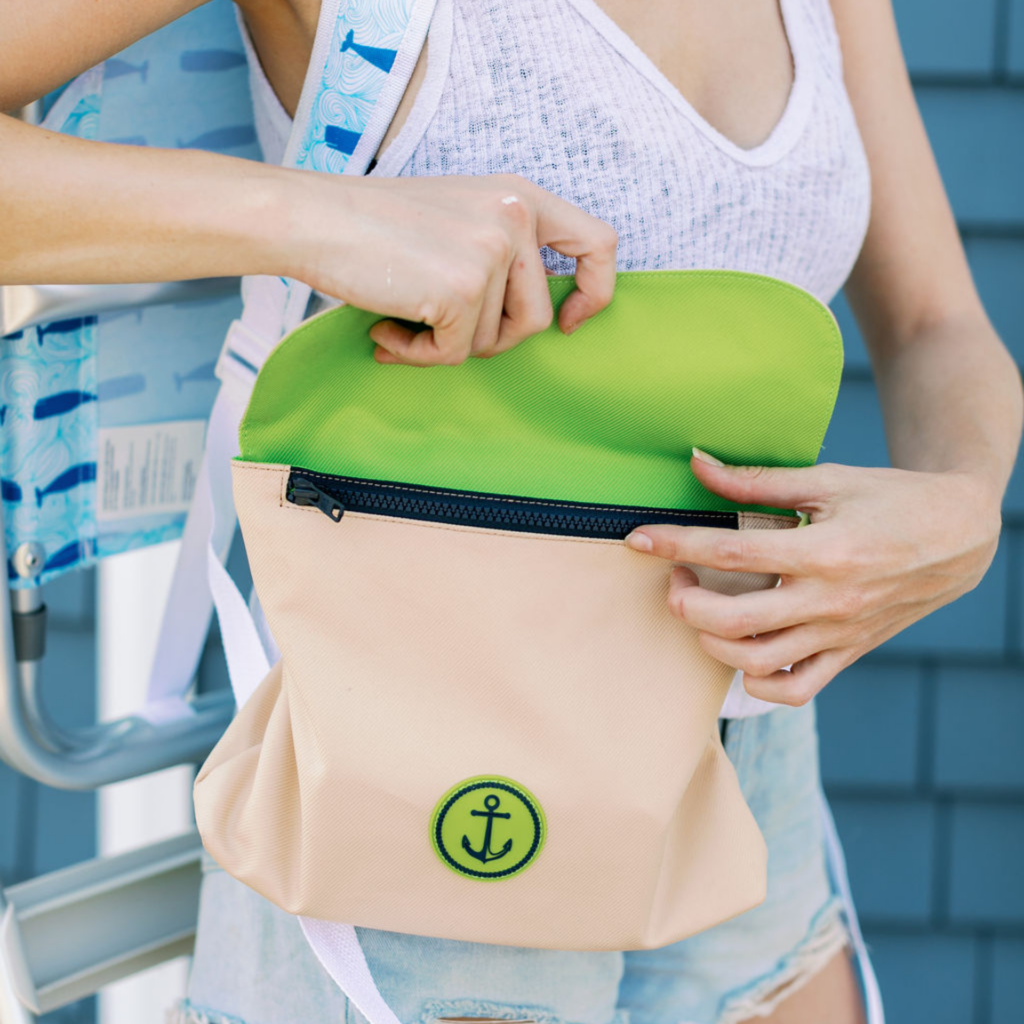 Sandbar Low Beach Chair: Meet your new favourite chair – the Sandbar Low Beach Chair. Lounging on the beach just got more comfortable with this beach chair that sits just 10 inches above the sand.

We are delighted to offer beach chairs made from upcycled ocean-bound plastics but also to give you all the features you want in an outdoor chair, from easy fold technology, backpack straps for easy carrying, and five reclining positions to XL cup holders and a comfortable headrest perfect for relaxing. It even has a built-in bottle opener, a smartphone slot to keep your phone out of the sand, and extra pouches for your beach essentials and sunscreen.
Sea Turtle Child Beach Chair: Kids love having their own beach chair. The Sea Turtle is an exclusive Laura Ashley print and helps celebrate clean oceans while offering little ones a comfortable spot to sit while they aren't playing in the water or building sandcastles. Just like the Sandbar Low and Dunes High Beach Chairs, our Child Beach Chairs are built with ocean plastics and feature modern designs such as cupholders, two reclining positions and backpack straps so they can carry their own chairs to the beach.

Sea Buoy Beach Blanket, Beach Towel & Beach Chair: Best-sellers from our first collection, the Sea Buoy print remains a favourite for beach-goers who want coordinated beach accessories. Spend all day at the beach in an ocean-saving beach chair or sea-saving beach towel or blanket. The rapid dry, sand-free beach blanket and high-performance sand-free eco beach towel are both made with 27 recycled plastic water bottles spun into a soft, lightweight texture that can hold twice its weight of water and dry in half the time of standard towels.

In addition to making sure you have the best eco-friendly beach chair and beach towels on the market, don't forget other must-haves to ensure a fun day in the sun. No one wants a sunburn, so be sure to pack sunscreen and a wide-brim sunhat like our new Laura Ashley X Baggu sunhats.

Do you have plans to go to a lake or a beach this summer? Tell us where you are planning to vacation by commenting below or tagging us at @lauraashleyusa or using the hashtag #lauraashleyusa.