Our guest blogger Gemma from Mill House to Home is back to share her recent renovation of her utility room with our ceramic floor tile – Launched at The Tile Shop nationwide this week!
The thought of having a utility room was one of the many selling points for me when we purchased Mill House, but as you can see below, it was in dire need of updating.  Orange wooden clad walls, pipes running everywhere and a concrete floor with a handful of tiles placed on top … what's not to love?!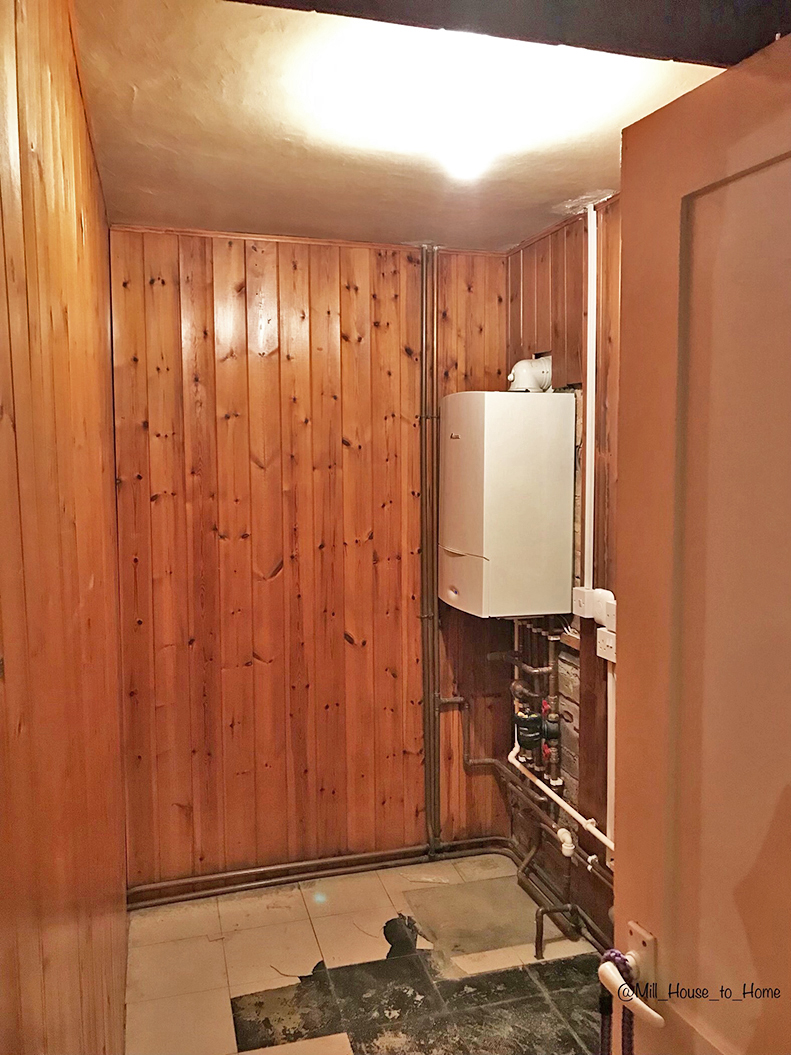 With a busy household the utility room is a very valued and hardworking room at Mill House.  I needed to create a space that would be practical and withstand the daily wear and tear as well as well as being stylish.
With a small budget, taking off the wooden cladding on the walls and re-plastering the whole room wasn't an option. But with help from Laura Ashley I was able to create the perfect Utility Room.
With a plan in mind we emptied the room, moved the pipes and electrical sockets, filled/sanded and painted the ceiling white and took up what remained of the floor.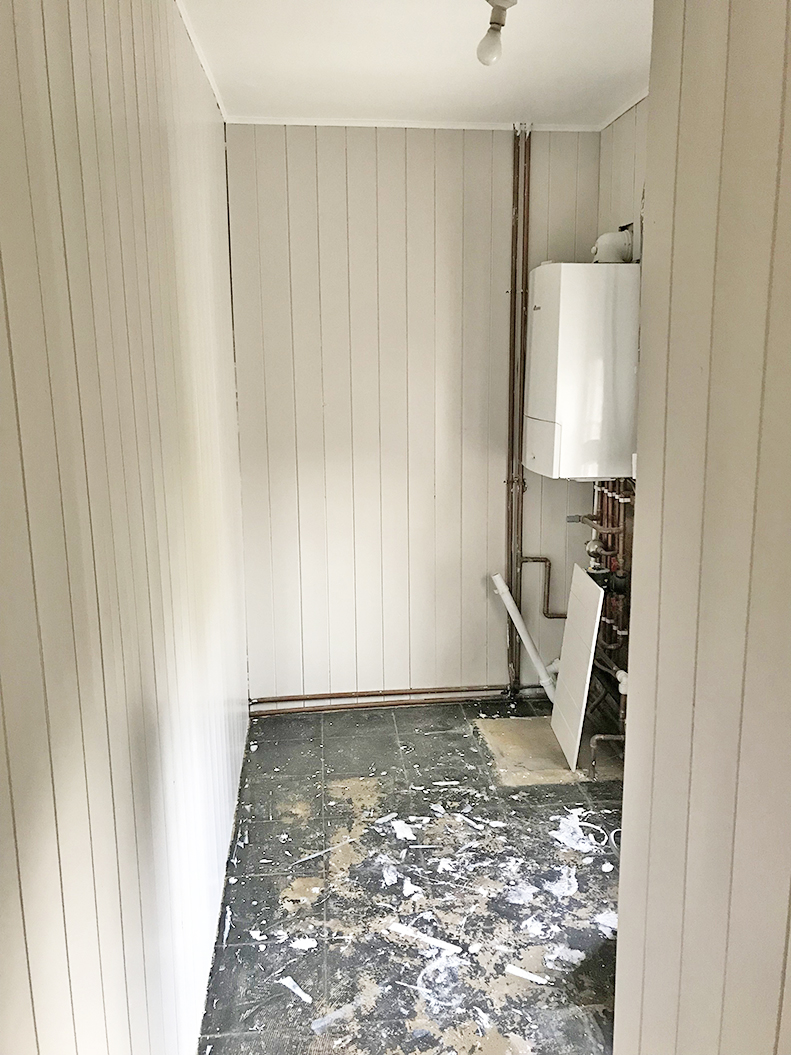 I fell in love with Laura Ashley's "The Heritage Collection Mr Jones Dove Grey Floor Tiles" from BritishCeramicTiles.com and decided to paint the walls to match using Dove Grey- Water based eggshell paint.  After 2 coats of primer and 2 coats of colour the room was already transformed.
When we laid the tiles we were of two minds about the colour grout to use- light to match the tile pattern or charcoal grey for practicality.  After much deliberation we chose the latter, and I'm so pleased that we did as already I have split laundry liquid on the floor- and had the grout been light it would now have a hint of green!
The tiles themselves are extremely thick, heavy and durable with the added quality of being easily wipeable as they have a flat/smooth finish. They are exactly what were needed for this well used space.
To keep costs down we chose to use scaffold boards to create a work surface and windowsill (these were coated in a clear varnish), and also to make a frame to disguise the refrigerator (this was painted in grey to match the walls).
The pictures speak for themselves, it's amazing what a difference some floor tiles and a coat of paint can do to a room!
Gemma x
Are you feeling inspired to tackle a tile or splashback project of your own? Check out the Laura Ashley Collection at The Tile Shop and head to Laura Ashley USA for all your home decor needs to get started! Show us your Laura Ashley projects below or on Twitter @LauraAshleyUSA