Our New Footwear Collection Evokes Iconic English Country Style
You are not dreaming. It is true! We have just launched a new footwear collection with Aerosoles. Charming floral prints and a carefree romantic vision come to life with the limited edition collection.
Available now, the capsule collection pairs Aerosoles AWARE's innovative vegan constructions with the nostalgia of Laura Ashley's signature floral prints, offering a modern update to classic silhouettes from summer sandals and sneakers to clogs and combat boots, with a total of 18 styles in all.
The statement-making footwear collection is thoughtfully crafted using premium vegan materials and is made to last, in line with Aerosoles' efforts to help create a better planet through a reduced carbon footprint.
KATHLEEN
Romantic charm comes in Laura Ashley prints seen on easy-going summer sandals that can be dressed up or down. Sweet details such as the intricate laced Kathleen sandal are the perfect go-anywhere summer flats.
CAMERA AND HAYLEE
The shoe collection is the perfect mashup of Aerosoles' on-trend shoes with iconic Laura Ashley heritage prints. The Camera and Haylee platform sandals embody this mix with an easy elevated summer style paired with a formal and fashionable Laura Ashley animal print to create a polished look.
OLIVIA
A fan-favourite, the transitional Aerosole Oliva slides offer comfort with the 1 ¼" platform sole and a faux-shearling lining but this time reimagined with Laura Ashley's time-tested feminine prints.
LEGGENDA
The Leggenda sandal is ideal for the Laura Ashley fan thanks to the fresh take on polished print mixing seen on the shoe's double strap. In addition to combining two iconic Laura Ashley prints in this sporty and sophisticated sandal, the 1 ¼" sole provides an abundance of comfort ideal for summer travel.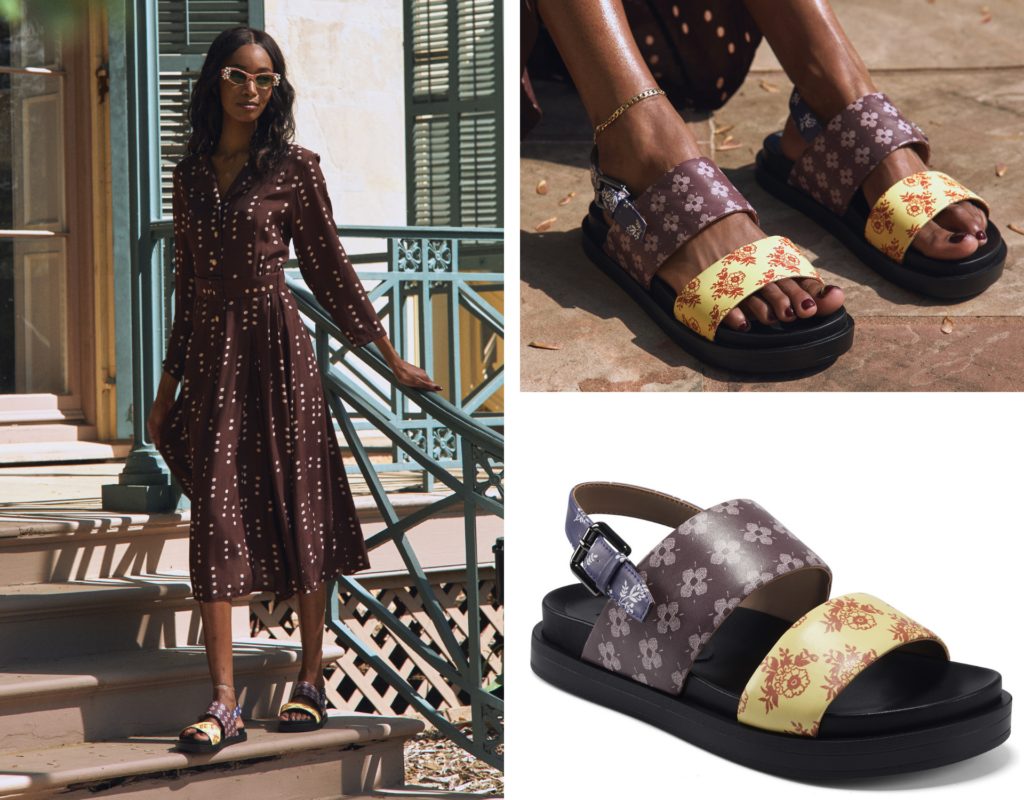 ERIN AND EVE
With a nod to quilting and the time-honoured stitchwork, the Erin sneaker is a sporty slip-on made with vegan leather. The classic Eve lace-up styles are a great summer sneaker featuring a ditsy Laura Ashley floral print or a stylish patchwork print that will go the distance. Summer adventures await with the off-duty looks or pair with suiting and return to the office in comfort and style.
PEDRO
Clogs are having a major moment. Fashion editors and fans are both in love with this comfortable shoe that can be easily worn into fall. With a modern update, the eco-friendly Pedro clogs have a chunky sole that offers more traction and features a quilted Laura Ashley print or a disty flora, a nod to English country life.
VANEZUELA AND STEPH
If you are in the mood for natural summer florals, the no-nonsense combat boots are the perfect mix of graceful style mixed with some serious stomping street cred, while the lace-up ballet flat offers an ultra-feminine version of this same romantic print.
To further support a more sustainable future, 1% of collection sales will be pledged to nonprofit organizations vetted by 1% for the Planet – a global movement of purpose-driven businesses.

There is more to come! Aerosoles AWARE X Laura Ashley will launch additional styles in August and October. To shop the collection, visit Aerosoles or Nordstrom's for exclusive pieces.

In conjunction with this exciting footwear collaboration, Aerosoles has also curated a limited edition "Cottage Shoppe" of vintage Laura Ashley styles and complementary fashion and home decor pieces. The shoppe's focus on quality secondhand pieces reinforces Aerosoles' growing commitment to sustainable practices and encourages mindful shopping. Featured exclusively on aerosoles.com, the Cottage Shoppe presents a fresh take on cottage-inspired romanticism, harmoniously balancing nature and elevated style.
Tell us which style is your favourite by commenting below or tagging @lauraashleyusa or using the hashtag #lauraashleyusa.