Angela the Laura Ashley Archivist Revelas Her Week in Pictures…
Tucked away, deep within the Laura Ashley London headquarters lays the closely guarded Archive, preserving sixty years worth of Laura Ashley history. It plays host to a wide collection of fabrics, wallpaper and clothing through the eras. A constant source of inspiration for new season collections, the archive is a treasure trove of patterns, prints and colour ways that can be adapted to suit the modern taste of today's interior trends. We invited Angela, our archivist, to reveal her week in pictures from working in the Laura Ashley archive to spending time with her daughter Freja in her spare time…
THE ARCHIVE
My days in the archive are quite varied; sometimes I'm concentrating on cataloguing past and present items or answering inquiries. Other times can be very busy with designers coming into the archive to research new stories. I love being able to open the boxes and drawers and have a rummage – there are some beautiful things in here!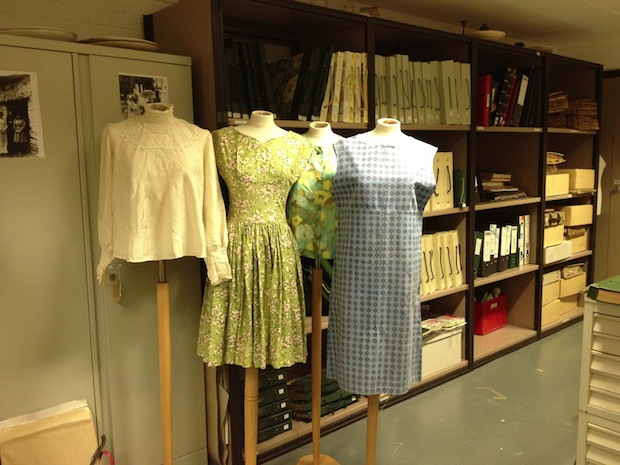 My favourite items in the collection are the beautiful examples of 1930′s bias cut dresses. I particularly like that style and era, the details and prints are amazing. Ladies must have appeared so elegant back then, you can imagine the Great Gatsby lifestyles they might have led!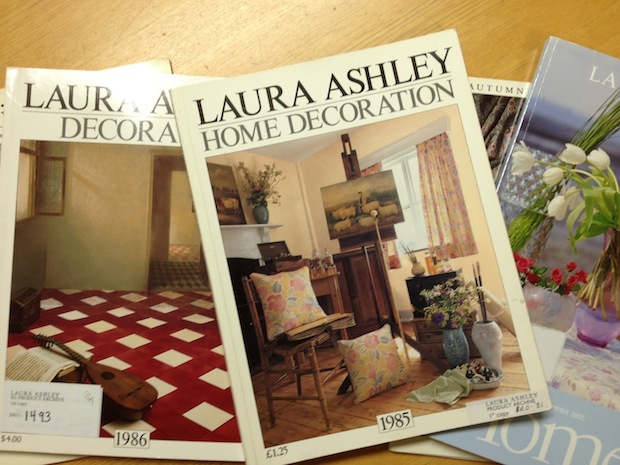 I work closely alongside the fashion and interior designers to provide inspiration for new collections. They like to come in and sort through the many cupboards and drawers of prints and fabrics, with some even coming in for several hours at a time!
The most rewarding thing about working in the archive is seeing a print make it into a final collection, especially if it has been changed a lot from the original piece. I like being able to go into stores and know that a print on a dress has come from something completely different like a tiny piece of ceramic because it shows that the archive is always new and inspiring.
FAMILY TIME
My daughter Freja recently celebrated her second birthday, so early Saturday morning we popped on over to the Pottery Café (with some of her little friends) in Richmond to decorate and paint egg cups! It was so much fun and the children really enjoyed getting stuck in.
KNITTING O' CLOCK
Being a busy working mum I don't have that much time to knit, but I love to do little projects when I can. I recently saw a gorgeous bunny egg cosy online and had to have a go for myself… It looks super cute on our painted egg cups above. Future birthday presents now complete!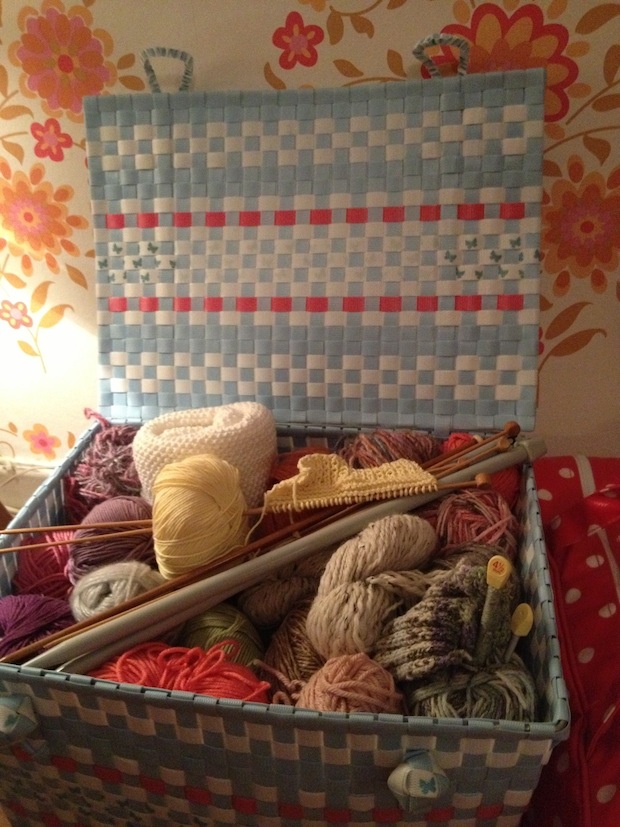 Iknitlondon is one of my top knitting shops and happens to be on my favourite street in London, Lower Marsh in Waterloo. As well as selling an amazing range of yarn and knitting accessories, they also run a number of classes with a knitting club in the evenings, where you can just turn up with your project, grab a cup of tea, have a knit and enjoy a good natter!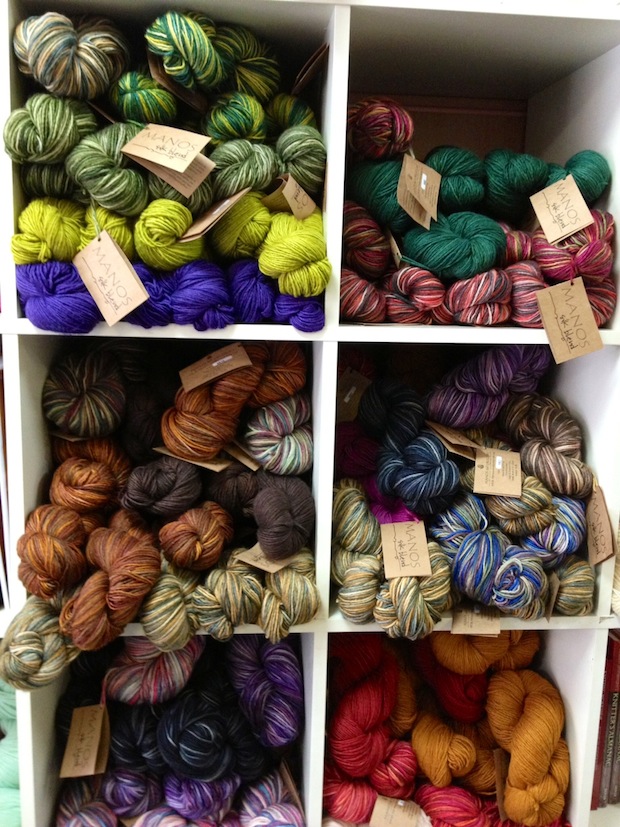 HAMPTON COURT PALACE
Living a stones throw away from Hampton Court Palace, we like to visit new exhibitions or simply stroll around the beautiful gardens. This weekend it was a very wintery March day, so we just went for a quick walk and then made full use of the warm coffee shop!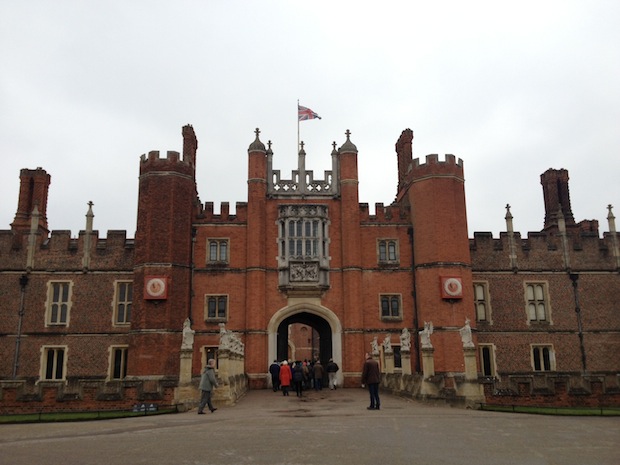 I love the details in the brickwork and chimneys especially, but it was also great to see spring appearing despite the chilly temperature – this golden pear tree stays in bloom all year round.
A TRUE COLLECTOR
As a child I was given a jewellery box containing costume jewellery that belonged to my Grandmother, since then I've always loved collecting jewellery. Sparkly pieces are my favourite, but anything a bit different and unusual can be found amongst my hoard!
THE FRENCH TABLE
My partner and I took a night off from our busy lives to go out for dinner with friends. We went to a lovely resturant called The French Table in Surbiton, ordering a very yummy and beautifully presented pudding…
KINGSTON
Living in Kingston, an ancient market town, we are really lucky to see all the amazing monument's the town has to offer. On our walk down to the local market we pass the Guildhall with its amazing Art Deco entrance and the Coronation Stone where 7 Saxon kings of England were crowned.
Not to be missed is the telephone boxes sculpture 'Out of Order'!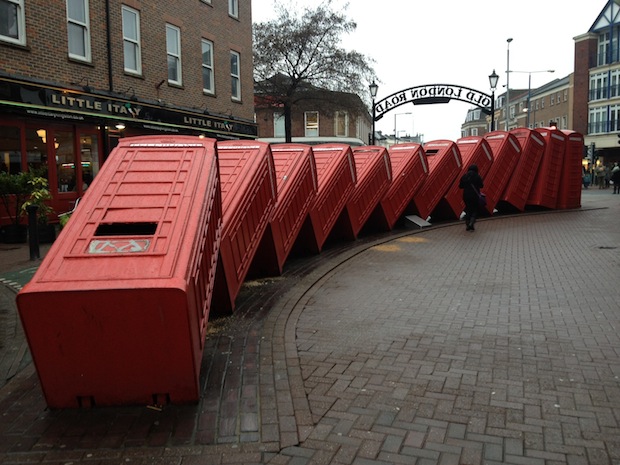 ON LOAN!
From time to time I look through the archive searching for pieces that can be displayed at various exhibitions around the country. I recently found this deer print dress which will be loaned to the 'Second Nature: Fashion's Love Affair with Nature' taking place at the Pitzhanger Gallery in London from the 16th May – 7th July 2013.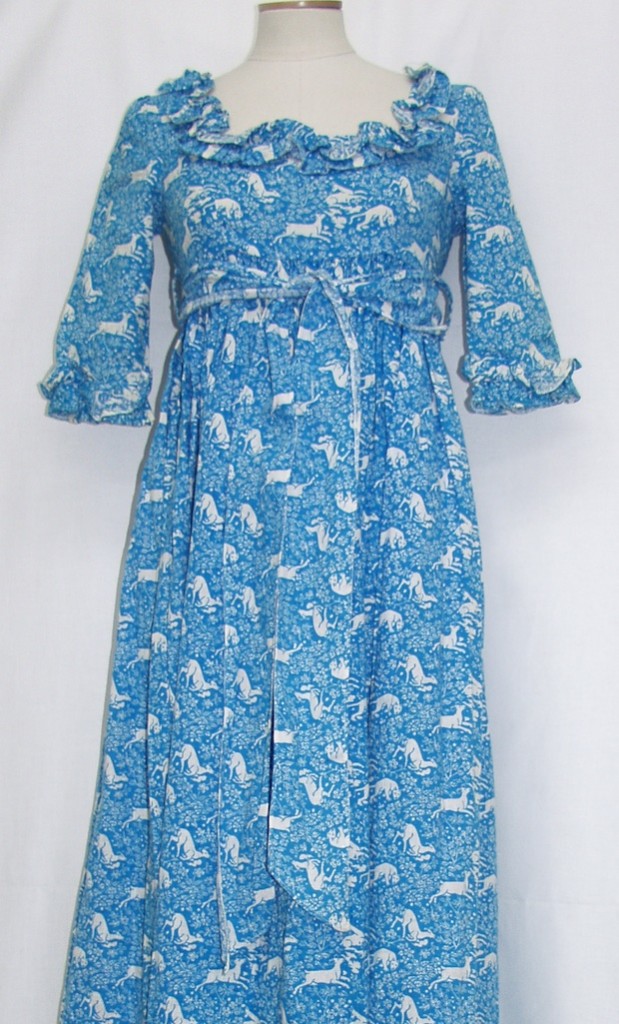 60TH ANNIVERSARY 
This year at Laura Ashley it's our 60th anniversary and I am delighted to be part of the celebrations. I really enjoy my time working in the archive, collecting and preserving the history of Laura Ashley. One of the most treasured pieces in the archive is this silk scarf kindly donated by a lady who purchased it from a boutique in the 1950's in London. It is the earliest piece of Laura Ashley product we hold in the archive and was hand printed on Laura's very own kitchen table! It has a print typical of its time – a bold modernist 50's design. This is the only one I have ever come across and so I was ecstatic to add to it to our archive!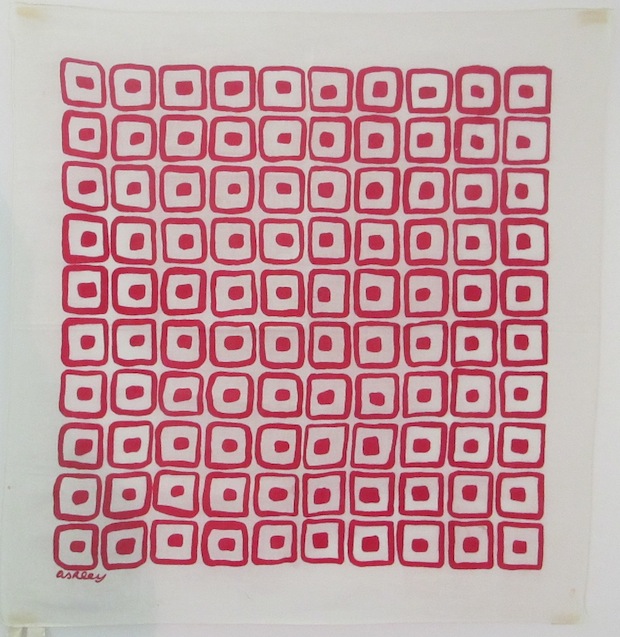 We loved this snap-shot into Angela's week. If you are interested in the archive and fancy donating some vintage Laura Ashley (1950s-1980s) Angela would love to hear from you! Angela can be contacted at angela.jeffery@lauraashley.com or you can contact our US offices at customerservice@lauraashleyusa.com
Did you enjoy this sneak peak into the Archive with Angela?