Food and Portrait Photographer Catherine Frawley Shares her Favourite Winter Recipe to Try Now
Looking for a new recipe to try this winter? It's almost the weekend, so why not learn something tasty and delicious the whole family will adore. Food and portrait photographer Catherine Frawley shares her favourite recipe for spiced apple muffins. Keep reading, print it out and try at home.
Back in the 90s I was one of Laura's Floras. I spent most weekends working at the then, flagship store on London's Regent's Street. I'm not sure if staff are still called that, but I loved my time working with such a great group of girls in a really beautiful space. Think aged wooden floors, a sweeping wooden staircase and high ceilings with enormous windows. It has left me with such a genuine affection for Laura Ashley.
Bundling up the living room with a wool throw adds instant cosiness, as I reluctantly agree that cold weather is here to stay for a few months. I love Laura Ashley's selection of throws that range from lovely knits to embroidered faux fur.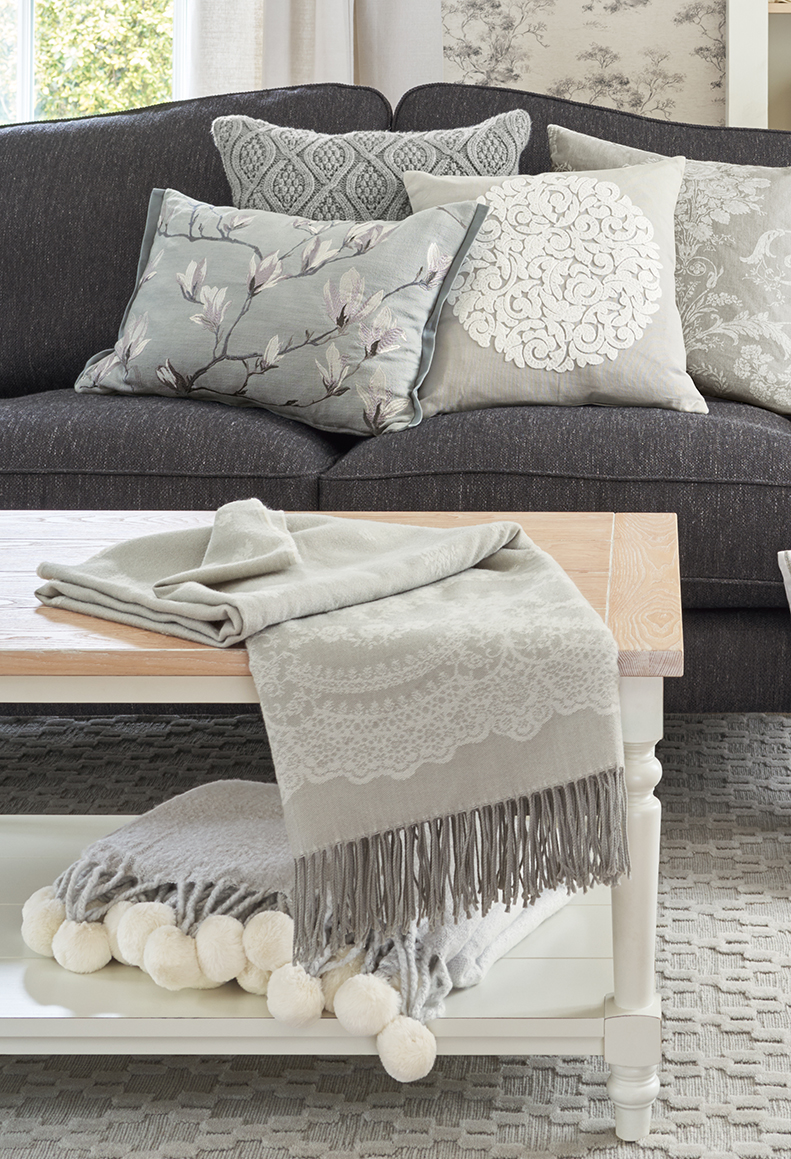 To show off our home, embracing winter, I whipped up a batch of my Spiced Apple Muffins using juicy fallen apples from the apple orchard not far from our home and lots of wintery spices. Find the recipe below.
RECIPE
Makes 12 Muffins
Prep Time: 20 mins
Cook Time: 20-25 mins
INGREDIENTS
1 Cup of self-raising flour
1 Cup of butter
1/2 Cup of super fine sugar
4 eggs
1 ½ Tsp. baking powder
½ Tsp. freshly grated nutmeg
1 Tsp. ground cinnamon
½ Tsp. all spice
3 Apples, cored and chopped
3 Tbsp. chopped hazelnuts
METHOD
1. Line a muffin tray with muffin cases and pre-heat the oven to 350 degrees.
2. Cream together the butter and sugar, and add the eggs in one at a time while mixing each one before adding the next. Add the flour, baking powder, nutmeg, cinnamon and all spice. Mix to combine.
3. Add the apples (save a couple pieces per muffin to add to the top of each muffin) and fold them in with a wooden spoon.
4. Add 2-3 spoonfuls of mix to each muffin case, then add a couple of chopped apple pieces to the top of each muffin and sprinkle the chopped hazelnuts.
5. Bake for 20-25 mins or until the muffins are golden brown and a skewer inserted into the middle comes out clean.
6. Leave to cool on a baking rack.
For more of Catherine's delicious recipes, head over to her website. 
Let us know your favourite recipes to make in the winter by tagging us on instagram @LauraAshleyUSA or in the comments below.