Master the Art of Making a Bed with a Duvet
Nothing is better than a well-made bed. It's time to feel like you are top of the world even if you are under the covers.

Embrace European style and try a duvet, a type of bedding that has been a favourite of those in the English countryside for generations.

A duvet offers a simple way to wash your bedding or easily change it for the season. As a protective, removable cover, a duvet is designed to fit over the duvet insert, which typically consists of feathers, down, or a synthetic alternative.

Here are our simple tricks for making a better bed using aduvet.

Play up the patterns: Pattern mixing is new again. To take the guesswork out of which prints play well together, get a duvet with a different pattern or colourway on each side like our gorgeous Parterre Seaspray Duvet. Having a reversible duvet makes mixing patterns easy, adds interest to the turndown, or easily changes the look of a room with a simple flip of the duvet.
Radiate optimism: Channel a vintage cottage interior with sweet florals that help your bed feel uplifting and comforting at the same time. Feminine prints in delicate blooms such as our Aria Blush Duvet Cover Set look inviting when paired with velvet cushions.
Showcase your favourite colour: If you are like the millions who love a blue hue, happiness comes in the form of a classic navy and white bed. Try mixing prints but in the same colour scheme so you can easily switch up the duvets for a new look depending on your mood. We suggest mixing the Thea Printed Midnight Duvet with the Josette Printed Midnight Duvet for a timeless, formal bed that adds elegance to any bedroom.

Make it sunny side up: The secret to waking up in a good mood is to choose colours that make you happy. A soft, buttery yellow like our Apple Blossom Sunshine Print Duvet or our Cora Check Sunshine Duvet Cover will not only give you a luxurious night's rest but have you start the day off right.
Be bold: Romantic beds are for those who dare to be bold enough to have a memorable bed. Make a statement with sweeping red roses as seen on our Roselie Printed Cranberry Duvet Cover or be bold with our Peonies Dark Smoke Grey Bedset, which features blown up blooms in a pretty grey and pink print.
Bring in nature: Fall into a bed that feels as elegant as it looks. It doesn't matter if you start with a white duvet or a bed set in nature's best hue, such as a subtle sage, it's the details that count. Embrace the delicate embroidery on our Sofia Embroidered Duck Egg Duvet Cover Bed Set or the swirling patterns of leaves on our Parterre Sage Duvet Cover Set. The floral prints will feel calming and soothing, perfect for a restful sleep.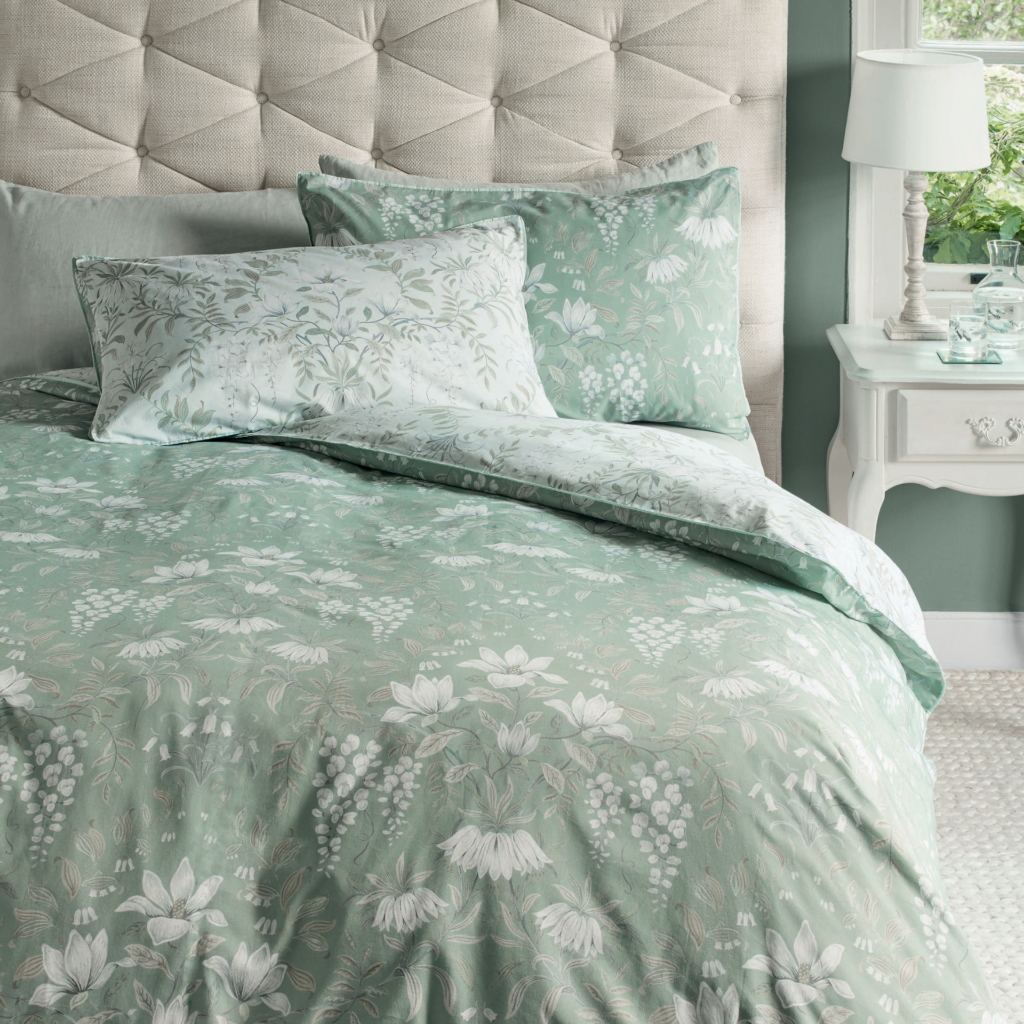 Tell us about your favorite way to make a bed. Comment below or tag us at @lauraashleyusa or #lauraashleyusa.