Plus How To Remodel a 1887 Storefront and Other Fun Tips From Baker Cami San Romani of Cami's Cake Company and The Wooden Spoon
With Easter around the corner, we turned to Cami San Romani of Cami's Cake Co. for tips on how to make the perfect scone.
Specializing in custom cakes and cookies, she said, "I started Cami's Cake Co. in 2010 with little more than a borrowed stand mixer and a few basic cupcake pans. I liked to bake for friends and family and that grew into taking orders for strangers. It was a snowball effect from there! 12 years later and I have baked thousands and thousands of cupcakes, wedding cakes, custom decorated cookies, and everything in between!"
Cami's talents as a baker have been showcased on Queer Eye, the Food Network, and other TV shows. "Being on Food Network was a dream come true," she said. "In my two experiences (so far), I learned that I was capable of so much more than I was giving myself credit for. It was an experience like no other and I can not wait to go back!"

What ingredients do you need to make Vanilla Bean Scones?
Cami's Cake Co. Vanilla Bean Scones call for:
2 C flour
6T granulated sugar
6T granulated sugar
1T baking powder
1/1 kosher salt
⅔ C heavy cream + 1 T (separated)
1 egg
1 vanilla bean or 1 t vanilla bean paste
½ t vanilla extract
6 T unsalted butter – frozen & grated
For the icing:
1 C powdered sugar
1.5 T heavy cream
1.5 T milk
1 vanilla bean or 1 t vanilla bean paste
½ t vanilla extract
What are the directions to make Cami's Cake Co. Vanilla Bean Scones?
Preheat the oven to 400 degrees. Line baking sheet with parchment paper.
Whisk dry ingredients together. Wisk cream, egg & vanilla beans together. Chill in the refrigerator until ready.
Grate frozen butter in a food processor or with a box grater (can also be cut into small pieces by hand). Add flour mixture and cut in until it resembles a coarse meal.
Add cream mixture and fold very lightly until mixture comes together. Turn out onto the lightly floured surface and work gently.
Pat into a square shape and cut into rounds or triangles.
Put on a parchment-lined baking sheet and brush with remaining heavy cream. Bake for 12-14 minutes.
Make the icing by whisking ingredients together. Drizzle over cooled scones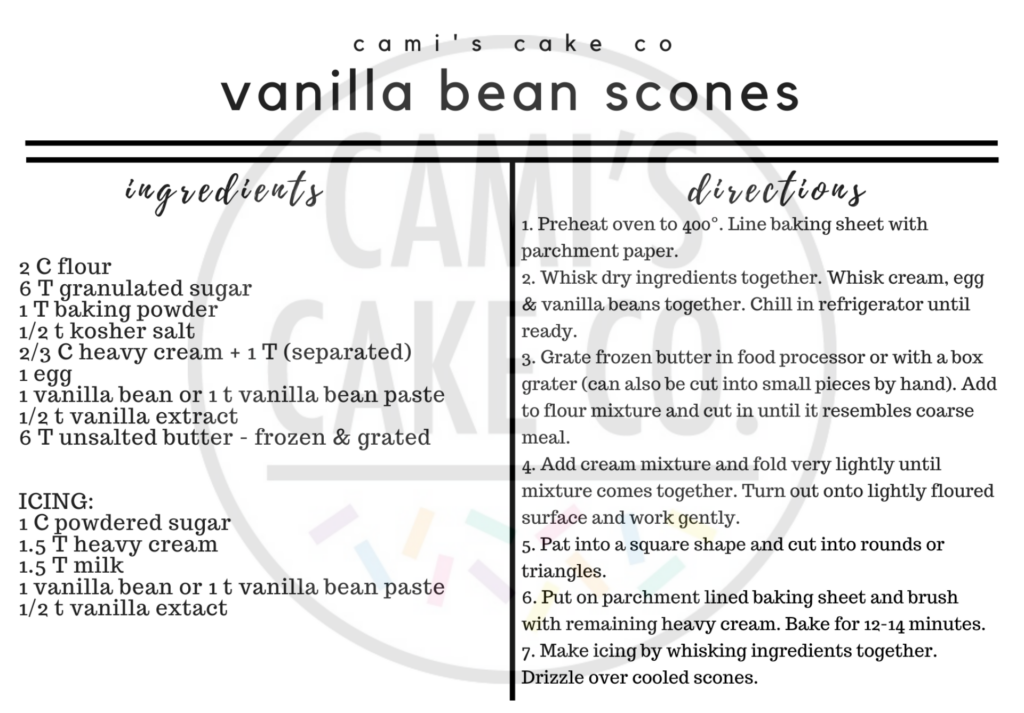 Why entrepreneurs should trust their instincts: Cami also runs The Wooden Spoon, a small boutique gift shop that sources items from the Midwest. "Last year my friend was renovating an old building on Main Street in my hometown. She had mentioned to me that the building joining hers was available and that it had a commercial kitchen in the back half. I was immediately excited to know that I could potentially move my Cami's Cake Co. operation into the building," said Cami. "After talking it over with my family, we thought it would be fun to add a little gift shop to the front of the building! We got keys to the building a month later and here we are! The Wooden Spoon (based on my maiden name – Wooden) is an eclectic boutique with one-of-a-kind gifts and locally sourced items. We have done WAY better than we had ever hoped and it's been so fun to have this opportunity to work with my mom, with whom I run the shop."

What is the one thing you need to give a historical building a quick update: In one word, tile. When Cami bought the building, she knew the facade needed a major facelift, but living in a historical town she wanted to honour the past and preserve much of the charm. "Council Grove, Kansas was the last stop on the Santa Fe Trail, and our building is from 1887. We had to keep the look cohesive with our other Main Street buildings," Cami said. "We looked for months to find something modern and whimsical without being too modern. When I found the Laura Ashley tile collection at The Tile Shop, I knew I found what I was looking for." In addition, Cami highlighted the building's original architectural details with paint in varying blue hues. Next Cami will tackle the kitchen remodel and hopes to incorporate more Laura Ashley designs in the space.
Why entrepreneurs need to mix fun with work: We love Cami's energy for everything she does. Her joy and passion inspire us. Cami has two Guinness World Records. Together with friends Mike and Anthony, she built two edible race cars completely out of cake. One of the cars was driven by Michael Andretti. Cami said, "We won Longest Distance Traveled By An Edible Vehicle (349.81 ft) and Fastest Edible Vehicle (17.08 MPH). It was unreal!"
Does Cami's story inspire you? Let us know in the comments below, or tag us at @lauraashleyusa or #lauraashleyusa.