It all began with a scarf. In 1953, Laura Ashley and her husband Bernard began hand-printing scarves at their kitchen table. With the success of their headscarves inspired by Audrey Hepburn in Roman Holiday, Laura Ashley became a style icon and we are still scarf-obsessed today! We never miss an opportunity to add a scarf to each collection and believe that it is a must-have for every season.
Did you know that "how to wear a scarf" is one of the most googled fashion questions almost every year? Even today with social distancing at the forefront of our minds, scarves are a hot topic. From an alternative to a mask to Dr. Deborah Birx's signature scarves at the daily White House press briefings, we are seeing scarves everywhere. Dr. Birx's style is so popular, there is an Instagram account dedicated to her daily scarf with more than 34K followers! The Los Angeles Times is just one media outlet taking a fashion cue from her style, suggesting scarves, including one from Laura Ashley, as a great way to up your work from home style.

A scarf is such an important part of the Laura Ashley style and arguably the most versatile item you have in your wardrobe. With warmer months on the horizon, we wanted to show you several ways to wear a scarf in Spring and Summer or just to give you fashion inspiration for your next Zoom meeting.

Build on what you already have…
Building a classic wardrobe with pieces that you will wear again and again always starts with a scarf. Royalty and celebrities love this classic knot style. It can dress up a simple sundress while you are on vacation or a basic blazer at work. Simply fold the square scarf into a triangle shape and tie a loose-fitting knot near your collar bones. Let the ends drape and create a statement with any outfit.
Be daring…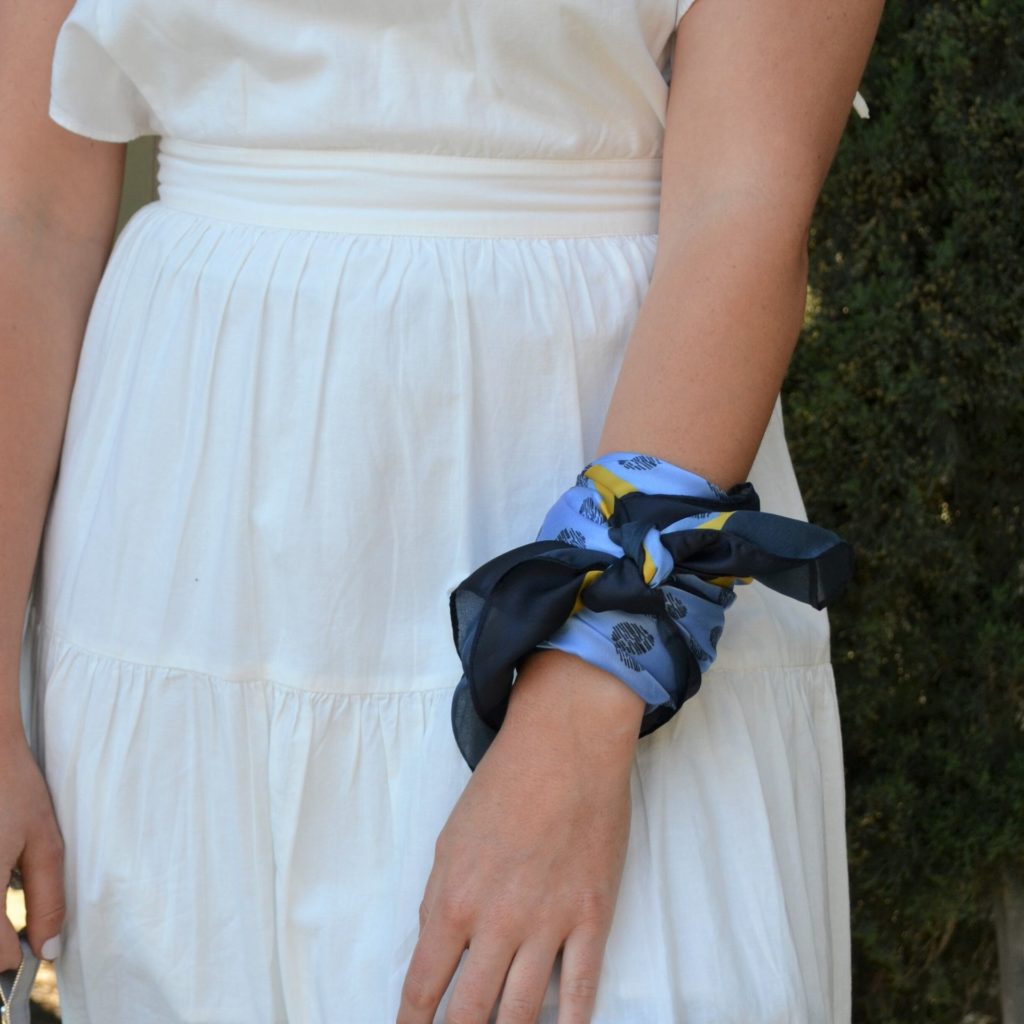 Scarves never go out of style, and as with most accessories, it's all in how you style it. Channel a little edgier look by wrapping a scarf around your wrist with a cute knot to finish it off. We've folded the square scarf into a triangle shape and wrapped it until you can tie both ends together in a knot at the wrist.
Belt it…
Add a scarf as a belt or cummerbund to a dress, jeans, pants, or a skirt. It will add instant colour to your outfit and finish it off with style. Fold the square scarf into a triangle, then take the middle point of the triangle, fold it about three inches, and start rolling it until you have one skinny rectangle. Hold at your waist and tie in the back.
For an easy switch, turn the cummerbund style around and have the loose ends of the scarf drape in the front. You can have the knot centered but for a little extra style, we like to have it a little off-centered to create visual interest.
Accessorize…
Spring and summer months aren't a time to put scarves away. Choose a lightweight scarf or a silk scarf to drape around your shoulders on a cool night, wear as a sarong to the beach, or tie onto your handbag. There are so many different ways to style a scarf including as a headband. To get this top knot style, we started by folding the square scarf into a triangle. Take the center point of the triangle and start folding it up until you get a skinny long rectangle. Tie a knot into the center of the scarf. Place the knot at the top of your head and tie the scarf at the nape of your neck.
Enhance your ponytail…
This is the chicest way to wear a scarf in hotter months. After your hair is in a ponytail or bun, tie the scarf into a knot around the base, covering your rubberband. Let the scarf flow with your hairstyle. Don't worry about being precise with folding the scarf. You can fold a square scarf in half or fold a longer scarf into a triangle before knotting it around your ponytail. For a little extra volume, you can also wrap the scarf around your ponytail once or twice before knotting it.
Shop…
How do you like to wear a scarf? Shop the Textured Spot Square Scarf, a classic square in a timeless blue with polka dot print, seen here, or to shop the full collection of Laura Ashley scarves, click here.