June 13th 2019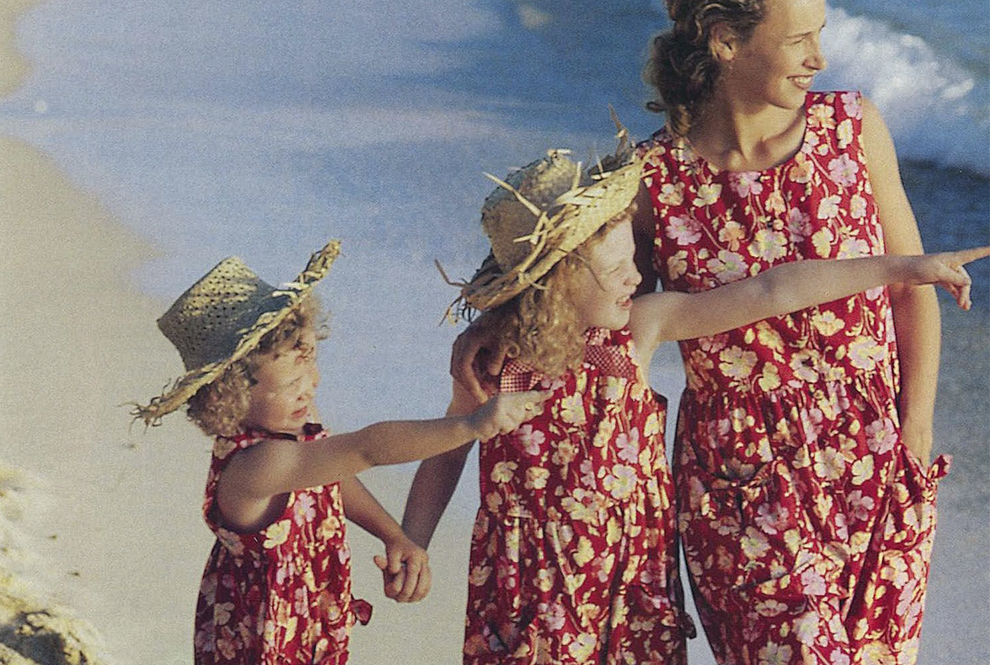 IN CELEBRATION OF FAMILIES DURING THE SUMMER HOLIDAY, WHY NOT TAKE A LOOK AT OUR HERITAGE 'MOTHER & CHILD' COLLECTION FROM THE 1990S…
Great memories start with family. Summer offers many ways to make fun memories and we thought it was the perfect excuse to pull out some great throwback family snaps from the Laura Ashley Archives. After all, Laura Ashley was not only a successful business woman and designer, but most importantly a mother of four who was constantly inspired by her children.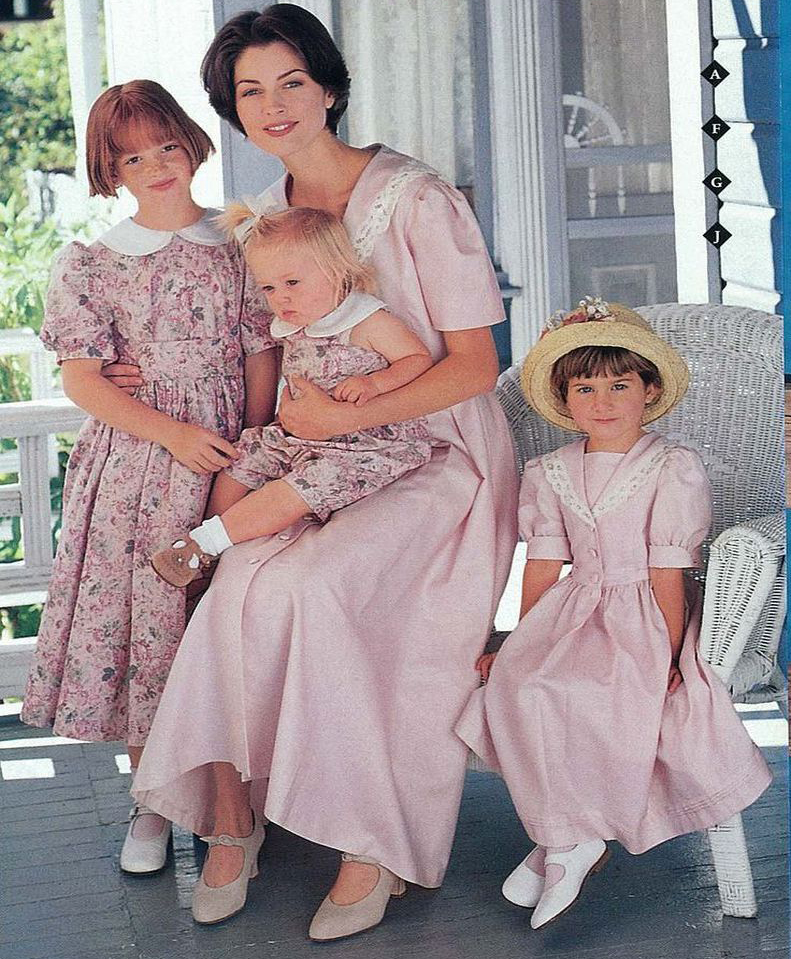 LAURA ASHLEY MOTHER & CHILD…
Having dabbled in children's wear and accessories throughout the 70s, Laura Ashley introduced a bespoke range of family-oriented fashion and home furnishings by the late 1980s. These collections were dedicated to young, growing families just like her own. Aptly named Mother & Child, these collections often featured adorable matching day dresses and accessories.
The home collection was full with bright primary colours and narrative illustrations—some even relating to famous nursery rhymes. A particularly cute piece of fabric incorporated the 'Hey Diddle Diddle…' rhyme into its design.
According to the range catalogue, Mother & Child was designed to 'embody the joys of both childhood and parenthood' and just looking at these whimsical designs you can't help but feel a sense of childhood nostalgia.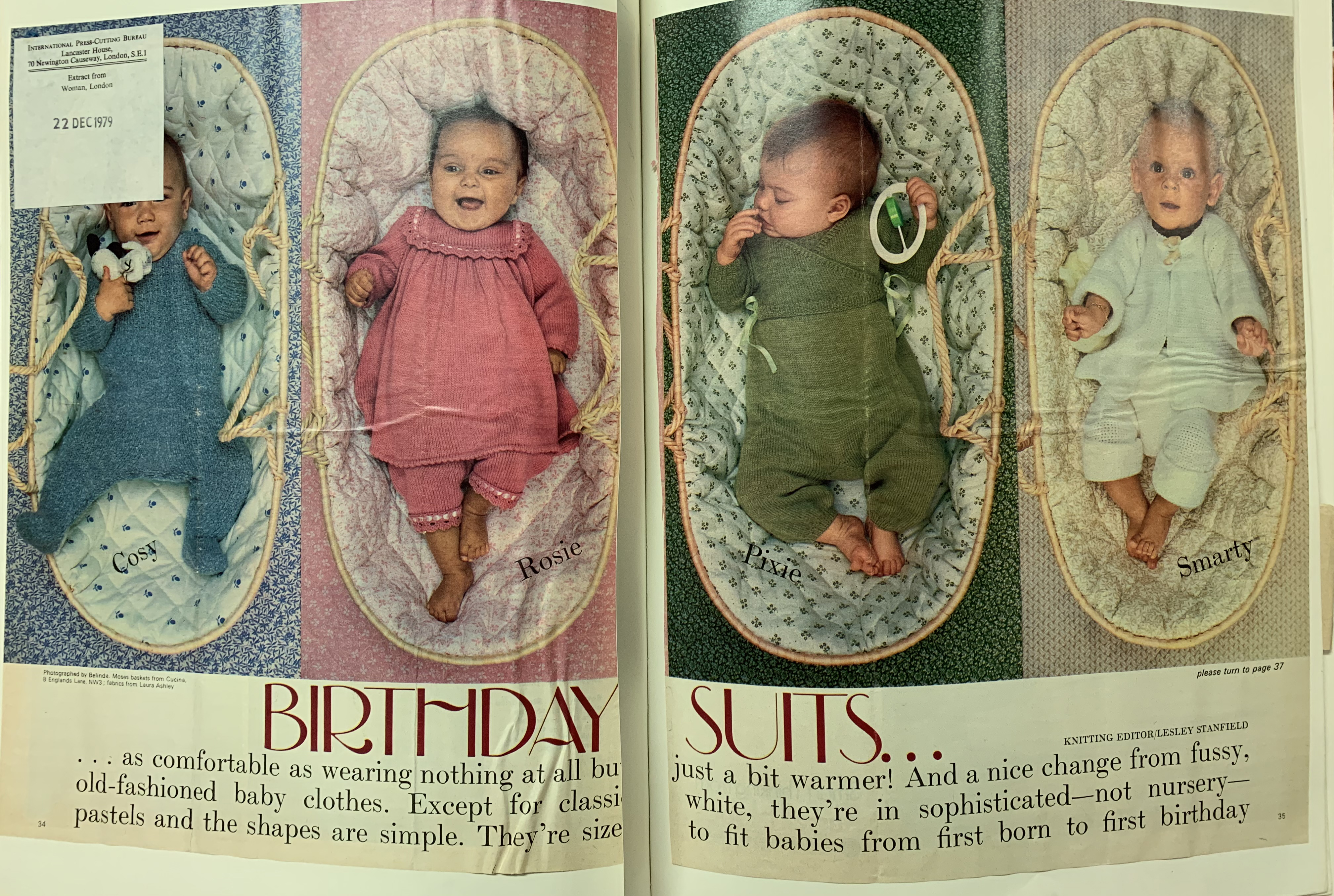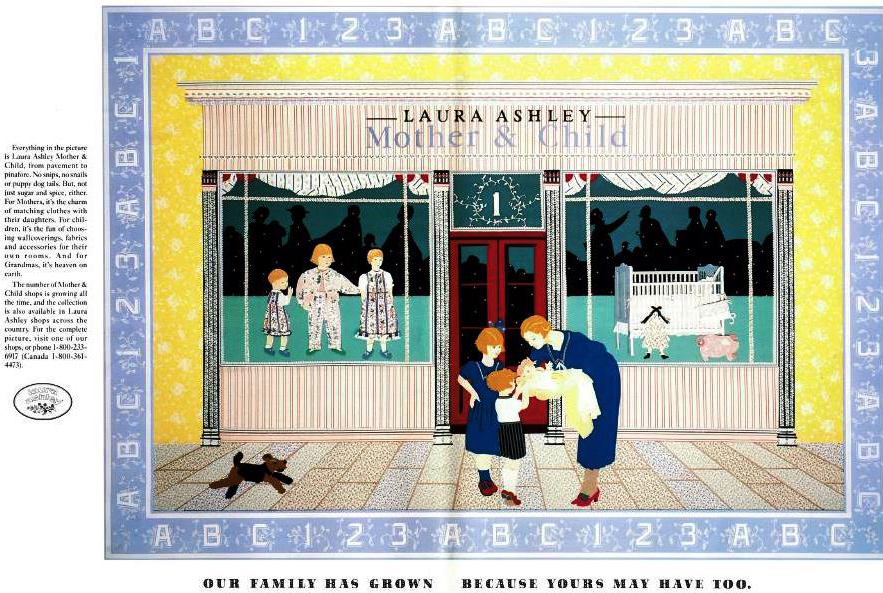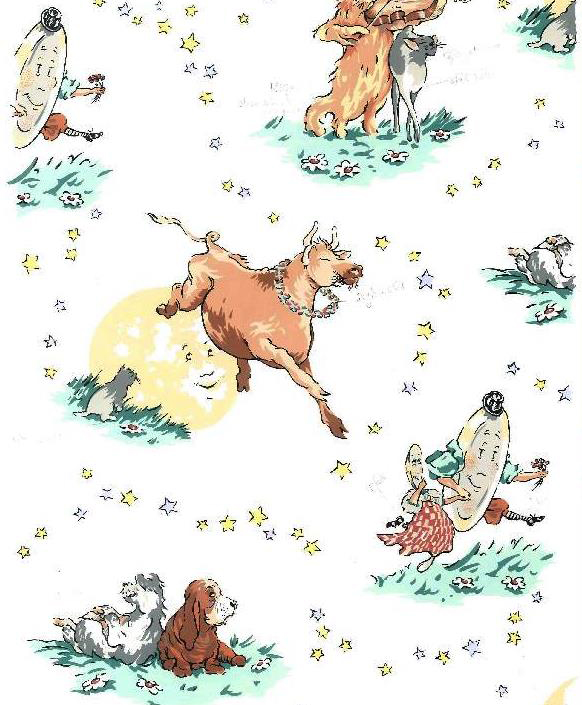 Laura Ashley's "Hey Diddle Diddle Print" featuring elements of the nursery rhyme
By the early 1990s, Laura Ashley-Mother & Child was proving a huge hit and would soon be rolled out across the globe with more dedicated stores opening up in London and new product ranges launching—including baby care toiletries. Think Johnson's but with a unique Laura Ashley floral-scented flair.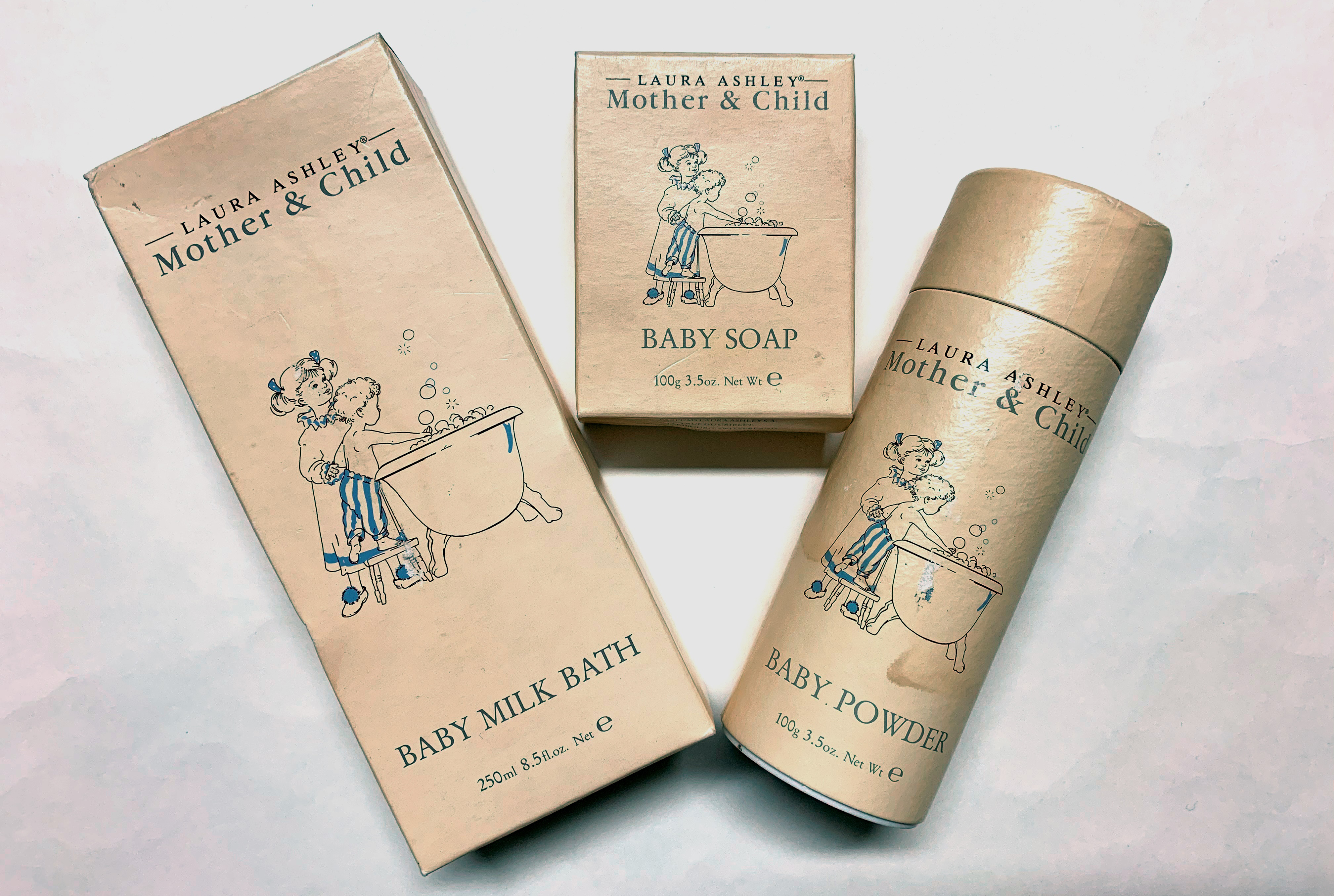 With summer just around the corner, we now delve into the Mother & Child Spring/Summer 1990 fashion collection. Shot along a sun-soaked Florida beachside, the entire collection is awash with large scale florals rendered in bright tropical colours and featuring dainty nautical-themed embellishments.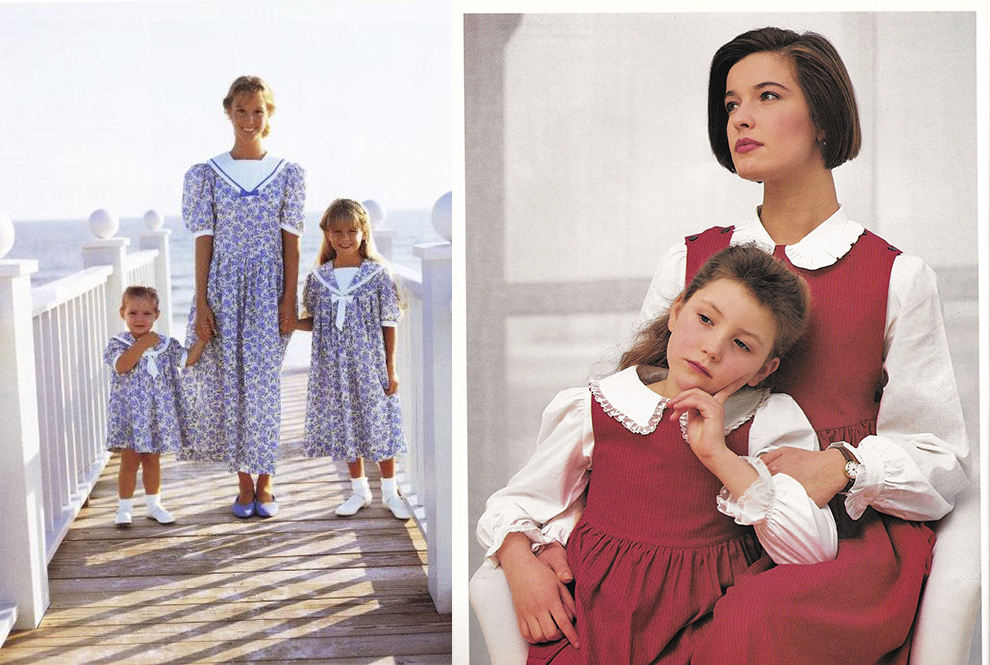 FAMILY COLLECTIONS
One of our favourite family collections has to be this family trio modelling a series of sea green pique-collared dresses, two of which we have here in the archive. Both mother and big sister styles, these two dresses are made from a gorgeous lightweight cotton voile with a trailing print of roses and poppies in lavender, chambray and sky blue tones. The capped sleeves, dropped waist and subtle skirt pleating offer a very simple silhouette and relaxed fit which, from the recent resurgence of the 90s across the catwalks, is very on trend right now. As they say, a classic never dies and we think this particular duo will most certainly have a few comebacks in their lifetime…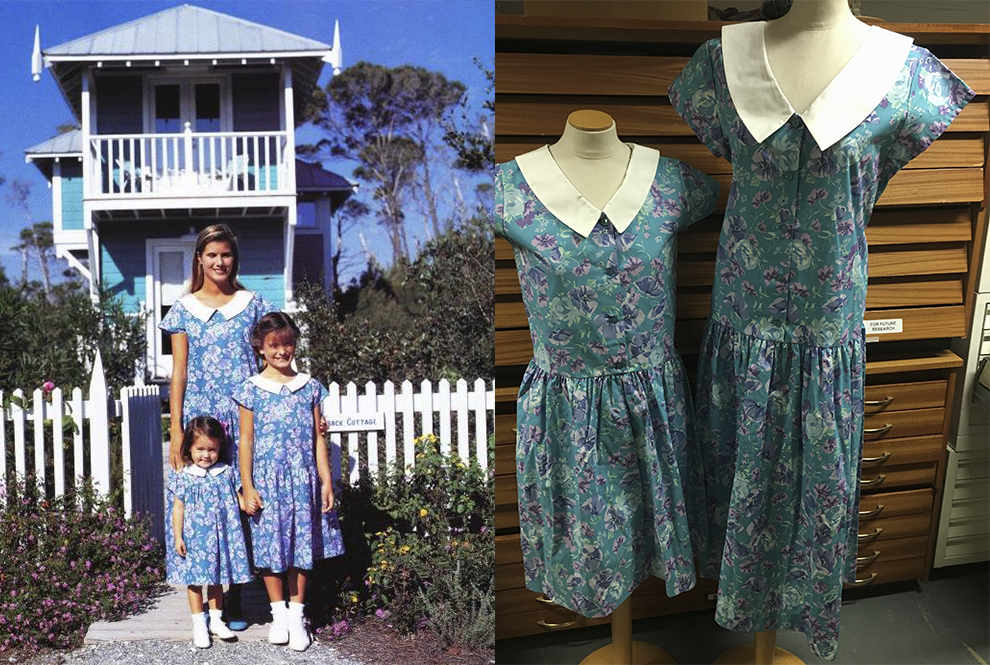 INTERESTING FACT…
Just as with the baby care toiletries, the branding used on these dresses also features the new Laura Ashley design. Whilst still employing her iconic bramble logo throughout the 90s as seen here in the attached swing tag, this particular range of products started to introduce the more formal typeface we have come to associate with Laura Ashley. Just like a mother and daughter relationship, these labels nicely capture a heritage moment of old and new, classic and modern…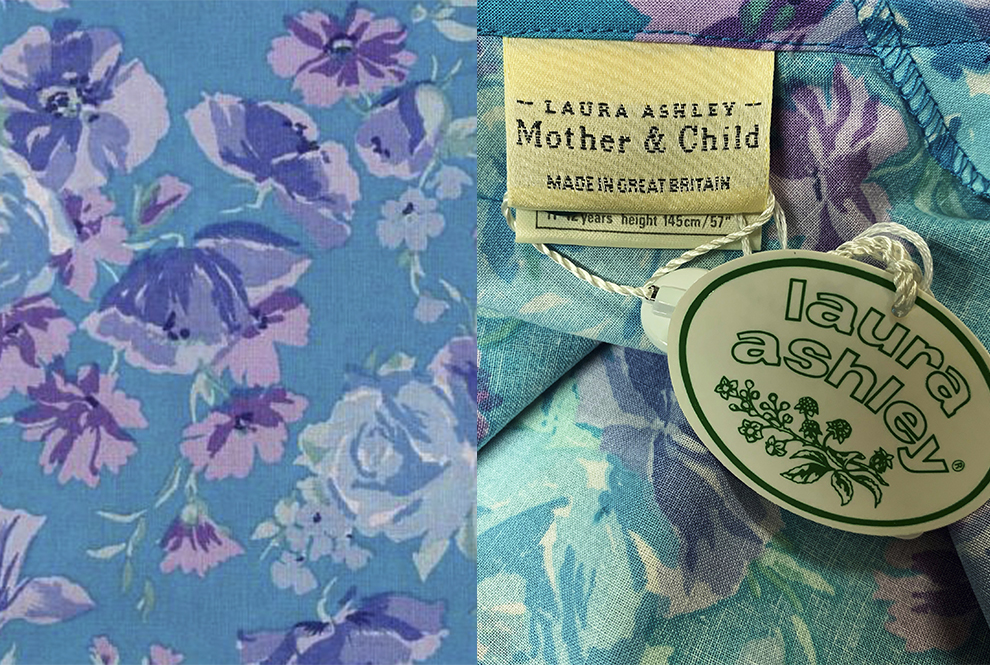 We would love to see your fond family archives. Whether old or new, share any photograph featuring a Laura Ashley outfit. Please share your images on Instagram, Twitter or the Laura Ashley Facebook page using the hashtag #LauraAshleyFamilyUSA
DONATIONS ALWAYS WANTED
Want to donate to the Laura Ashley archive? If you have a piece like this, or any other for that matter and are happy to donate it to the Laura Ashley Archive then please feel free to email marketing@lauraashleyusa.com for further details.