ROMANTIC MODERN FLORALS DANCE ACROSS THE FLOATY MAXI-DRESSES AND BLOUSON SLEEVED TOPS OF OUR NEW LIMITED EDITION COLLECTION
Herald the return of sunnier days with our limited edition Clarendon collection. This carefully curated collection of stunning separates, floaty dresses and fashionable blouses take its inspiration from the extensive Laura Ashley archive. Fluid shapes, irresistibly feminine detailing, flattering silhouettes and imaginative reworkings of beautiful floral prints give this capsule collection an unmistakable heritage touch.

ARCHIVE PRINTS
As dark florals marched across the catwalks this season, the Laura Ashley team were inspired to look to the past to find the perfect print to interpret this trend in a modern, wearable way. A delve into the our famous archive exposed a riot of beautiful wildflower illustrations; perfect for this heritage collection.
Our dark blossom' print is a whimsical, hand-painted interpretation of springtime flowers and is the perfect modern floral to usher in Spring. The pastel hues, whites and pinks pop against any dark background, giving the print drama and contrast—perfect for making a bold statement this season.
ROMANTIC SHAPES
The Clarendon collection takes cues from our vintage silhouettes, updating them to align with the current trend of 80's-style sleeves and lowered hemlines. The high-neck blouses have a prairie-style edge whilst still being an appropriate choice for modern work-wear and our beautifully fitted trousers are comfortable and stylish enough to transition from weekday to weekend in an instant.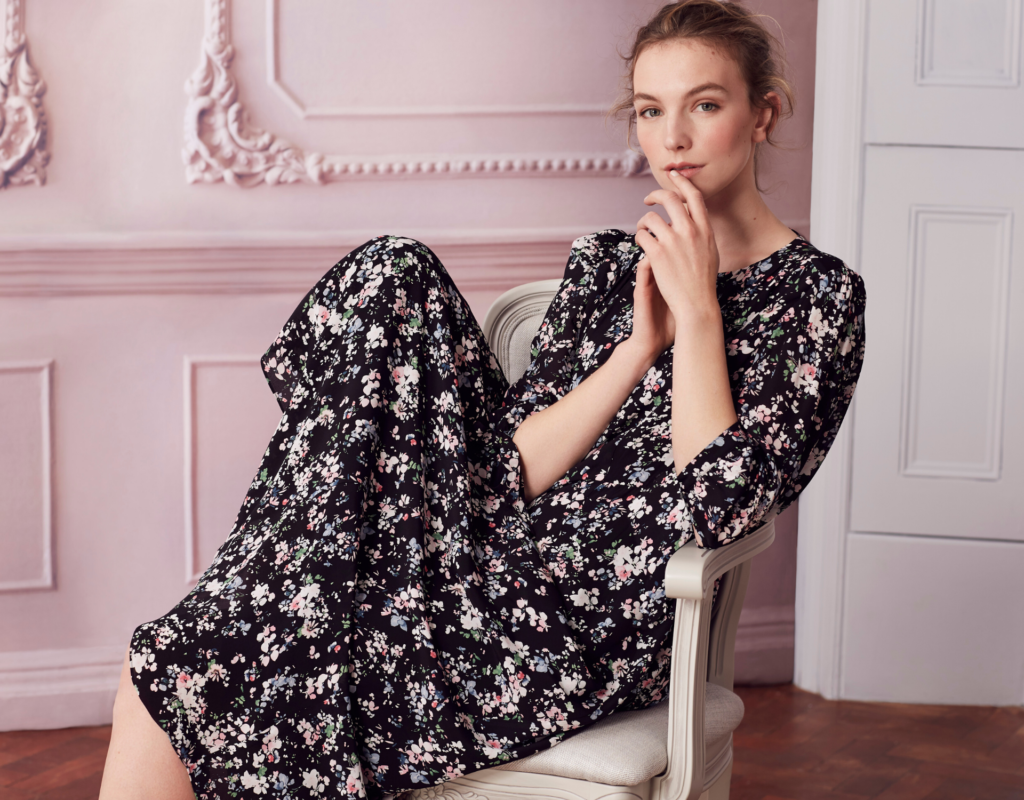 A stylish midi dress is the perfect choice for easing into a room with confidence while a ruffle neck blouse with a matching headband is both feminine and relaxed.
Our playful prairie-style Tiered Painterly Floral Dress features a softly tiered ruffle skirt and light blouson sleeve in a delicate palette of pale mint and pure rose. Reworked from a heritage print, this soft floral also debuts as a high neck ruffle blouse with intricate sleeve detailing—perfect for pairing with a sleek pair of blush pink split leg trousers for an elegant take on the botanical trend.
FEMININE DETAILING
This year's fashion week saw the return of overt feminine touches across all forms of fashion. From ruffled collars to larger sleeves to delicate fringing, we are now seeing a resurgence of the '70's and 80's excess' in the fashion world—so there has never been a better time to be bold with your silhouettes and prints.
Our luxurious pointelle sweater is offered in soft clotted cream. It's the perfect sweater for an injection of summery glamour or if one needs to warm up on the chillier days. Pair it with one of our trousers for a matching look with the same feminine charm.
SPRINGTIME COLOURS
Offered in a playful palette of spring shades, from willow green to blush pink, misty blue and bright rose, and soft creams the colours in this collection pop out from the prints to create a bold new look as the new season arrives. Don't forget to seek out Clarendon's on-trend accessories They too sing the song of of the season!
HERITAGE INSPIRATION
Named after a place where Laura Ashley once lived and created prints, the Clarendon collection was created with the brand's heritage in mind. From using archive prints and taking inspiration from our archive silhouette, this collection presents as a beautiful retelling of Laura Ashley's legacy.
Today in London on Clarendon Street you can still go and visit the famous green plaque advising that Laura Ashley "began printing fabrics here".
What do you think of our new collection? Let us know in the comments below.