To celebrate the launch of our Spring Summer 2016 collections, we're offering you a super easy, yet satisfying craft with our beautiful new season fabrics! We were so excited to meet the wonderful Gemma from That's So Gemma! She is amazingly creative and a big fan of Laura Ashley, having previously worked in the Worthing, England store! Being surrounded by such beautiful fabrics, she was constantly inspired to create pretty things, including today's craft – DIY lavender sachets!
I've recently been eager to make a few lovely lavender scented sachets to hang in my wardrobe and place in my linen drawers. Having previously worked in a Laura Ashley store and knowing the great quality of their fabrics, I just knew they would be perfect for the job; especially seeing as I love the new Sandford Seaspray and Farnworth Stripe prints!
For this gorgeous scented crafty make, you will need:
A selection of fabrics
Card Stock
Loose Lavender
Toy Stuffing
1/4″ Eyelets & Eyelet Pliers
Sewing Machine
Needle
White Cotton
Embroidery Scissors & Fabric Scissors
Ribbons & Lace
Embellishments of your choice
Twine
For the template of the sachet, find a suitably thick piece of card stock and copy the dimensions I have included below.
1.5″ across the top
4″ down the side
2.75″ across the bottom
4.75″ full length
Begin by sewing two pieces of fabric together, correct side facing inwards, to create a panel of fabric perfect for the front of the sachet. Make sure to line up the fabrics exactly where you want the pattern to be. Then, press the fabric with an iron to flatten down.
For my sachets I wanted to add a lace embellishment, so with a needle and thread I attached a bit of white lace across the joining of the fabrics.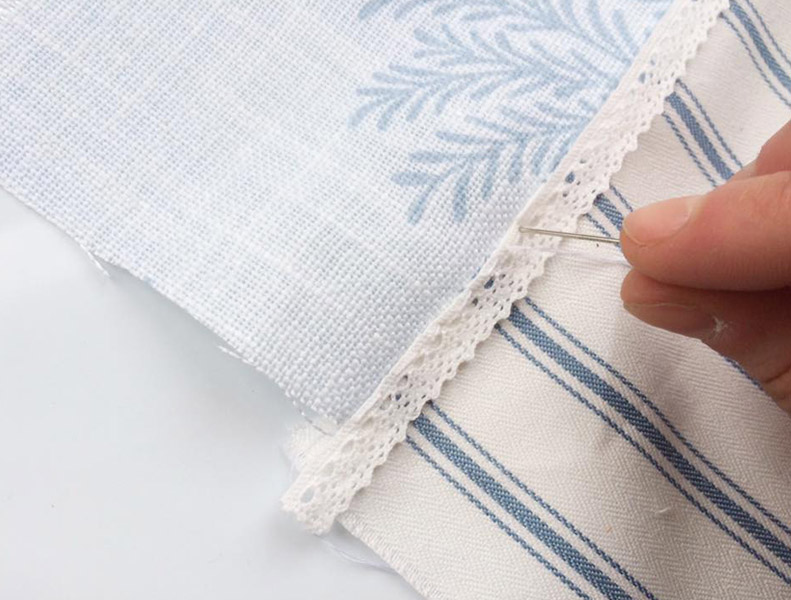 Once both panels of my sachets were ready, I faintly drew around my template to provide me with a guideline of where to sew. I chose to use a classic natural fabric for the back panel of my sachet, as it compliments the other fabrics and adds contrast.
Carefully pin your panels together with the fabric facing inwards so that once the panels are turned out the correct way the patterned side will be showing. Ensure you line up your fabrics and pin them in the exact position you want.
Use a sewing machine to sew your fabrics together following the line you made from the template. Leave a 1.25″ gap in the bottom of your sachets so you have ample room to add your loose lavender and stuffing. Once you have sewn the fabric together, cut off any excess fabric leaving approximately 1/2″. Be careful – do not cut too close to your stitching as it may cause a tear in the seam.
Now, turn your sachet inside out (or maybe outside in) so the sachet is now showing the prints.
Top Tip: Use a small pointy instrument to poke at the corners to ensure all of the fabrics are turned out as much as possible. This will define the shape even more.
Press your sachet with an iron to maintain its shape.
Now it's time to add the eyelets! If you've never used eyelets before I suggest practicing on another piece of fabric, just to get used to how the attachment works.
Mark your fabric with a small cross where you would like the eyelet to be positioned.
Then, using sharp embroidery scissors, poke a hole in the fabrics and twist until the hole is big enough to put your longer half of the eyelet in.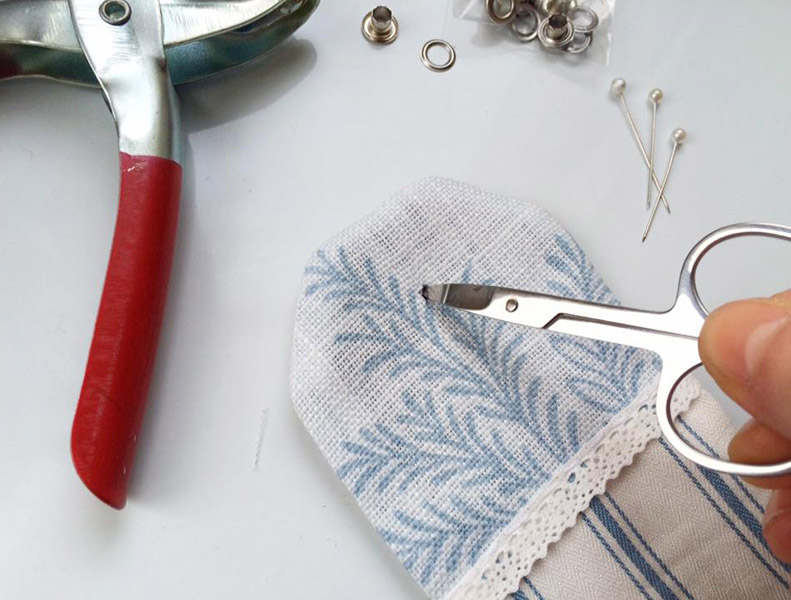 Place the smaller ring of your eyelet over the other piece, then clamp them together using your eyelet pliers. You will need to squeeze the pliers fairly tight until you hear a click. This means the eyelet has clamped to the smaller ring.
Now you will have a successfully installed eyelet and can begin to stuff your sachet.
When stuffing your sachet you will ideally want a ratio of 70% lavender to 30% stuffing. This will allow the sachets to have a long lasting scent. This amount of stuffing will be ideal for plumping the sachet into a perfect shape.
Feed the stuffing into the sachet in small pieces and alternate with the lavender. This will make the sachet consistent all over.
When the sachet appears to have your desired amount of plumpness, pin together the hole in your sachet and sew it in place using a needle and thread. I recommend when you finish stuffing your sachet, use a small piece of toy stuffing instead of lavender as it will be less likely to fall out and easier to sew together.
Your sachet will now be secured and ready to decorate! I created a variety of different sachets in different designs and patterns, and they all look so adorable together!
To decorate my lavender sachets I wanted to make pretty yoyo flowers to attach on the front. To create the yoyo flowers, begin by cutting out a circle of fabric 3.25″ in diameter and sew around the edge of the circle using a standard running stitch.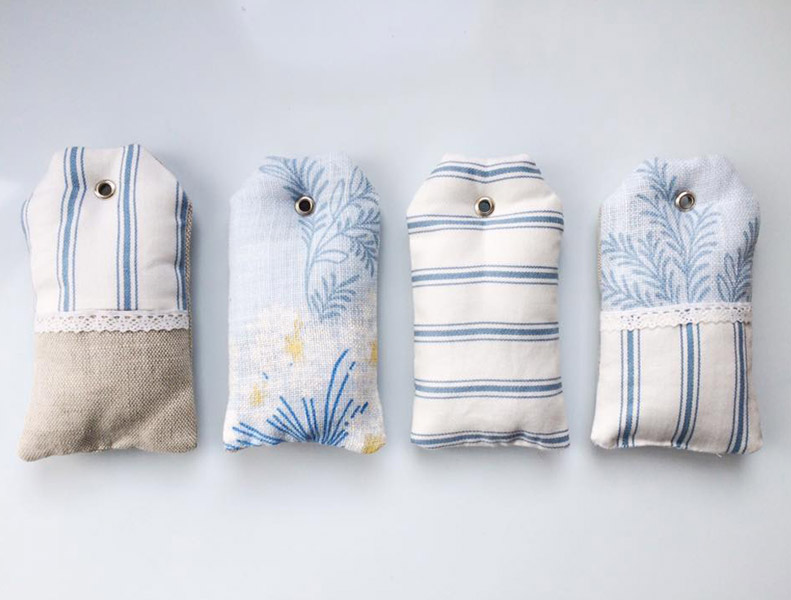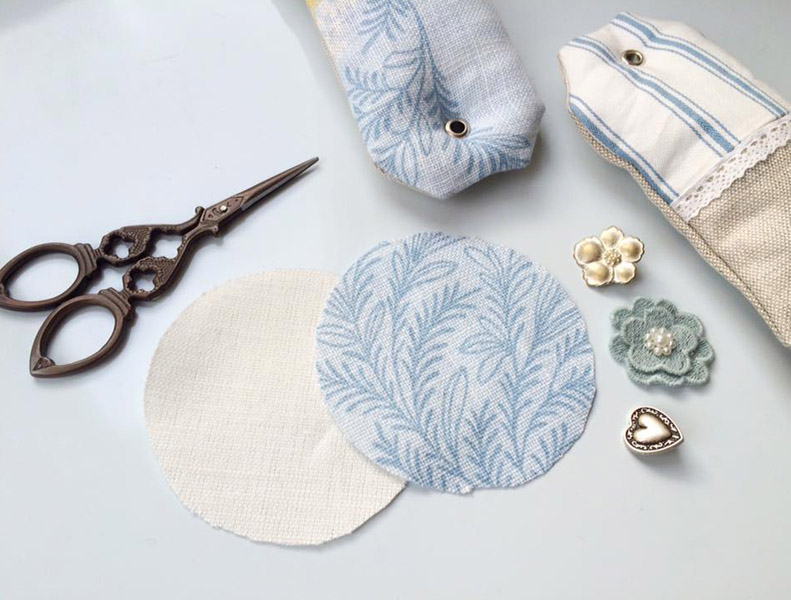 When you have sewn around the entire outside of the circle, gently pull the thread so it begins to ruffle. Make sure you tease the thread slowly so it doesn't break. When the flower has formed, sew through the yoyo flower and secure with a knot to keep its shape.
Now sew on the ribbons, beads or bows of your choice, along with your yoyo flowers in the center of each sachet.
All that's left to do is to create a hoop for your sachets to hang from. I used blue twine and silver beads to add the finishing touches and looped it through the eyelet. To secure the beads in place I tied two knots then snipped off the excess twine.
Once complete, stand back and admire your beautiful new lavender sachets! These will go perfectly in my nautical Seaspray bedroom. They also make the cutest gifts for family and friends. Pop one under your pillow at night to help you sleep, or you hang it from your bed frame to lightly scent the air.
Show us which fabric you are using to create Gemma's DIY lavender sachets? Let us know below or on Twitter @LauraAshleyUSA. We would love to see your creations!