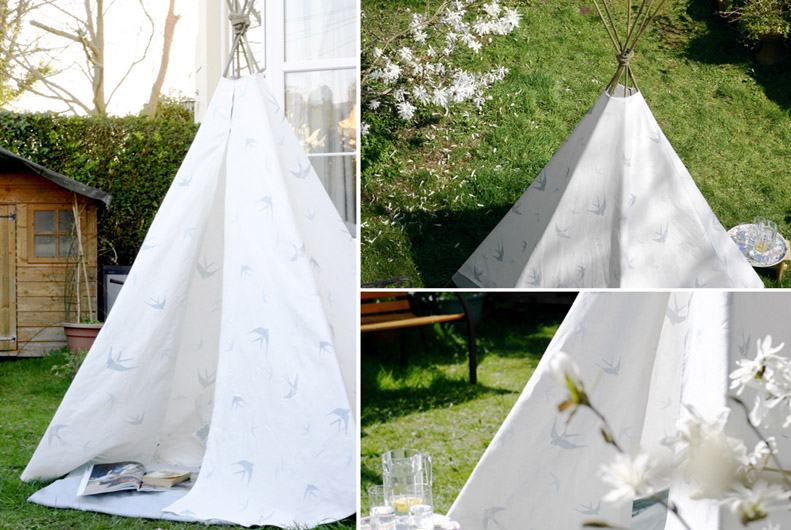 Transport yourself into the wilderness with this fun DIY tee-pee from blogger Ruth at Gathered Cheer.
What better way to spend time in the great outdoors than in your very own handmade tee-pee? A hideaway haven for big and little kids alike, this magical hideout provides the perfect setting for an alfresco feast or even magical movie night. Layered with cosy cushions for a fort-like feel, join us as we take inspiration from our blogger pal Ruth as she shares her brilliant DIY tee-pee using our brand new Blue Birds Seaspray print.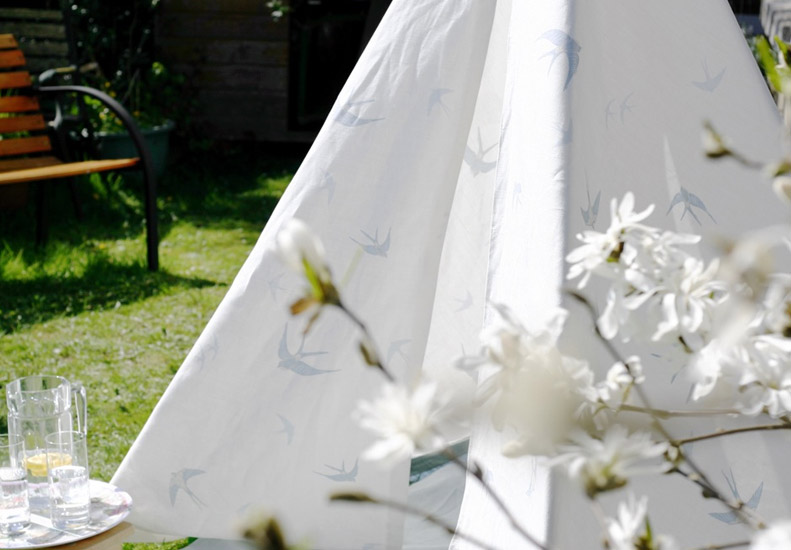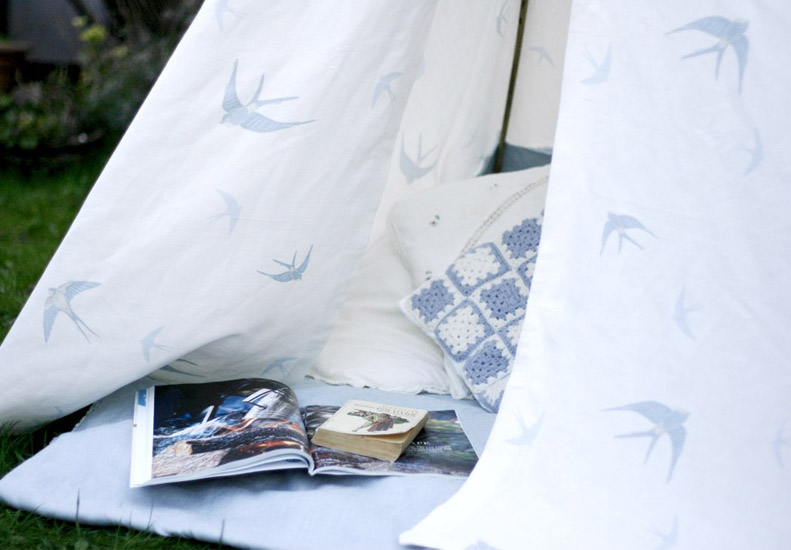 Don't you just love this time of year? The longer, lighter days invite you to step out and soak it all in. So, when it comes to outdoor fun and games, why should children have all the fun? As the temperature begins to soar, I'm longing to play outside just like a child – think water fights, scraped knees and grass-stained clothes. All are hallmarks of a good time in the sun. To usher in my nostalgic summer, I decided to build a tee-pee in the garden, but to keep things a little more grown-up I opted for the sweet Blue Birds Seaspray fabric. I just love the pretty bird print, and the light cream and blue hues are an ideal pairing for green grass and blue skies.
In terms of the actual construction of the tee-pee, I wanted to keep things super simple and opted to follow a brilliant 'no-sew' tee-pee tutorial I found on Pinterest. The process was surprisingly simple and the fabric was so easy to work with. Since garden canes are inexpensive and easy to come by, I opted to use these instead of plastic plumbing pipes and, while they might not be quite as strong, I really like how they look against the fabric. They blend in beautifully into the garden, too.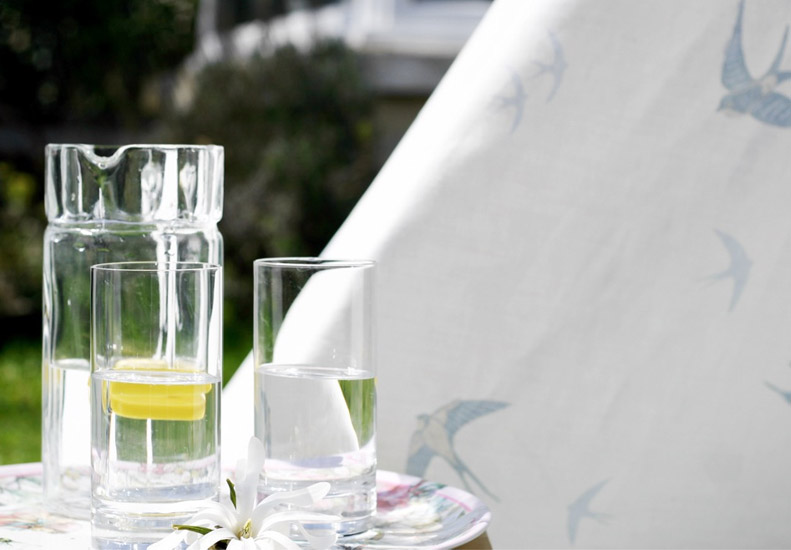 Since comfort is key, I piled up cushions and the result was a perfectly soft and pretty space, ideal for garden adventures. With that being said, it is also rather handy for reading and snoozing in peace. Just add a heap of magazines, a good book (Poldark is currently topping my to-read list) and a long drink, you'll be all set for summer.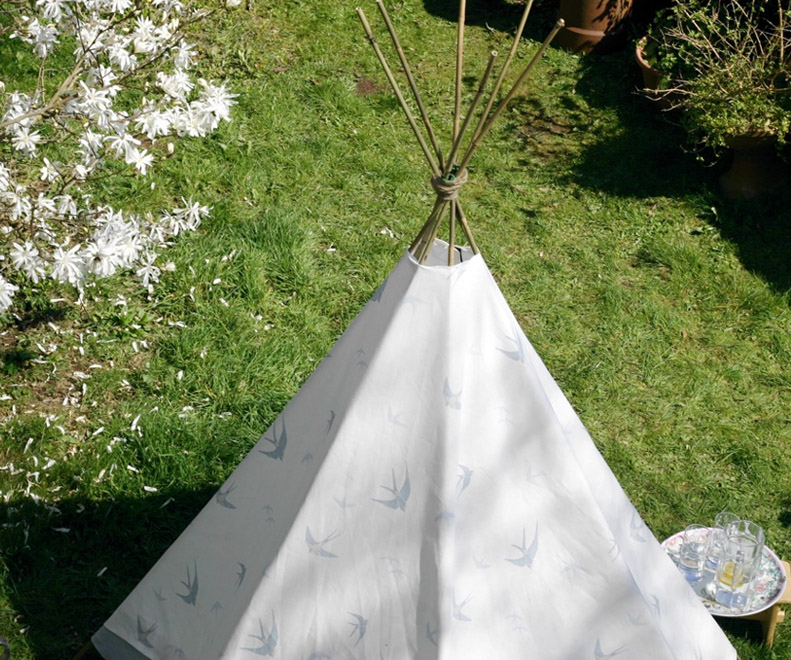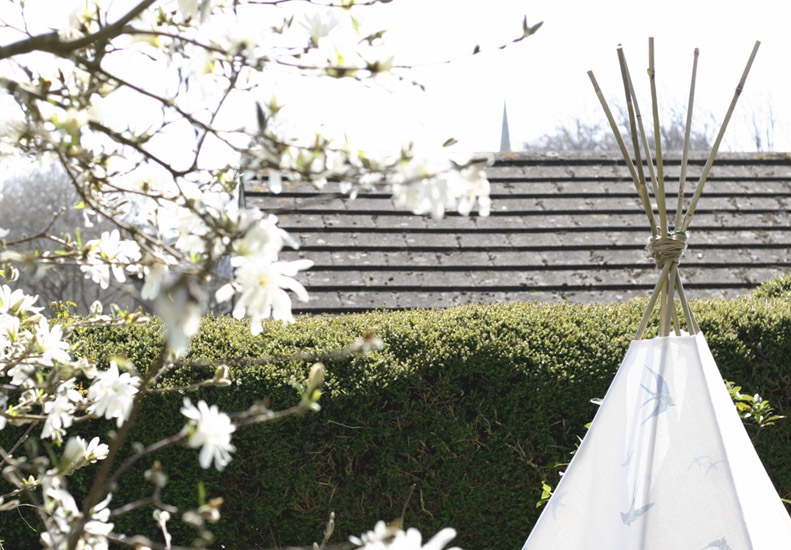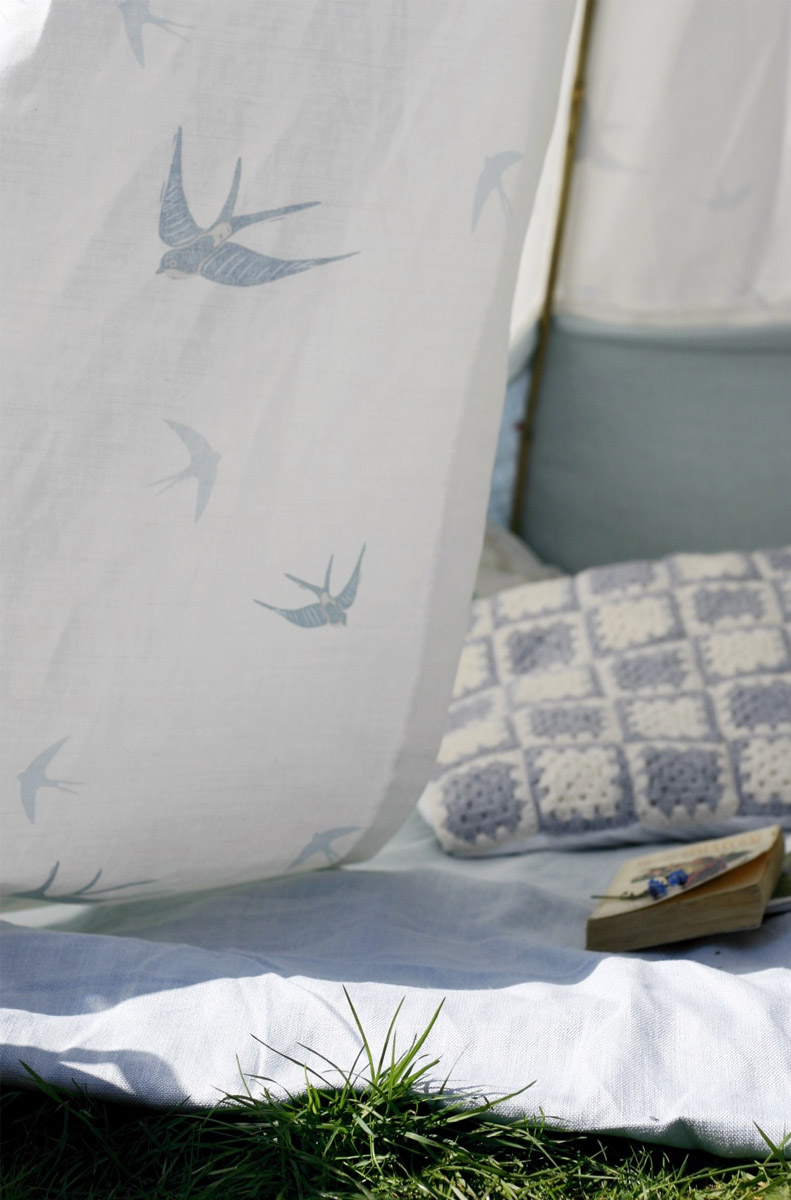 How's that for a summer DIY project? We can't wait to make the most of the sunshine in our very own homemade tee-pee! Inspired by her crafty creation, Ruth ensures her up and coming summer soirees are sorted with her handpicked pieces from our home furnishings collections. For more of Ruth's crafty creations and styling expertise, hop over to her blog Gathered Cheer where you can stay up to date with her blogging adventures!
Feeling inspired? Browse our full range of fabrics now to kick start your tee-pee project just in time for summer. From tropical prints to blooming florals, take your pick of our wide range of fabric patterns for all your crafty creations!