Janelle Pietrzak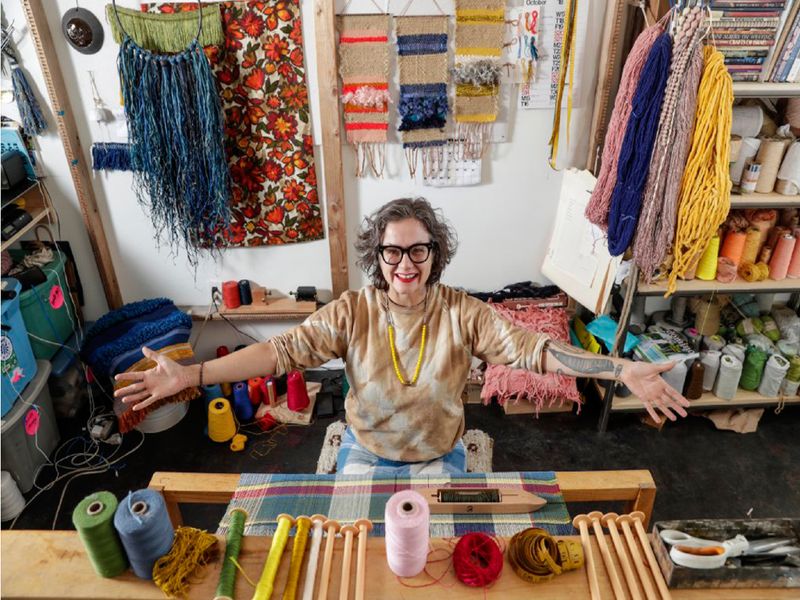 It's time for another Laura Ashley Q & A with artists we love. Today we introduce you to Janelle Pietrzak who is a self-taught weaver and creative force behind the Yucca Valley-based All Roads Studio. She learned about colour and textiles during stints sourcing fabric for Anthropologie and choosing more than 700 colours for a Chinese yarn mill. Using Laura Ashley vintage dresses, Janelle uses her talent and magic to design several outfits shown below. You can sign-up for her newsletter to learn more. We hope you will enjoy our discussion!
Q: You're an artist living in the Mojave Desert. Tell us more about your custom textiles and how you get your inspiration.
I weave custom textiles for interiors. Most of my work is commissioned by architects or interior designers. I also licensed my home textiles line to Anthropologie. My inspiration comes from the colors in nature – surprisingly there is so much color to take inspiration from in the desert. I am also inspired by architecture and work from the craft era of the 60s and 70s. People like Luis Barragán and Stan Bitters. I like to imagine what kind of textiles would sit well with their work.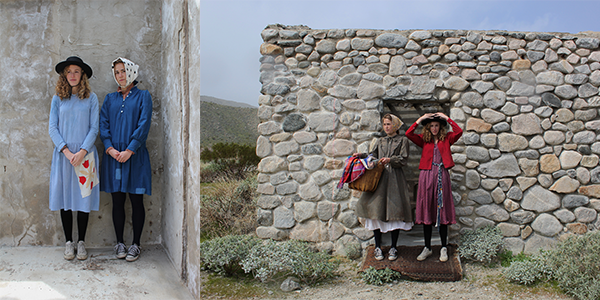 Q: We saw that you recently acquired some vintage Laura Ashley fashion that is for sale on your shop page. How did you find the dresses and do you have any tips for someone else interested in finding vintage Laura Ashley fashions?
By chance I came upon a barn sale full of antiques in rural Pennsylvania. I followed a sign that said "Laura Ashley Dresses" upstairs. It was a family of sisters and they all grew up wearing Laura Ashley. I bought everything, about 3 boxes worth and shipped it all back home to California. I am still working through the repairs on all of the pieces. Deciding which ones to keep for myself and which ones to repair and resell. I have a small shop in my weaving studio that is open on Saturdays, we call it a "stordio".
Q: Any tips for making vintage finds feel new again?
After washing everything, I assessed what needed mending or repair. I love the look of patched and well loved clothing, I don't try to hide the mends. I patched them using some of the pieces that were beyond wearable, and also vintage fabrics from my stash. I over dyed a good amount of the dresses to hide stains and to just refresh the pieces.
Q: Were you always a fan of Laura Ashley?
I remember loving the Laura Ashley store in the mall near by where I spent my high school years in Virginia. I wanted so much of the beautiful things in that shop. I especially love the vintage Laura Ashley style – 70s and 80s era. The ditsy florals, ruffles, Victorian style and the romantic feeling of the English country side in the old catalog spreads. Of course the mommy and me matching looks are great too!
Q: Tell us about a moment that you remember wearing Laura Ashley or sleeping in a room decorated in Laura Ashley.
I had a chunky woven scarf from the Laura Ashley store that I wore until it literally fell apart!
According to Janelle, "There is a nostalgia to handmade crafts. With everyone on the phone, handmade things ground you and connect you to the earth." We could not agree more and are so glad you shared your Laura Ashley story with us today.
Curious to see what else is happening in Janelle's studio? Sign up for her newsletter to learn more.