11 Ways to Elevate Your Pup's Style
Modern pet care has come a long way. Stylish accessories that are both functional and chic are a new trend driven by pet owners who don't want to have to hide their pet essentials but are proud to show them off.
Your furry friend will love our new line of pet necessities that have been thoughtfully designed to be both tough enough for the daily demands and fashionable enough to put your dog's personality on display. For pet owners who love their dogs and cats, this collection is for you!
HARNESS AND LEASH SET: Sturdy enough to safely control your dog while out for a walk, the new harness and leash set is also designed to be extremely comfortable for your pooch. Available in two different prints, the harness can also accommodate small to large dogs. Even when not in use, this set is so stylish that it will look great hanging on a hook in your home's pet station.
DOUBLE-SIDED BANDANA: This is the one item every modern dog owner needs. Watch your dog perk up and feel proud to show off their new floral bandana. The double-sided bandana features two floral prints in coordinating pinks and blues.
CERAMIC BOWL SET: Doggy mealtime just got a whole lot chicer. The new Ceramic Bowl set is pretty enough to display in your home every day. Available in a timeless floral print, the set comes with two 16 oz. ounce bowls ideal for water and food.
QUILTED CAR COAT: Don't let your dog get bothered by cooler temperatures or the change of the weather. Our new quilted car coats feature a comfortable design that is filled with down to ensure the pooch is snug. The car coats are available in a polka dot print or an adorable all-over dog print.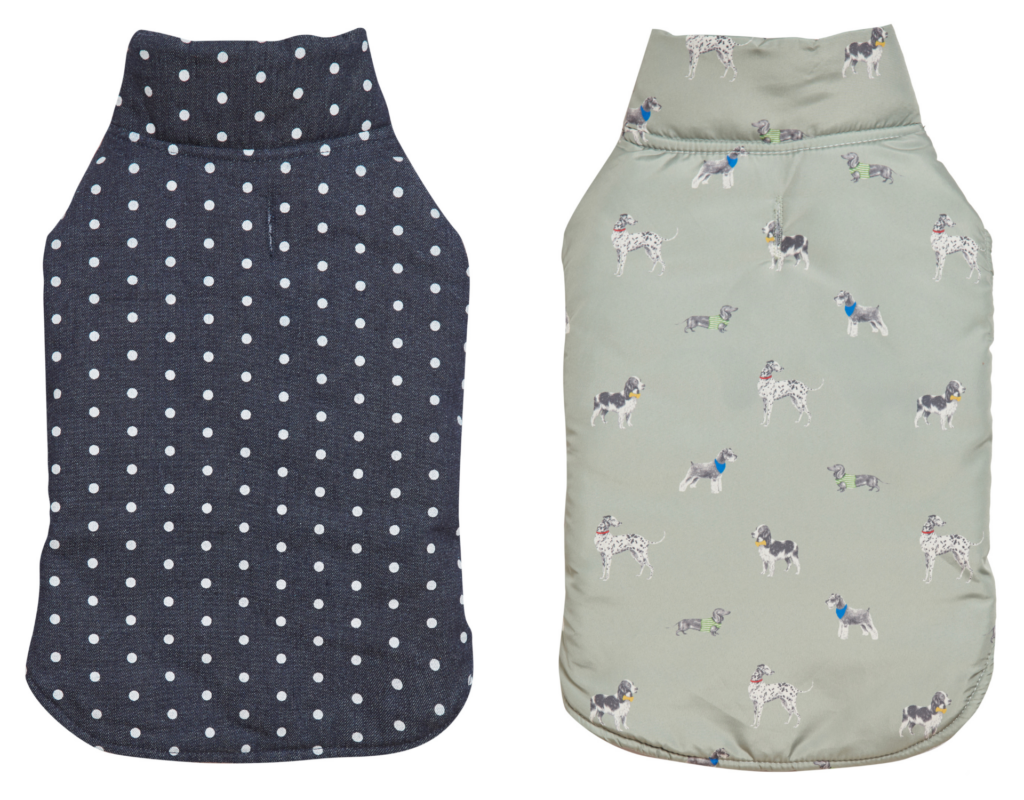 DOG TOWEL AND BLANKET: The new pet essentials line features a new pet towel and blanket designed specifically for dogs. The microfiber towel helps with drying time after a bath by absorbing excess water. The plush blanket, a cosy extra layer for the dog that likes to snuggle, can be used on the bed or furniture as a designated pet-friendly area for your pup.
WASTE BAGS: For the non-glamourous side of pet ownership, we've created fun poop bags in two prints – one with the iconic red telephone booths in London and the other with paw prints. The Union Jack Poo Bag Holder is ideal to make sure a bag is handy at all times. It conveniently clips to your leash.
CATNIP MICE SET: Don't leave your furry feline out of the fun. Our new 6-piece Catnip mice set will have cats entertained for hours. The set includes cute mice in three different iconic Laura Ashley prints.
We want to know more about your pets! Tell us what your pet's name is and something fun about their personality in the comments below, or tag @lauraashleyusa or #lauraashleyusa.