Be The First to See The New Girls Dresses
Get ready to go in this season's girls' dresses. Whether you are packing your bags for a holiday, looking for back-to-school dresses, or scheduling playdates, the collection is focused on timeless creations that radiate optimism and offer a graceful transition back to fun times and new adventures.
Colour is the cornerstone of the collection with dresses in shades of pinks and coral, a subtle but sweet lavender, and a buttery yellow, while the classic Laura Ashley prints offer plenty of English charm. Essential styles include easy silhouettes and pretty details such as eye-catching embroidery, bows that tie at the waist, and sophisticated ruffles.

Here are our six new, favourite girls' dresses to get now:
Lilac Dandelion Cotton Dress: No matter what the occasion is, watch her face light up with excitement when she wears this adorably sweet cotton dress highlighted by ruffled details at the sleeve, waist, and trim. A nod to nature's beauty, the dandelion print was pulled directly from the Laura Ashley archives.
Sunflower Print Toddler Dress: Our Sunflower Print Toddler Dress is like a ray of sunshine for those little ones who want to radiate optimism anywhere life takes them. The square yoke, ¾ puff sleeve, and embroidery at the hem are right on-trend as well.
Paisley Print Toddler Dress: If your little one wants to get dressed up for their first day of school, the show-stopping paisley and animal print make this dress a perfect choice. The ruffled bodice and bow that ties in the back adds extra details that make this dress picture perfect.
Ivory/Black Dot Toddler Dress: This classic polka dot dress brings joy with an effortless style that transcends generations. Regardless of your next destination, playdate or party, the Ivory point d'Espirit dress with an embroidered black polka dot and ruffled sleeve will be a top choice since it offers plenty of style and room to play.
Blue/Ivory Embroidered Overlay Toddler Dress: For a bit of grownup glamour, this dress delivers. The embroidered mesh overlay and bell sleeves are the perfect amount of sophistication for the little one who loves to get dressed up.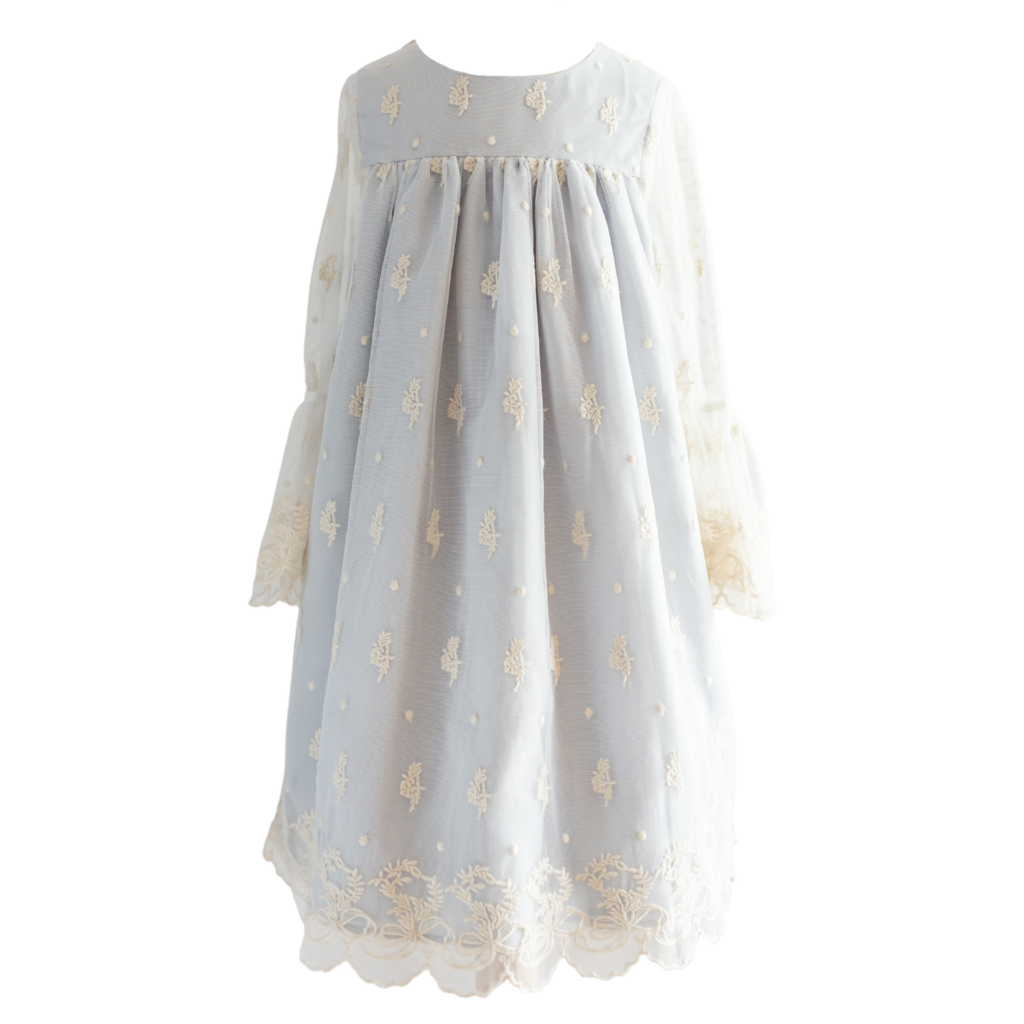 Rose and Butterfly Clip Dot Toddler Dress: If you have family traditions such as a special dinner out or a family holiday where everyone dresses up, we promise she will love wearing this dress. Heaps of English roses and touches of feminine details make this dress a keepsake to wear now and save for later.
Tell us about your favourite Laura Ashley dress. Comment below or tag us using @lauraashleyusa or #lauraashleyusa.