SLIP IN TO SPRING IN THIS LIMITED EDITION COLLECTION OF FLUID DRESSES, COOL SEPARATES AND REFINED ACCESSORIES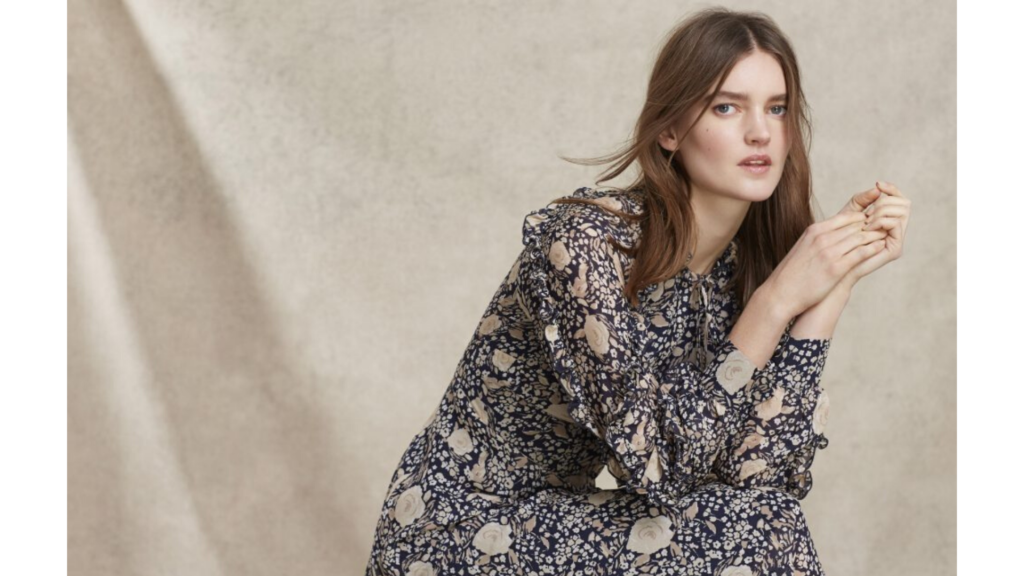 INTRODUCING OUR NEW LIMITED EDITION ALDERNEY COLLECTION
As winter is drawing to a close and spring is just on the horizon, we have the answer to all your transitional wardrobe needs with our new Alderney collection. This elegant and refined range of 'buy-now, wear-now' separates offers the perfect way to see in the new season in effortless style. Drawing inspiration from the Laura Ashley archive, the heritage hallmarks of the brand are intrinsically woven into the style of each piece—from a gentle ruffled collar to a mono-rose floral print.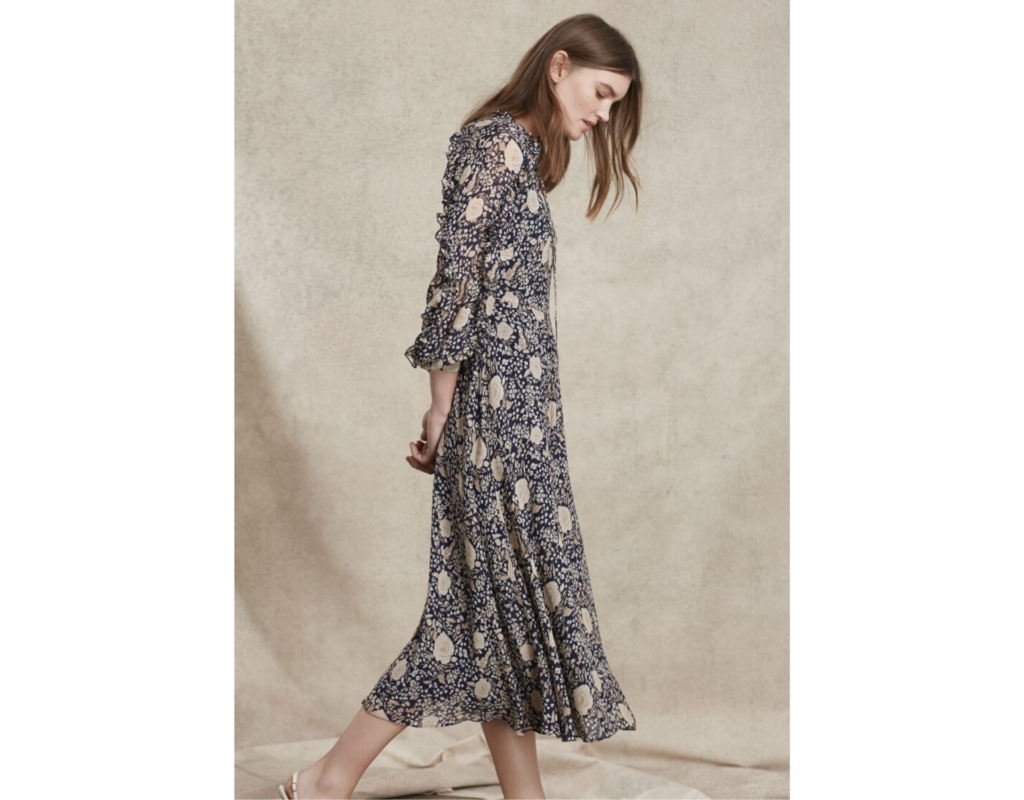 MODERN ROMANCE
Our new Alderney collection is the perfect way to add a bit of romance back into your wardrobe with pieces that can be dressed up for a night out while still being suitable for wearing to work. With silhouettes from the 1980s coming back into fashion, this collection uses archive designs to add a bit of vintage flair to each piece. One of the primary prints of the collection is our Archive Garden print. This large scale mono-rose print perfectly floats across the frills and ruffles of our detailed blouses and floaty midi-dresses giving the pieces a bit of 80s flair with a modern look.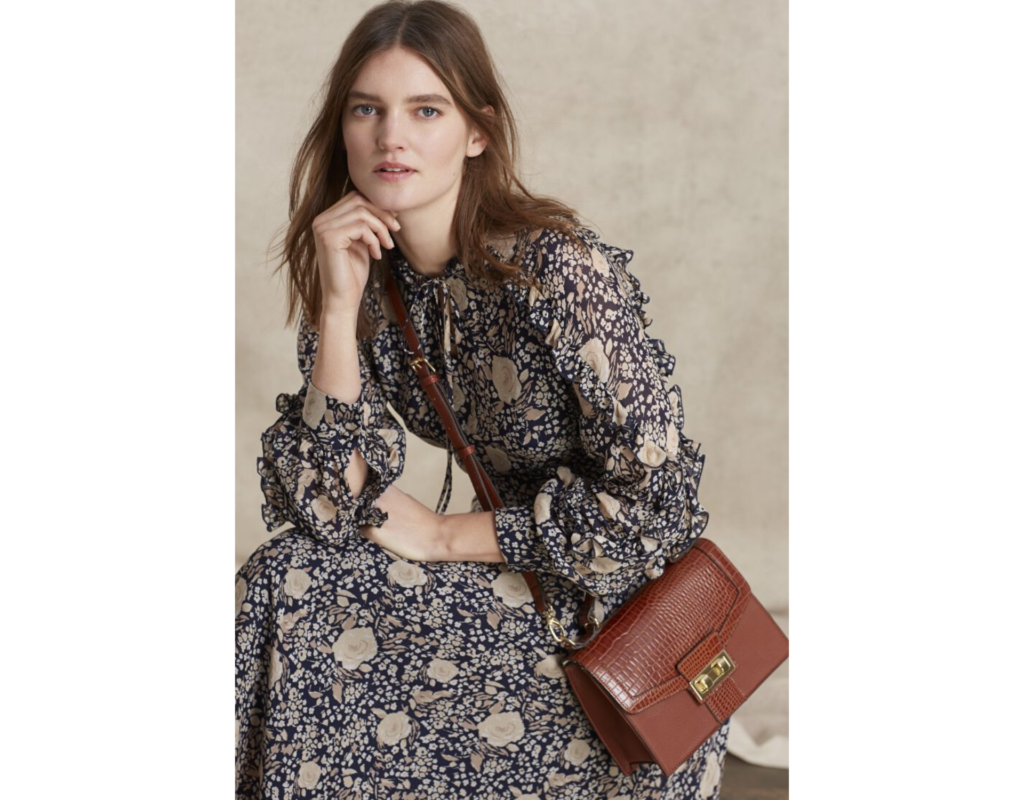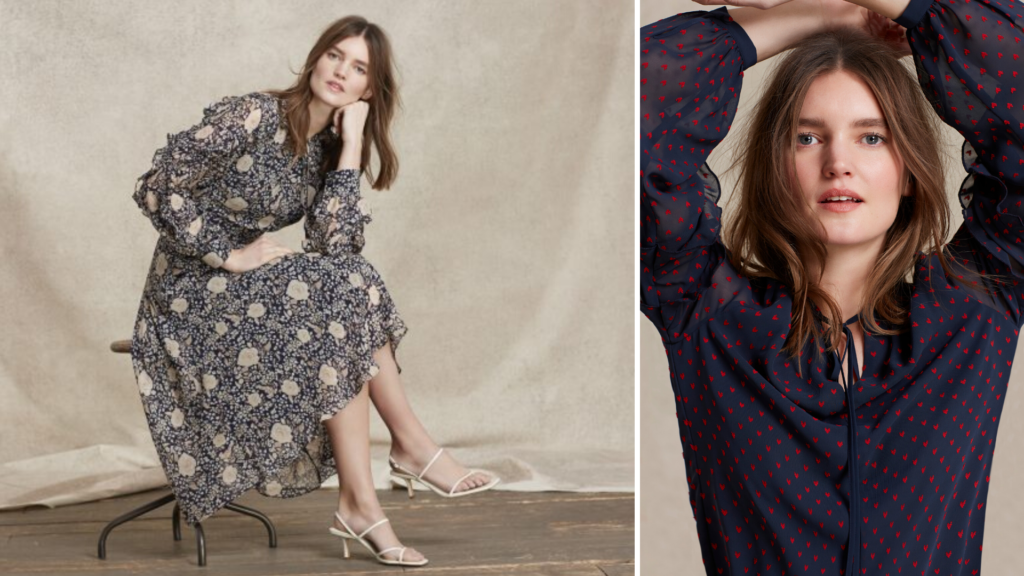 EFFORTLESS STYLE
Offered in a rich colour palette of ivory, navy, nutmeg and ruby; this limited edition collection heralds the return of brighter days in style by adding a pop of colour to the popular neutral trend. Add some whimsy to your wardrobe with our collection of romantic midi-dresses—making switching from day to night easy. Create a cool-casual day look with a simple pair of flats or dress up your Alderney midi-dress for the evening with a pair of killer heels.
Our range of feminine blouses with ruffle details and tie fronts are perfect for dressing up a pair of jeans or adding a stylish touch to a work ensemble. These classic pieces will be those 'buy once, wear forever' staples that form the backbone of every cleverly stylish wardrobe.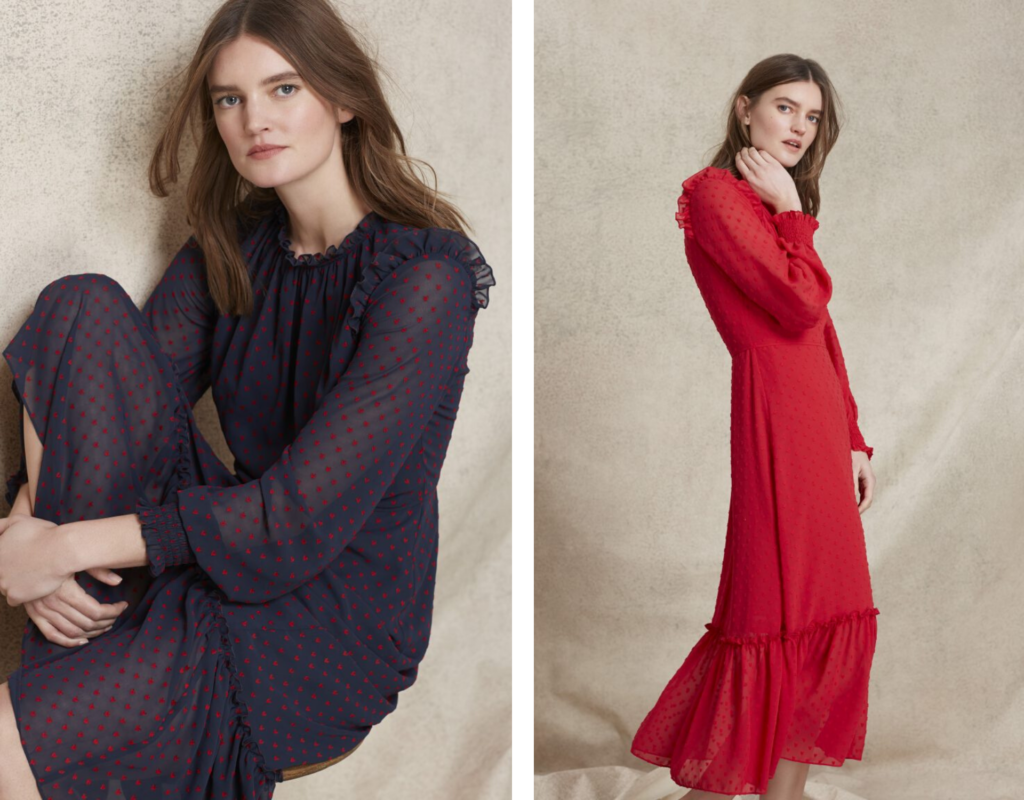 STYLISH SILHOUETTES
Transition into spring with a wardrobe of fluid dresses, cool separates and refined accessories— a collection of elevated daywear pieces for the modern woman. This limited edition collection uses a contemporary silhouette with touches of 80s romance. The sophisticated glamour of blouson sleeved dresses and shirts in the collection aligns with the current trend of an oversized Victorian sleeve. This style creates a perfect contemporary silhouette—creating the illusion of a slimmer waist whilst adding a touch of femininity to any ensemble. The apron-front style of the midi-dresses is great for those easy days when a beautifully cut dress solves any wardrobe dilemma—especially when paired with statement white boots for a stunning daytime look or a pair of strappy sandals for evening elegance.
Our range of tie-front blouses with frilled and ruffled sleeves give a bohemian edge to a timeless piece. For a slick everyday style, pair these blouses with a pair of skinny jeans or elegant trousers and an easy throw-on coat to look effortlessly stylish on every occasion.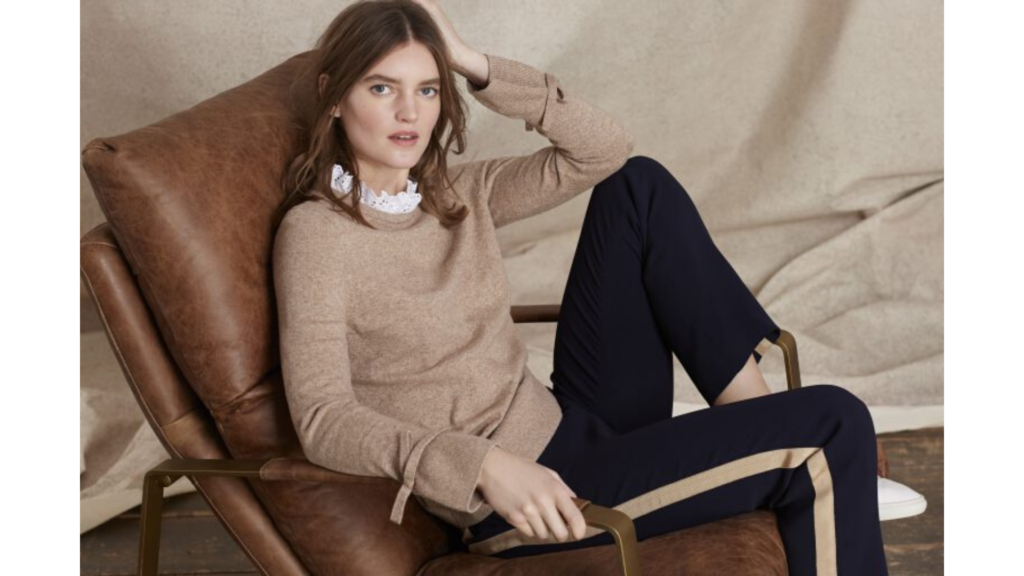 HERITAGE PRINTS
Taking inspiration from the Laura Ashley archive a charming ruby heart print dances across a softly frilled dress and feminine blouse while an exuberant mono-rose floral gets a modern update in fresh shades of nutmeg and navy in this beautifully curated collection. The hero print of the collection, our Archive Garden print, gives the collection a touch of subtle 80s flair while our Heart Jacquard print adds a textural element to the luxurious fabrics used on our midi-dresses and printed blouses. The neutral shades of the prints make them perfect for pairing with your favourite pieces in your existing wardrobe.
What you think of our new Alderney collection? Let us know in the comments below.