We're sharing the next installment of our Styling the Season series…
Today, we are back with our second installment of the Styling the Season, a tribute to the brilliant series found on Katy and Charlotte's blogs. We were invited to join in on the action and were blown away by the brilliant snaps our bloggers have shared so far using some of our brand new SS15 season pieces.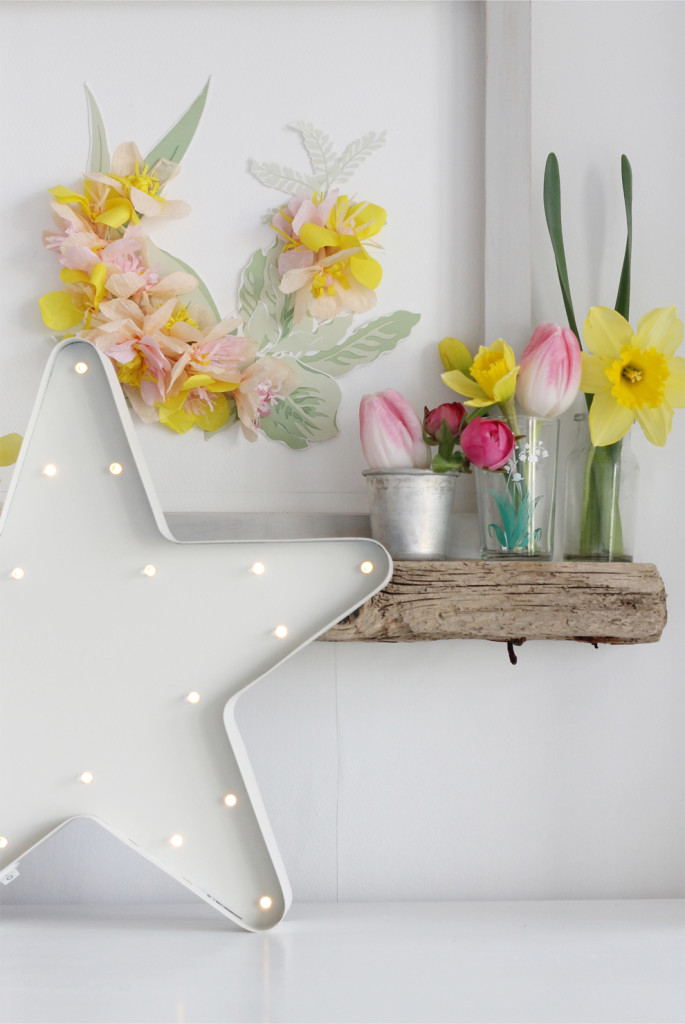 Charlotte at Lotts and Lots
My inspiration for the month is celebration. February is my birthday month plus it's the first month that glimpses of spring start to appear. I styled my star LED light with a driftwood shelf that I made myself. I love how this light is battery powered and can so easily be moved from room to room and styled differently for all sorts of events. I'm currently trying to add detail to my bedroom so made these framed paper flowers using the leaves of Orchid Apple Wallpaper as inspiration. To tie everything together, I couldn't resist adding fresh spring flowers for a burst of bright happy colours.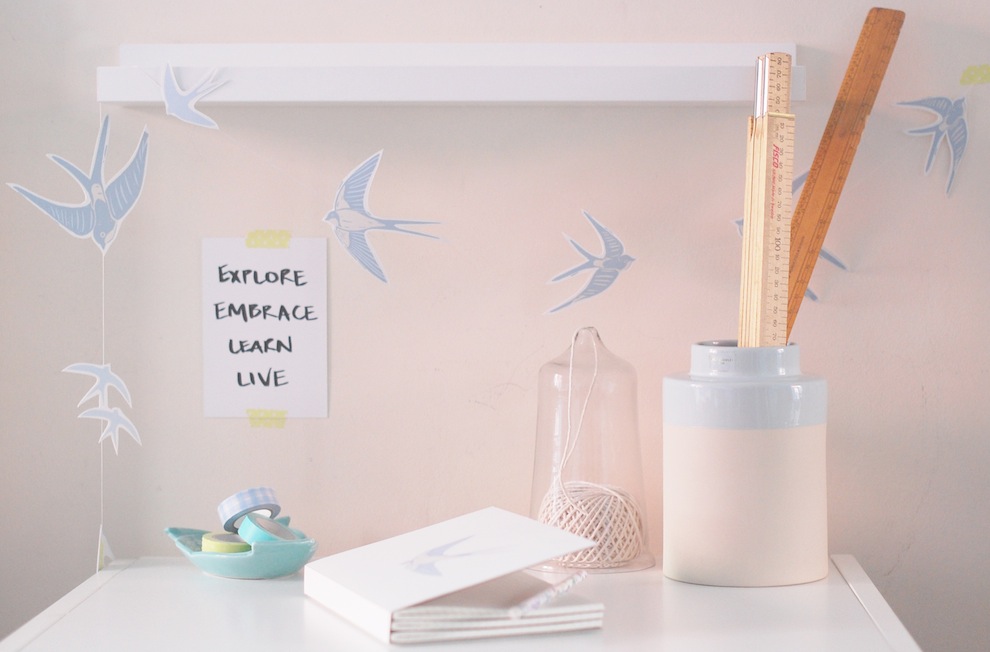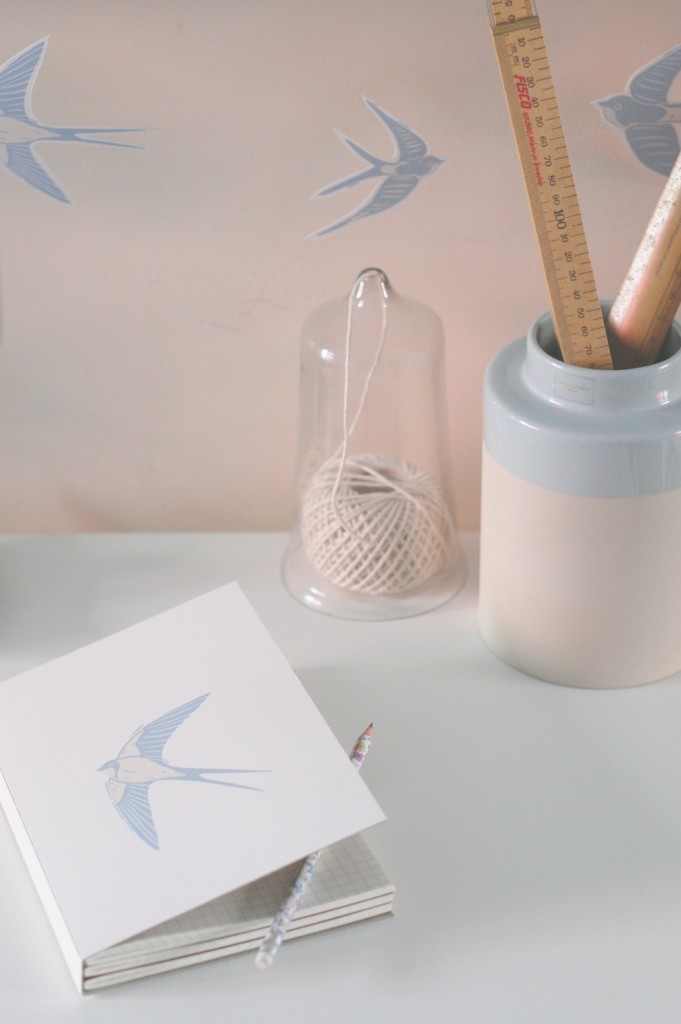 Soumya at Made By Molu
Blue Birds Off White/Seaspray Wallpaper
The inspiration behind this month's styling stemmed from the concept of 'new beginnings' and 'creating adventures'. So with that in mind, I chose the lovely Blue Birds Off  White/Seaspray Wallpaper.
Having recently switched careers, the swallows (symbolic of hope, strength and journey) on the wallpaper were a perfect representation of my new creative beginnings and the journey that lies ahead this year for me.
I'm rather big into journals and sketchbooks, where I'm constantly jotting or sketching down ideas, inspiration, dreams and goals I have… even those endless list of things to do! So, I decided I would style the little desk space we have in the bedroom to create a calm and inspiring place to sit and write at home.
I used the swallow-motive wallpaper to make two key pieces; a hardcover for a new journal, which I created from binding together three notebooks, and a cute little garland for the desk space out of the swallows I cut out. Being a small desk space, I kept the worktop quite minimal, using a vase to hold some of my vintage rulers.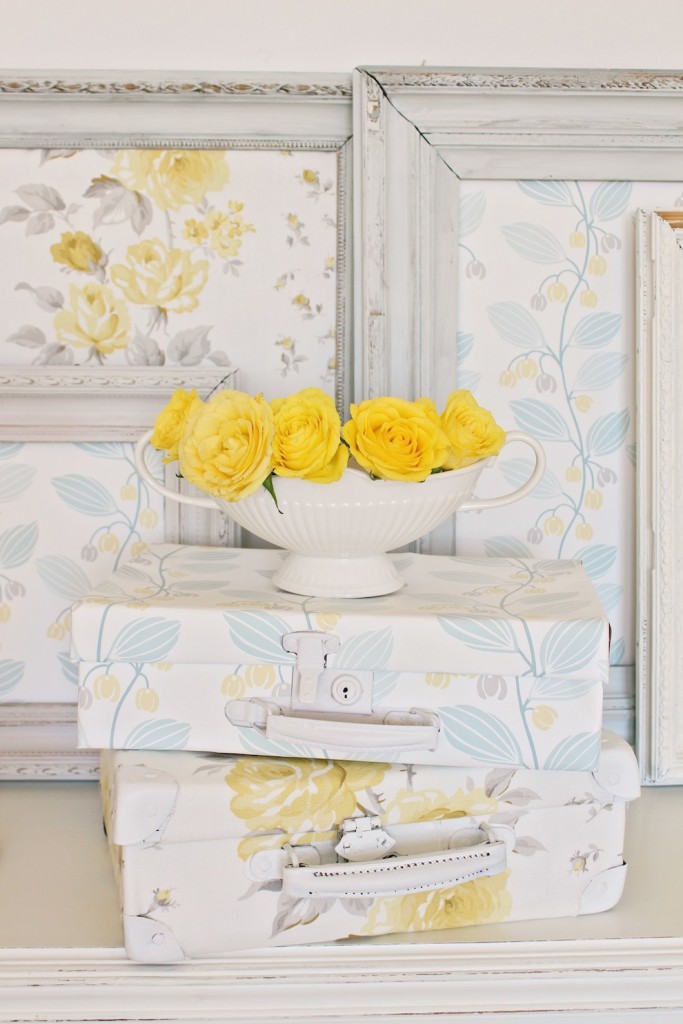 Tamsyn at The Villa on Mount Pleasant
Spring Trail Duck Egg Wallpaper / Clarissa Camomile Fabric
After a long winter, I wanted to bring a little bit of much needed sunshine to my February Styling The Seasons post. I loved the sunny yellow tones in the Spring Trail wallpaper and Clarissa Camomile fabric, so I framed sections in beautiful old painted frames and layered them up, to make a bold yet fresh and pretty display. I also covered some sweet vintage mini suitcases and stacked some beautiful old lampshades, before adding the final touch – yellow roses to remind me that spring really is on it's way!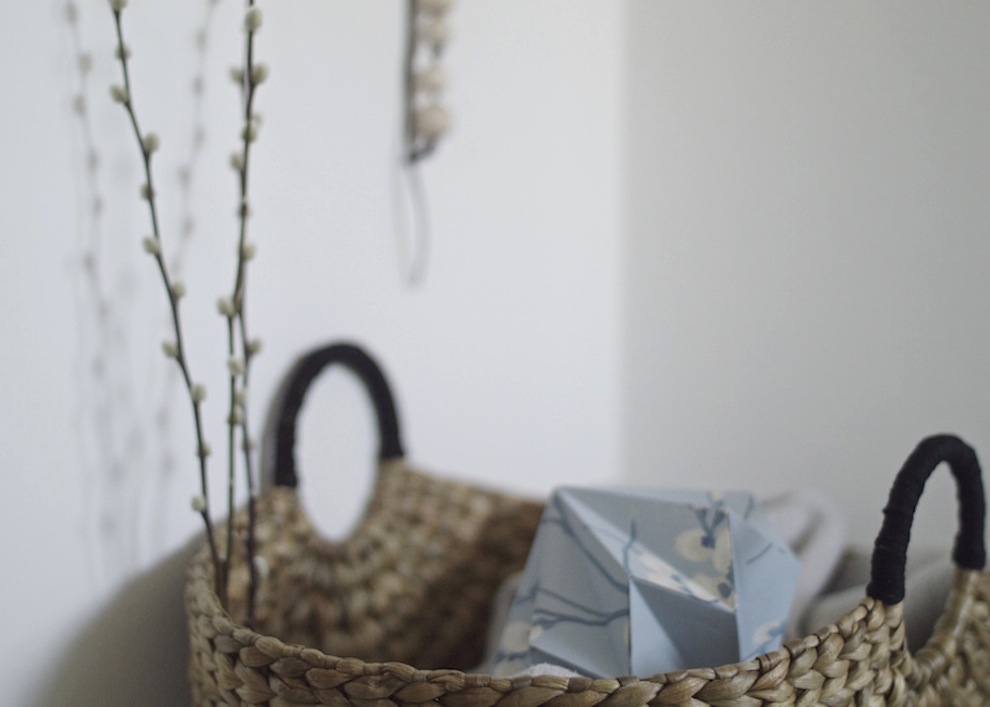 Sarah – Louise at Lapinblue
Pussy Willow Seaspray Wallpaper
There's a point on our journey home from school where the trees are deep silhouettes against the softest, bright blue sky that melts into vanilla cream clouds. I've tried to reflect this through colour & texture.
The water hyacinth basket is great for stacks of cosy blankets – I wrapped the handles in jersey cotton to add contrast – and I used the Pussy Willow Seaspray Wallpaper to make a geometric origami diamante. It reflects the colours & season perfectly.
Feeling inspired? Whether you're a blogger or just on the social media scene, anyone is welcome to take part in the Styling the Seasons series each month. Simply take snaps of your styled area and upload it to Instagram, Facebook or Twitter using the hashtag #StylingTheSeasons. It's a brilliant concept, bursting with inspirational ideas and a wonderful way to get your creative juices flowing!