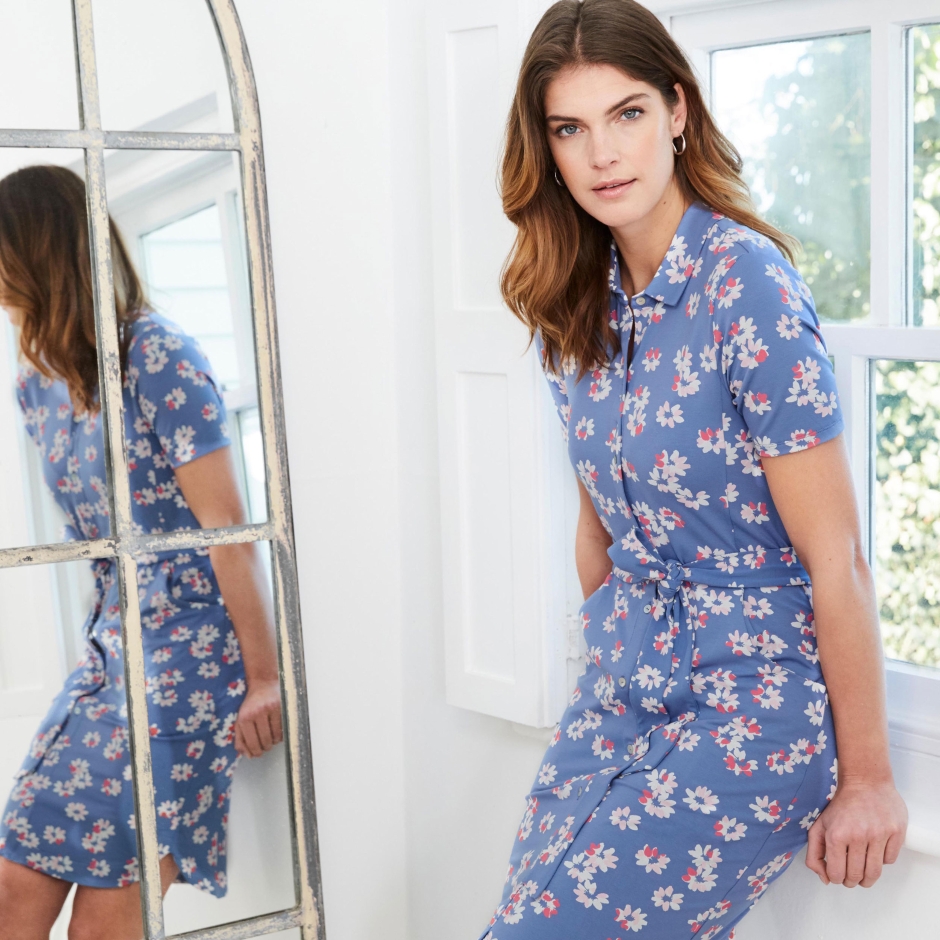 Blue Blossom Print Jersey Dress
FEMININE AND ELEGANT, PASTEL HUES ARE ESSENTIAL FOR ANY SPRING WARDROBE.
Nothing says spring better than soft florals and pastel hues. No longer are candy pinks, baby-duck yellows and soft blues reserved for the kids—adults can now have their fun too. Over the last few years the pastels trend has continued to grow, so much so that pastels have become a staple in every woman's spring wardrobe.
While the colours are fun and youthful, knowing what to pair with them to create a balanced outfit can sometimes be difficult. If done right though, the gentle hues of a pastel ensemble can exude a look of timeless elegance.
These simple tips will ensure you put no foot wrong when refreshing your wardrobe and creating an outfit using spring pastels.
DRESSING WITH FLORAL PRINTS
To create balance within your ensemble, why not pair your pastels with a floral print. This combination will give your outfit a bit of character while still maintaining a subtle elegance. The pastel pink Camellia Pink Cardigan perfectly complements any of our soft floral pieces.
MATCHING YOUR PASTELS IN WITH YOUR PRINTS
Alternatively, an easy way to create balance within your outfit is to match the colour of your pastel piece with a print. This matching look is easy to create and is a great go-to when you are running out the door and need to quickly throw something on. The playful ice-cream design of the Lollipop Voile Blouse and the Classic Ditsy Pop Over both use pastel pinks, blues and greens. The subtle tones match a number of coloured trousers creating a crisp fresh look.
KEEP IT SIMPLE
A surefire way to create the perfect outfit that looks both fresh and elegant is to keep it simple. This means not over-accessorising and sticking to a simple colour palette. There are a number of techniques fashion designers use when experimenting with pastels. The monochromatic look is particularly popular at the moment—a look where your outfit, shoes and accessories all match. Also popular is colour blocking with two contrasting pastels to create a high fashion look.
PAIR YOUR PASTELS WITH NEUTRAL ACCENTS FOR A SPRING LOOK
Colours like white, cream, tan and even on occasion, black, can do wonders in highlighting the soft tones of your pastel pieces. These colours can also give your outfit a more high-end and dressy look—great for a spring garden party.
Alternatively, accessorising with neutral tones can bring balance to an outfit. A white pair of shoes really makes the floral design of the Laura Ashley Pintuck Floral Print Dress pop by matching it with the dress's neutral tones. The white also works in with a solid sweater or jacket making the outfit look light and fresh—perfect for spring and summer.
Which of the outfits featured is your favourite? Let us know in the comments below.