If you are lucky enough to live in St. Louis, Missouri, then you know about The London Tea Room's Blueberry Lemon Cake. People drive miles just to enjoy a piece.

We are highly honoured that they have shared their famous recipe with our readers. Now make a pot of tea, get out your Laura Ashley linens and china, and enjoy!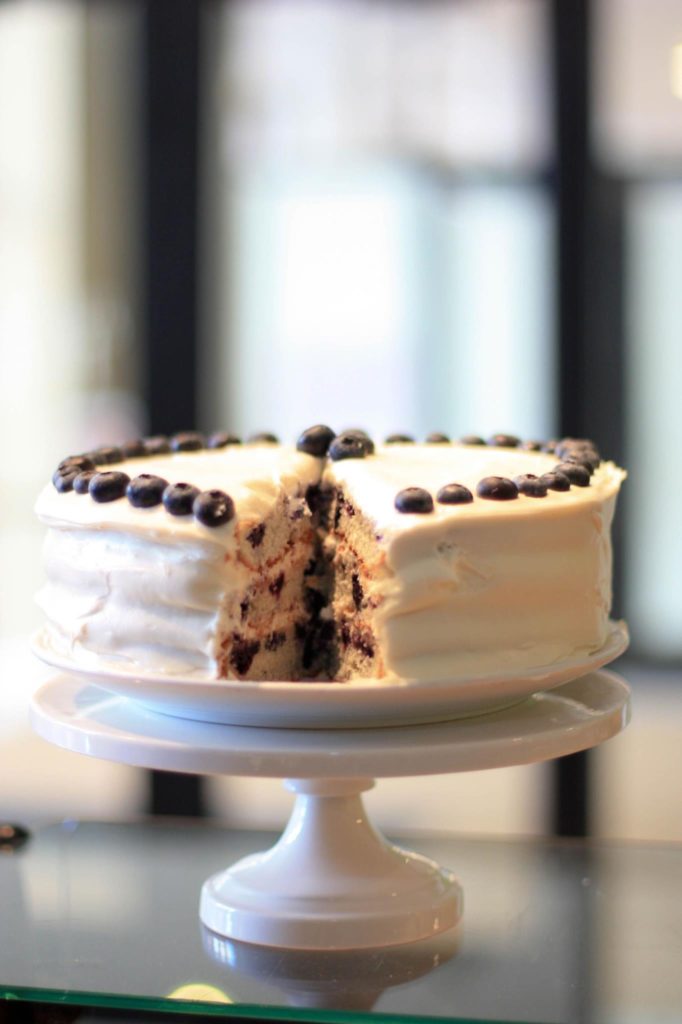 The London Tea Room Blueberry Lemon Cake
Canola spray, for pans
1 cup (2 sticks) unsalted butter, room temperature
1½ cups granulated sugar
4 large eggs, room temperature
2 cups all-purpose flour
2 teaspoons baking powder
1 pinch table salt
1 cup whole milk
2 teaspoons vanilla
2 tablespoons lemon zest (from about 1 large lemon)
3 cups (13¼ ounces) fresh blueberries, preferably cold to avoid breakage
For frosting
16 ounces cream cheese, room temperature
¾ cup (1½ sticks) unsalted butter, room temperature
4 cups powdered sugar
2 tablespoons lemon zest
1 teaspoon vanilla extract
Bowl hot water
Additional fresh blueberries, for garnish
1. Make cake layers. At least one day and up to one week before serving, heat oven to 350 degrees. Spray bottoms of 3 (9-inch) cake pans with 1-½ inch sides. Cut parchment to fit pan bottoms, press parchment into pan bottoms to wet and secure, then generously spray parchment tops and pan sides.
2. Use an electric mixer with paddle attachment in a large bowl to mix butter and sugar at low speed until combined, mixing but not adding air, more "stir" than "beat." Add eggs one at time, mixing just until combined. Scrape bottom of bowl and paddle.
3. Measure flour into a medium bowl. Set aside 1 tablespoon flour. Stir baking powder and salt into flour. In a small bowl, whisk milk, vanilla and lemon zest.
4. Just until blended, gently mix into butter-sugar mixture at low speed: 1/3 flour mixture, then 1/3 milk mixture; repeat twice more.
5. Mix blueberries with the 1 tablespoon flour, tossing gently to coat. At low speed, mix floured blueberries into batter. With a spatula, scrape bowl bottom and sides, then stir well to finish mixing batter; be sure to break up any clumps of lemon zest.
6. With a large ice cream scoop, divide batter equally among pans. Use an offset spatula to spread batter evenly across the pans.
7. Bake until tester inserted into center comes out clean, start checking after about 15 minutes. The tops should be golden, the sides a little crispy and pulling away from the pan; do not overbake.
8. Cool cakes on racks for 10 minutes. Run a knife around the pans' sides to loosen, then turn onto racks to finish cooling. As soon as completely cool, peel off parchment, wrap in plastic and freeze for at least one day and up to a week; do not thaw before frosting.
9. Make frosting. In a large bowl, use an electric mixer (preferably a stand mixer for the most loft) to beat cream cheese and butter until light and fluffy. At low speed, mix in powdered sugar a cup at a time, then lemon zest and vanilla. Increase speed to medium high or high to whip air into frosting; it's done when frosting begins to audibly smack against side of bowl.
10. Frost cake. Transfer 1 cake layer, bottom-side up, onto a round cake plate atop a lazy Susan-style turntable. Use an offset spatula to spread ¾ cup frosting over entire top. Repeat with second layer. Top with third cake layer, bottom-side down. Spread a thin "crumb" layer of frosting on cake sides and top. Refrigerate cake for 30 to 60 minutes.
11. Spread remaining frosting over cake, top first, sides second, smoothing and evening frosting several times. For final smoothing, dip offset spatula in hot water and smooth top first, then sides.
12. Arrange a few blueberries in cake's center in a flower shape, then line edge with berries. Refrigerate cake until ready to serve.
13. To serve London Tea Room-style, cut cake into 8 slices and serve with Earl Grey tea with notes of citrus.
Per serving: 1,141 calories; 64g fat; 38g saturated fat; 260mg cholesterol; 12g protein; 135g carbohydrate; 106g sugar; 2g fiber; 376mg sodium; 196mg calcium.

Visit The London Tea Room's website at www.thelondontearoom.com. The ever-so-English tea room sells and serves around 80 varieties of superb loose leaf tea, offers afternoon tea service served on Laura Ashley china, and sells everything tea-related, including the new Laura Ashley range of blue and white china.