Miranda shows us how to stand out from the crowd with the statement dress of the season…
Even though the temperature has dropped, your style and fashion choices don't have to suffer. Instead what you need is the perfect Holiday statement dress that will carry you through these colder months and look perfect for every occasion. After spotting the Herald Print Maxi Dress from the Portrait of Laura collection, the gorgeous Miranda from Miranda's Notebook styles the dress of the season and shows us what she will be wearing again and again this Holiday season.
Over the past two years, dresses have become true staples of my wardrobe. A great dress is a life-saver for women leading busy lives (and what woman doesn't?!), who want to look stylish within minutes and who don't want to spend ages gazing into their wardrobes wondering which top goes best with a new skirt. A dress is the easiest outfit to pull together: you simply slip it on, add a pair of heels, a small bag or clutch, and you're good to go. Maximum effect for minimum effort is always a plus in my book!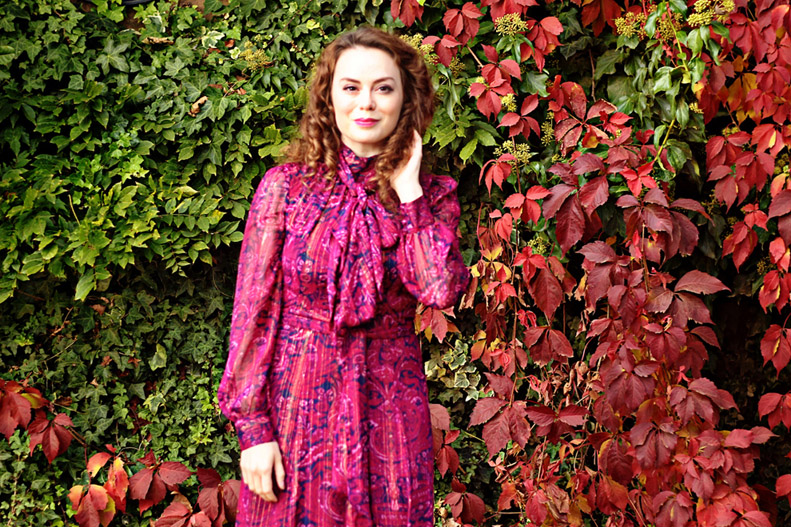 As soon as I saw this Maxi Dress in the Laura Ashley collection, I knew that it would be the perfect statement dress for the many weddings and parties ahead. I instantly fell for the heraldic print, a classic from the Laura Ashley archive, but what surprised me when I first tried it on, was the beautiful way the dress glimmers and catches the light. The metallic threading throughout the dreamy chiffon gives an added depth and sparkle that truly makes this dress stand out in a crowd.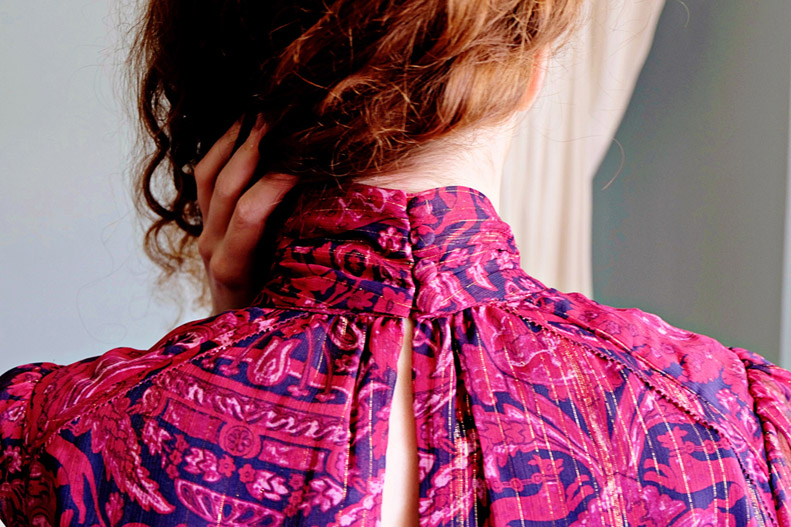 I also love the colour: the rich purple is a gorgeous alternative to all the black, red and green that are such common choices this time of year. For these photos, I wore the dress to an afternoon outing at Kenwood House in Hampstead Heath, and the auburn leaves of the trees provided the perfect backdrop. Incidentally, Kenwood House is where the Henry James filming scene was shot in Notting Hill. I felt rather like a Henry James heroine myself, wandering through the beautiful house and grounds in my flowing dress. The high-neck collar, pussy-bow tie, fitted waist and bishop sleeves are all a nod towards this season's trend for Victoriana inspired fashion.
As the dress is quite elaborate, I kept my accessories as paired down as possible, choosing only a monogrammed clutch that was a recent gift from a friend and some high-heeled ankle boots. Even though this dress is definitely a statement piece, it is happily very comfortable to wear, and would make a great choice for any gathering, from a winter wedding to a night at the ballet or a girls' afternoon tea at a beautiful hotel. A few weeks ago, I took the dress with me for some birthday celebrations in Geneva, and I was delighted that it travelled very well and barely creased.
As always with Laura Ashley clothes, there is exceptional attention to detail: the back of the dress looks stunning with a slit beneath the collar, which is done up with pretty little buttons that match the ones on the cuffs. I also like that there is a good quality lining throughout most of the length of the dress, so you never have to worry about exposing a little more leg than you might wish!
I'm really thrilled with this statement dress and can't wait to wear it to several parties this season.
Doesn't Miranda look gorgeous? The purple shades look striking on her. Where will you wear our Heraldic Maxi Dress? Let us know below or on Twitter @lauraashleyusa