Why You Should Add These 5 Spring Colours to Your Bedroom Now
Soft pastels, gingham, ticking, and florals are just a few of the bedding trends that are moving into the bedroom this spring.
If your bedroom could use a refresh, the fastest and easiest way to update it is to opt for new bedding. Skip the renovation. Simply swap out your bedding to set the stage for a new look with the latest designer-approved decor trends.
Celebrate the spring season with our new bedding collection designed with fresh florals and happy hues ideal for bedroom bliss. Here are our tips on the spring colours you should be embracing and why they are ideal for the bedroom.

1 – The meaning behind blue bedrooms: No one loves blue more than Laura Ashley fans. Classic blue and white is a colour combination that is always trending because of its timeless appeal and calming nature. Blue is a colour associated with the sky and ocean, and it is no wonder that it represents freedom, inspiration and imagination. It's time to dream big while falling asleep in blue bed linens.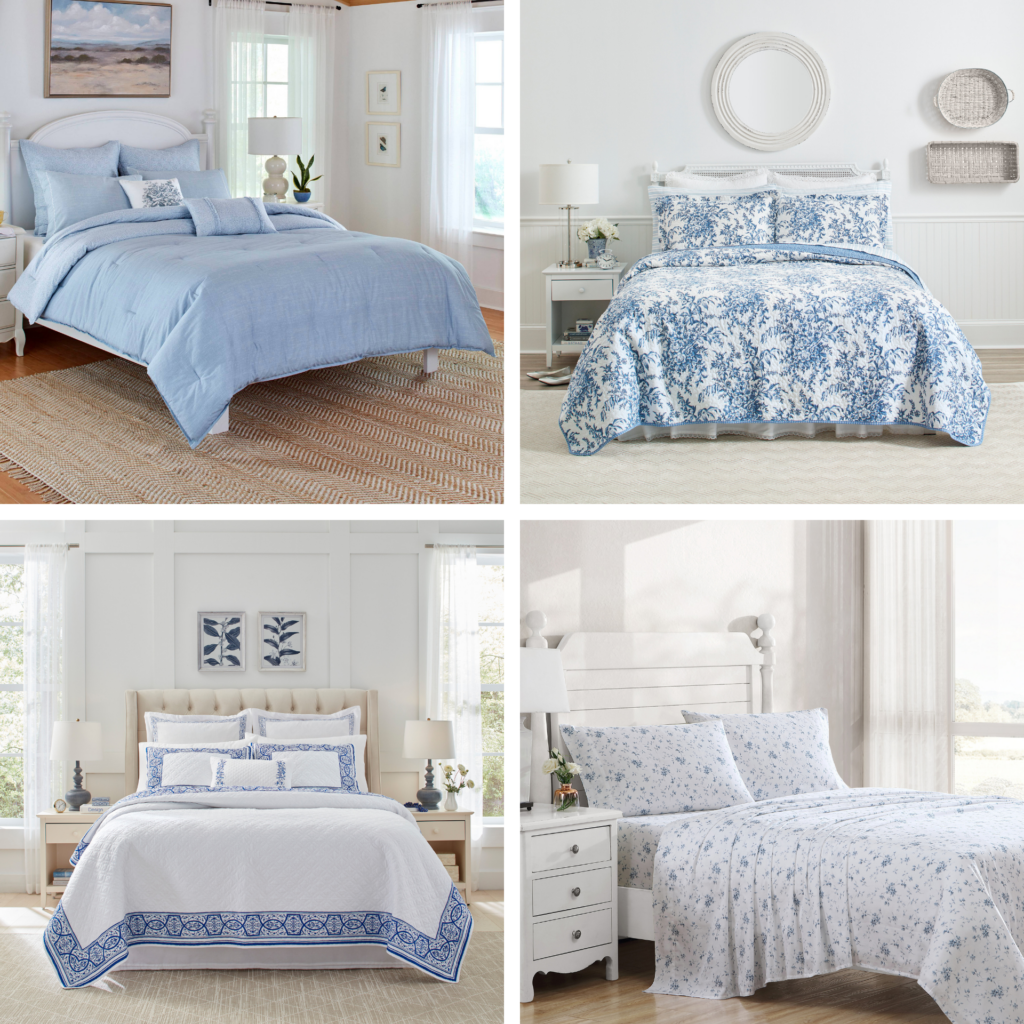 2 – Yellow bedding ideas you will want to copy: While living rooms can take a mood-boosting jolt of bright yellow, we prefer to stick to softer shades of the sunny hue in the bedroom. Let the optimism shine in your room with a very on-trend gingham print or a floral print that showcases yellow in a subtle but cheerful way. Or mix them together!
3 – How to get a gorgeous green bedroom: Green is often associated with renewal, health and growth thanks to its connection to nature. It is a perfect colour for the bedroom as it feels calming and refreshing. A total bedroom makeover is not required if you want to make a switch to sophisticated green hues. For sweet dreams, switch the sheets, quilt, shams or bedskirt to a green print.
4 – Chic ideas for decorating a white bedroom: Dreamy and serene, white bedrooms are a popular choice for those who want a break from a busy life. Inherently a positive colour, white is associated with innocence and goodness. Don't be mistaken. White does not mean boring. Sink into an all-white bed or add white in layers with other neutral or soft hues such as grey, pale pinks, or light blues.
5 – Why soft rosy pink will make you rethink pink in the bedroom: Pinks are a designer-approved hue for the bedroom mainly because pink is associated with femininity, nurture, and love. This spring, a subtle shade of rosy pink is the top choice for the bedroom. Perfect for a good night's sleep or setting the tone for a romantic bedroom, soft shades of pink are best in an all-over floral print.
Don't overlook this bed linen trend too!
Making the case for extra pillows: One of the smallest additions to the bed this spring is the biggest style statement you can make. Beyond the sheets and quilts don't forget to add extra pillows. Accent pillows are a sophisticated touch that ties the design of the bed together.
Our new collection is designed to work seamlessly with your decor while offering soft fabrics that will make you want to sink into your bed every night. Whether your style is a romantic cottage, refined rustic or modern cottage, these bed linens are designed to make everyday life feel and look beautiful.

What colours do you prefer in the bedroom? Tell us what your dream bedroom colour is by commenting below or by tagging us at @lauraashleyusa or by using the hashtag #lauraashleyusa.