For most people, the guest room is the place where you stash that box of who-knows-what that you never managed to unpack, even though you moved in years ago. Or it doubles as your office, a neglected workout room, or some combination of of the above. But when friends and family come to stay, you want to put your best foot forward. So, we've put together ten tips for creating the ultimate guest room featuring our beautiful Laura Ashley Bedding.
Tip 1: The Welcome
A handwritten welcome note that includes your home's WiFi password, instructions on how to turn on the telly, and any other 'need-to-knows' sets a welcoming tone. Pair these with some fun reading material, tailored to your guests.
Tip 2: Stock the Bedside Table
Make your guests feel at home by setting up their bedside table with helpful items like a jewelry tray, an iPhone charger, and an alarm clock.
Tip 3: Have Fun
Your guest room is a blank canvas, it's a room you can truly experiment with design and colour. Create a whimsical look that helps your guests feel at ease and relaxed. Go bold with color and add vintage accessories to complete the room.
Tip 4: Bedding, Bedding, Bedding
Your bedding is an essential aspect of the room. The bed sets the tone for the rest of the room!  Laura Ashley offers multiple options to inspire you. Toss a few light throws onto the foot of the bed and provide two soft and two firm pillows on the bed, so that guests can choose what's most comfortable for them.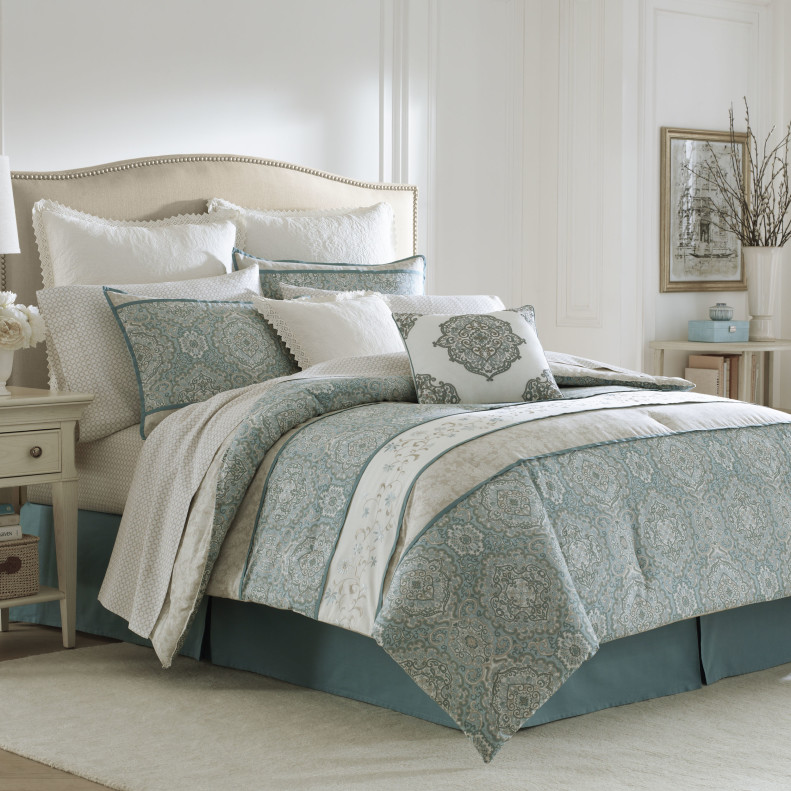 Tip 5: Keep Them Hydrated
Place a few bottles of water and glasses on the nightstands or bureau for if they get thirsty in the middle of the night.
Tip 6: Prepare for the Kiddos
Do your guests have little ones? Save them the stress of worrying about your breakables by removing fragile objects from the room and leaving plush toys in their place.
Tip 7: Bath Goodies
Take your cue from hotels and have a tray waiting with two bath towels, two face towels, and washcloths. For an extra touch, add some nice bath products—a fragrant body wash, a nice soap or lotion, maybe a room spray.
Tip 8: Let There Be Light…And Dark
Provide multiple lighting options—reading lights by the bed, a motion-controlled nightlight, a soft overhead light. Add blackout curtains to ensure that your guests can get a full night's sleep by providing complete darkness for a nice lie in.
Tip 9: Storage Space
Most homeowners are guilty of using guest room closets for storage. If this is the case for you, consider providing a luggage rack or ottoman for your guests to place their bags. Add a hook to the space for any hanging clothes your guests may have and a full length mirror for their use.
Tip 10: A Finishing Touch
A simple vase with fresh mums or hydrangeas creates a pleasant environment; but be mindful of any allergies your guests may have.
Bonus: A morning breakfast tray or a night time chocolate on the bed is a brilliant finishing touch!