What better way to quench your thirst on a sunny day than with this mouthwatering mock sangria…
It's that time of year where you'll be spending more time outside with your friends and family. Wearing her new favourite Sleeveless Water Floral Jersey Shirt Dress, Aimee from Wallflower Girl shows us how to make the perfect Mock Sangria and look super stylish doing it…
If you're looking for a summer punch that is refreshing, delicious, healthy and beautiful to look at… look no further! This non-alcoholic fruit punch is inspired by the  classic Spanish beverage, Sangria.
Sangria is normally made up of red wine, chopped fruits and lemonade. Sometimes with added brandy and sweeteners. My version replaces red wine with red grape juice (which has a natural wine flavour), cranberry juice, and orange juice. The fruit juices provide all the sweetness you need, so I just top it with carbonated water instead of lemonade or adding sweeteners.
This fruit punch would be welcome at any party, picnic, or BBQ. Even kids will love it!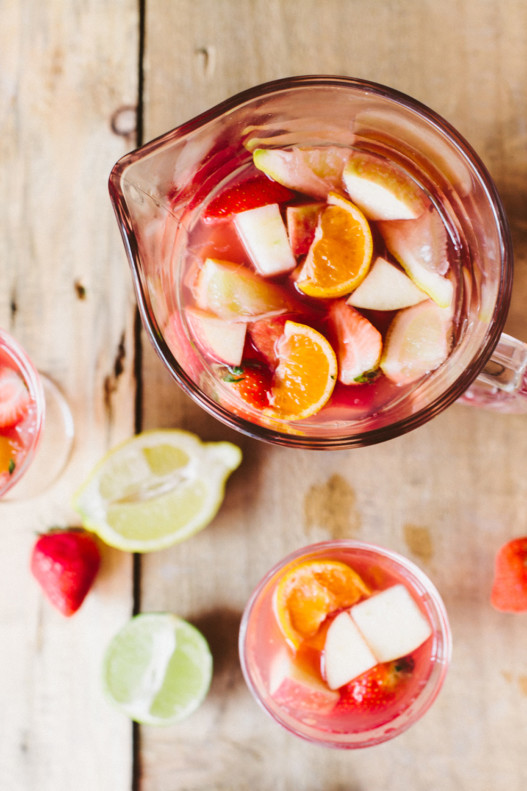 Speaking of summer parties… how perfect would this Sleeveless Water Floral Jersey Shirt Dress be for such an occasion? It's so comfortable and has a slight stretch, which is great for when you know you're going to be stuffing your face with food! Plus, it's so beautiful and flattering. You can dress it up with some heels and a bolero or keep it casual with some sandals and sunglasses. You can tell I love my new dress, can't you?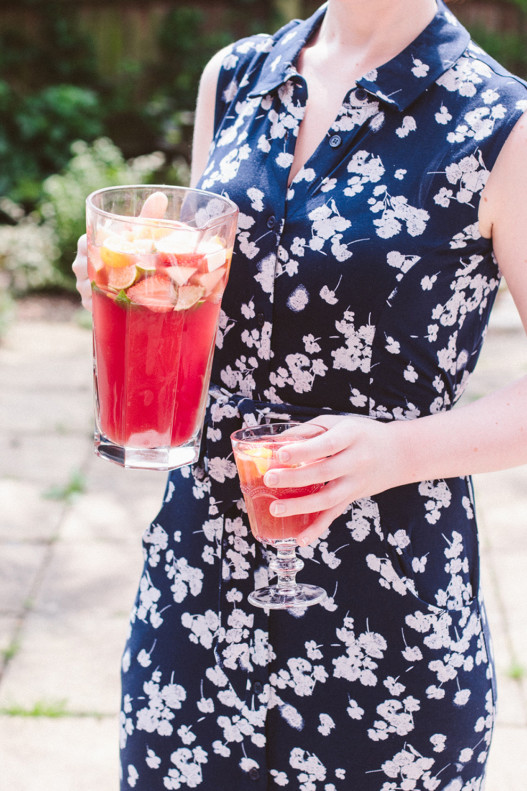 Mock Sangria:
Ingredients:
Assorted fruits, chopped
½ glass of red grape juice
½ glass of cranberry juice
½ glass of orange juice
1 pint glass of carbonated water
Instructions:
Add the fruits to a large jug, filling it about a third of the way up. I used an assortment of chopped lemons, limes, oranges, apples and strawberries. Leave the skins on as they add to the flavour!
Pour the juices and carbonated water over the fruits and stir gently to combine. If you want to prepare it in advance, leave the carbonated water out until just before you serve.
Serve and enjoy! You can keep the jug chilled for up to 12 hours before it goes flat.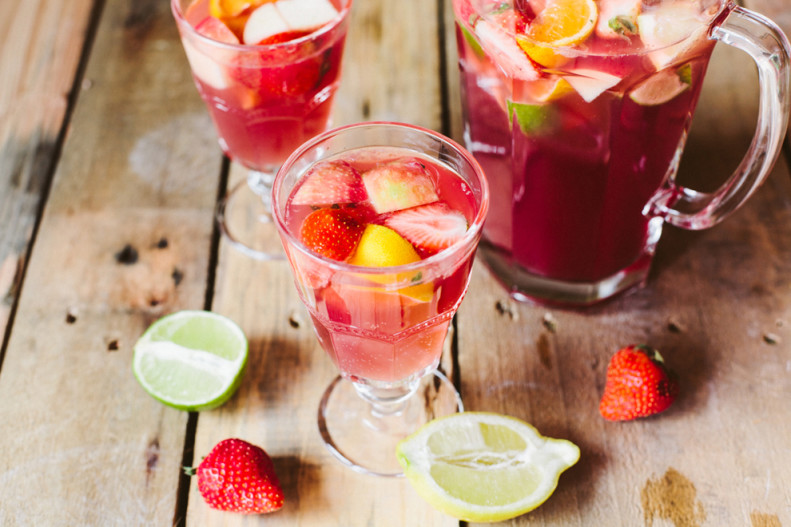 Thank you Aimee for such a refreshing drink recipe! Are you inspired to try making this mock sangria? What makes a perfect outdoor day for you? Let us know below or on Twitter @LauraAshleyUSA