Adams Apple Crunchy Cinnamon Bread Is Just The Thing You Need Right Now
We are always in search of a recipe to share with loved ones or just to delight our fancy. A woman-owned South Carolina based business caught our eye recently for good old-fashioned recipes that bring memories of a simpler time flooding in with every bite of pie, biscuits, and cinnamon bread.

Adams Apple Co. offers gourmet fruit butters, jams, marinades, and a Southern relish – all of which are original apple-based recipes created by founder Theresa Adams (hence the name). With the hopes of sharing the Adams Apple Crunchy Cinnamon Bread recipe, we reached out to Theresa to see if she would share it and she said yes!

Reviews such as "it tastes like memories" and "it's like fall in a jar" are just a few of the reasons her products have been featured in magazines such as Southern Living Magazine, Garden & Gun, and Southern Cast Iron Magazine. Vintage, clever, eye-catching branding and packaging are purposefully created with unique plaid designed labels on each Adams Apple product for a complete nostalgic experience.
"I have a huge weakness for bread. And when there's cinnamon and sugar involved, all bets are off. Add apples and my world is complete," says Theresa. "I'm pretty sure my heart looks like an apple fritter. This recipe makes a beautiful, sweet loaf of bread that is, well, everything. And it lasts longer than a muffin. If we're being honest, take a close look at the picture and you'll see the loaf looks a little 'short'. The hardest part of this recipe is just waiting for it to come out of the oven. It's a great brunch bread served with coffee or tea, or if you have hungry kids at home like I do, a big glass of milk will do just fine."
Adams Apple Crunchy Cinnamon Bread
Ingredients
1/2 tbsp ground cinnamon
1/3 cup sugar
2/3 cup brown sugar divided
1/4 cup softened butter
1/4 cup original Adams Apple Butter
2 beaten eggs
1 tsp vanilla extract
1 1/2 cups all-purpose flour
2 tsp baking powder
1/3 cup milk
Peeled and chopped Granny Smith apple (you can use any apple, but Granny Smiths are great for pies and bread because the tartness offsets the sweet)
Directions
Preheat oven to 350 degrees. Spray 8×4 loaf pan with non-stick spray.
Combine 1/3 cup of the brown sugar and cinnamon and set aside.
Cream sugar, remaining brown sugar and butter. Mix in Adams Apple Butter, beaten eggs, and vanilla.
Stir together flour and baking powder. Add to egg mixture along with milk and stir until combined without overmixing.
Pour half of the batter into the loaf pan. Sprinkle with 1/2 of the apples and 1/2 of the cinnamon mixture.
Stir remaining apples into the remaining batter and pour into the pan. Top with remaining cinnamon mixture.
Bake about 45-50 minutes or until a toothpick comes out clean.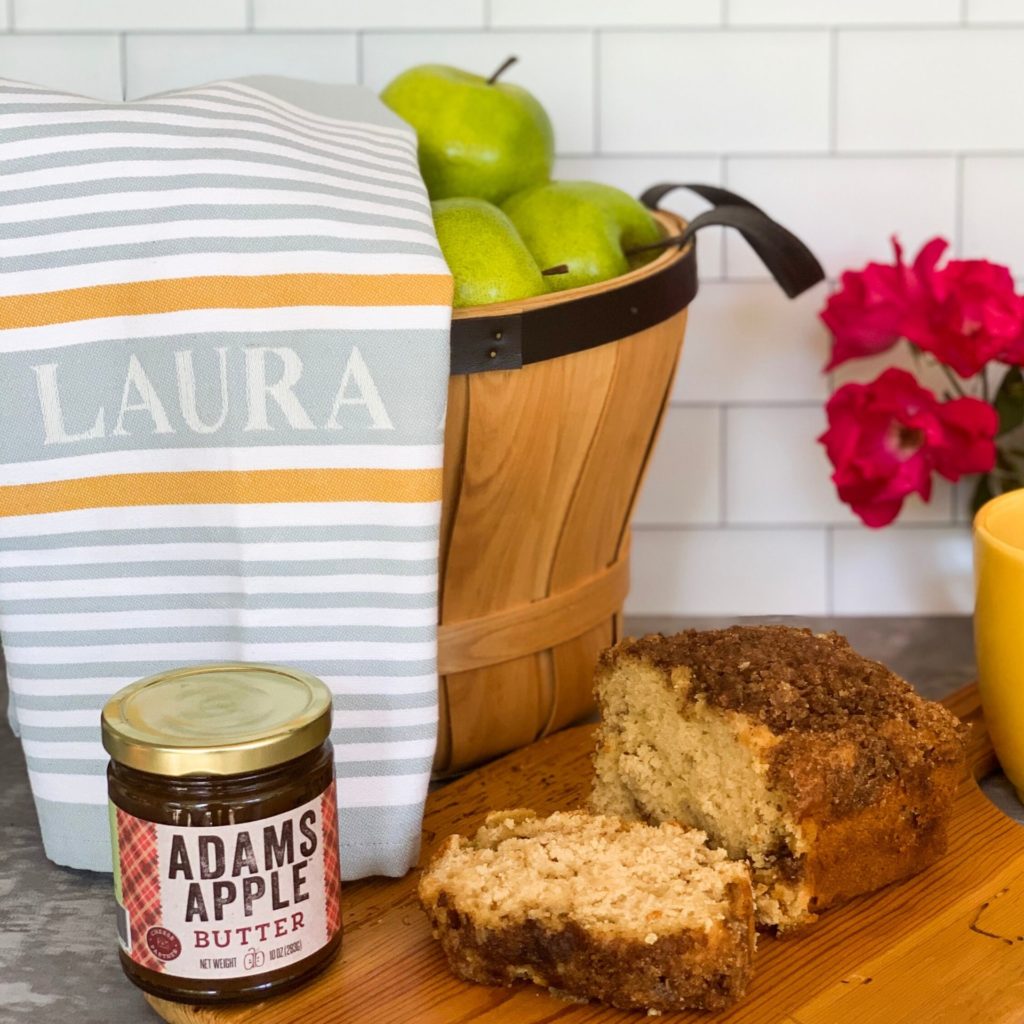 Do you have a recipe you want to share with us? Tag @lauraashleyusa to be considered. If you want more recipe inspiration, go to our Baking & Making board on Pinterest.