How to make a style statement with wallpaper to create a space you love

With its ability to add a touch of colour, texture, and personality to any room, wallpaper is the home upgrade designers and DIY-ers agree on when it comes to making an immediate impact on how a space feels.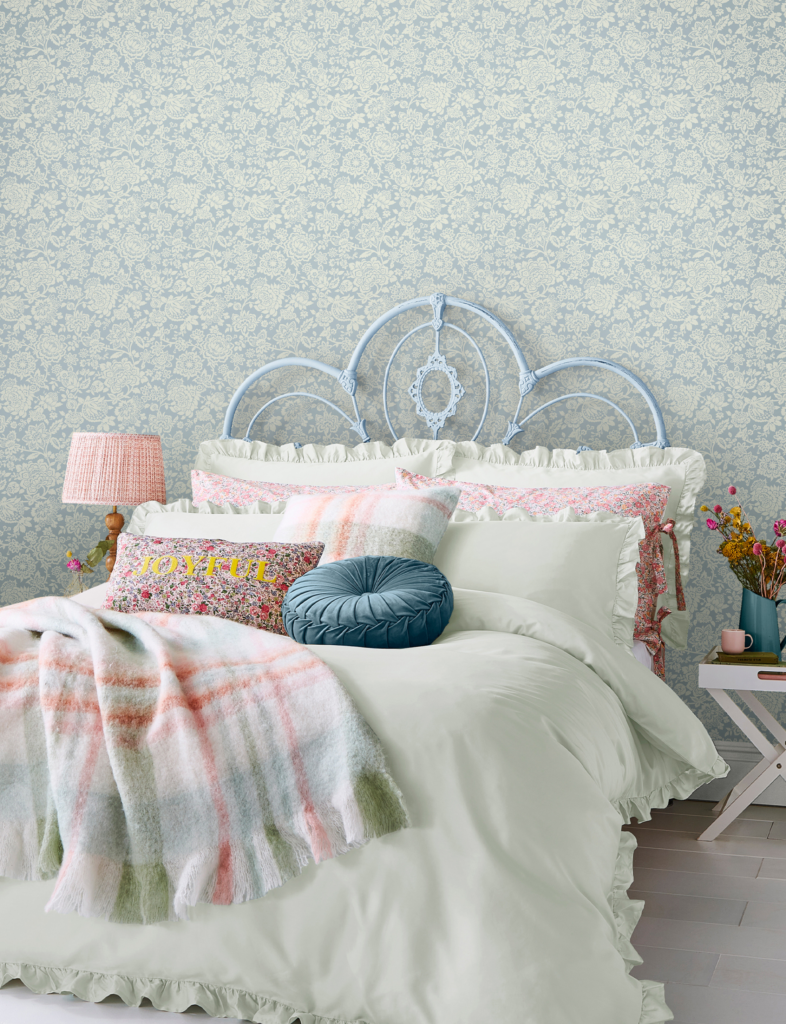 What makes Laura Ashley's new wallpaper collection so special is its attention to detail. Each design is carefully crafted to evoke a sense of nostalgia and whimsy. From delicate floral patterns to bold geometric shapes, Laura Ashley wallpaper will add personality, energy or serenity to any room in the house.

Here is our guide to stylish wallpaper to create spaces you love:

Go oversized: Oversized floral patterns are a popular trend this fall. It is an easy way to add drama and depth to a room, making it more inviting and cosy. Be bold and wallpaper an entire room with a wallpaper mural, or choose one wall to wallpaper for a feature wall. The Pointon Fields wallpaper mural showcases a lively watercolour with stylised wildflowers and intertwining leaves and foliage that will invite whimsy to any room.

Hone in on happiness: Can wallpaper make you happy? Yes, it can! Take a tip from designers and use wallpaper to bring joy to your home. Cheerful prints and colours have been proven to help boost your mood. The Dandelion wallpaper is the happy print your home needs. The vintage-inspired print is from the Laura Ashley archive.

Use wallpaper as an accent: If you are hesitant to commit to an entire room of wallpaper, consider using it as an accent wall or break it up with moulding and panelling painted in coordinating colours. Adain Palace is a tonal blue watercolour style wallpaper that coordinates with several of our blue wall paints, including this Dark Seaspray Blue. Adain's grand botanical design with majestic birds of paradise takes on a fresh, modern look with a simple, serene colour scheme.

Mix and match patterns: Feel free to mix and match different patterns and textures. For example, you could pair a floral wallpaper with a striped rug or a velvet chair to create a cosy and inviting space. Our Pinford Trellis wallpaper is ideal if you love to layer prints. The elegant trellis sprig pattern is inspired by combining two prints from the Laura Ashley archive from the 1980s and 1990s.

Go subtle: Known for feminine and romantic designs, our new Laura Ashley wallpaper collection is on point for homeowners who want to add a touch of elegance and sophistication to their homes. Our line of Plain wallpapers, available in five colours, is a simplistic wallpaper design that is a great alternative to paint. The subtle pattern is sophisticated and helps rooms have depth and warmth.

Make it modern history: Floral wallpaper with a white background is a classic that feels modern all at once. Look for historical designs with a modern twist, such as geometric patterns or watercolour prints. Our Foscot Damask marries the two styles beautifully. The abstract damask print features marigold and tulip-like flowers in a watercolour style, while the intricate trellis design makes it feel soft and fresh.

Choose a hue that suits your style: Whether you prefer subtle muted tones or bright shades, opt for colours that speak to you, and you will love your wallpaper choice for years to come. If you love warm tones, look to the Trailing Laurissa print in sunny ochre yellow. Inspired by Laura and Bernard Ashley's visits to India, the classically ornate stylised floral print was first launched as part of the 1990 Home Collection.

Choose bright colours: This fall floral wallpaper is all about bold, bright colours. Think vibrant pinks, oranges, and blues. Try it in a space that doesn't get a lot of natural light or consider using it as an accent in a smaller space like a powder room or foyer. First launched as part of the 1990 Autumn Winter home collection, the Loveston print, which comes in Coral Pink and Newport Blue, is very feminine, and perfectly delightful.

Make it feel hand-crafted: There is a Laura Ashley wallpaper that will suit your style and personality. Take the time to browse through the different designs available and choose one that speaks to you. If you love a heritage-inspired print that feels hand-crafted, the Whitebrook Dusky Seaspray Blue wallpaper is the one for you. Eclectic and elegant, the geometric diamond pattern with a small abstract flower could have been handblocked.

Bloom with joy: Fill any room with flowers. An all-over floral print in your favourite blooms will leave you speechless whenever you are in the space. To get the look right, opt for classic floral prints mixed with a little bit of the English countryside to bring the outdoors in. Choose pretty patterns with roses, sprays of flowers, blooming buds and trailing branches like the Country Roses, Shropshire Posy or the Mountney Garden.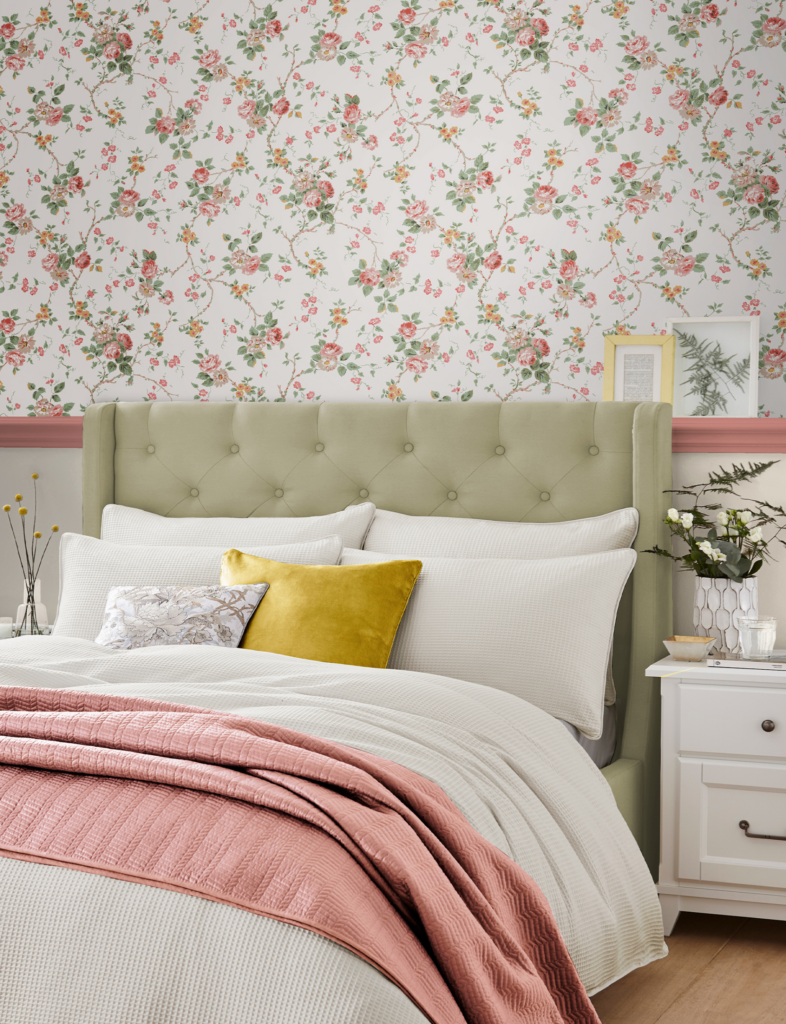 Easy to hang; easy to remove: Our paste-the-wall technology makes all our wallpapers easy to install and remove. One of our paste-the-wall designs includes the serene Fennelton print inspired by a British country lane scene with hand-painted silhouettes of cow parsley and seed heads.

Do ditsy: Ditsy prints are back in a big way this fall. Today's all-over ditsy floral prints usher in nostalgia mixed with charm in a new, fresh way. Not all ditsy floral prints look the same. Pretty ditsy roses and polka dots highlight Claudia's Friend wallpaper in subtle tones. In contrast, the Sweet Alyssum wallpaper features a botanical design of a quartet of dense potentilla-like sprigs with leaves and curving stems in a charming monoprint.

With these tips, you can easily incorporate floral wallpaper into your home and create a cosy, inviting space that reflects your style and taste.
What room in the house do you want to wallpaper? Comment below, tag us @lauraashleyusa or use the hashtag #lauraashleyusa.