7 Tips to Help You Choose Wallpaper That Is Right For You
Wallpaper really makes an impact. Finding the right wallpaper can be overwhelming but worth it if you want to create a memorable space.

We recently launched a new wallpaper collection that puts a spotlight on grand historic heirloom prints and modern designs to create a timeless collection.

To help make shopping for wallpaper a little easier, here is our no-fail guide.

1 – Turn to history: For hundreds of years, homeowners to royalty have brought nature in through wallpaper. If you want a wallpaper that will stand the test of time, choose prints with a mix of birds, branches, and florals for a wallpaper that you will love for years to come.
2 – Choose the colours of nature: There are many difficult decisions when decorating a home, but wallpaper does not have to be one of them. For a tranquil look, tap the muted colours of nature for a palette that works in any space.
3 – Let your home guide you: The architecture of the home is a great place to turn for design direction. Oftentimes, a geometric print or repeating pattern is just the thing you've been looking for but make sure the wallpaper print pays homage to the home's personality.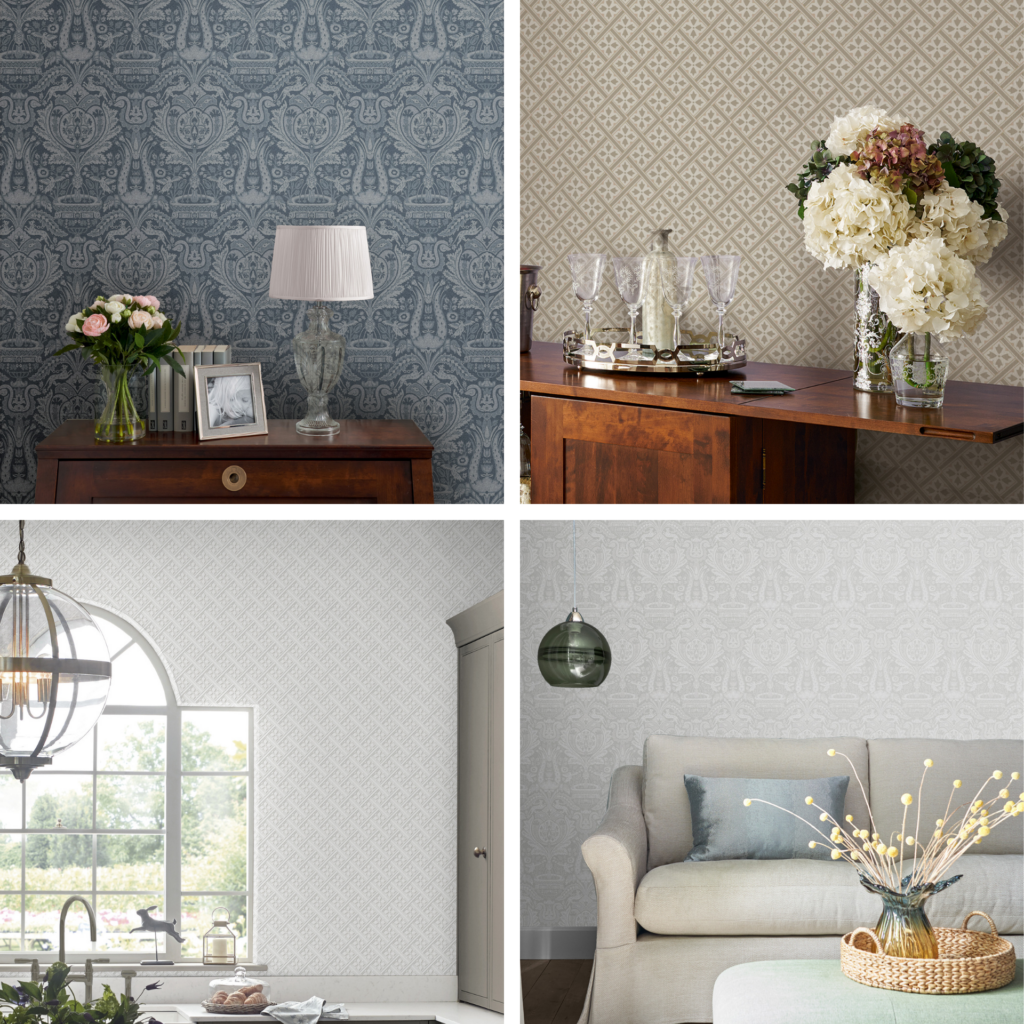 4 – Choose a designer favourite: Interior designers know how to take a room without personality and turn it into your favourite space in the home. Learn from the masters and play with scale to make a lasting impression. Scenic wall mural wallpapers are a simple and easy way to make a big impact.
5 – Uncover the latest trends: Movies and television shows are a great resource if you are looking for inspiration. Thanks to the Netflix show Bridgerton, formal wallpaper is popular again. Once reserved to formal living spaces, ornate wallpaper takes on a new look when used in the bedroom, office, or kitchen.
6 – Choose classic combinations: Colour is such a personal choice but there is one colour combination that tops everyone's list. When in doubt, turn to the classic pairing of blue and white prints for inspiration.
7 – Balance rooms with bold blooms: Choose a bold wallpaper with colourful florals if your room is begging for personality. Balance with solids in neutral colours when it comes to a headboard or sofa and add an accent such as a blanket, pillow, curtain or a chair in one of the shades pulled from the wallpaper print for a pop of colour.
What are your no-fail design tips? We would love to hear! Comment below or tag us at @lauraashleyusa or use the hashtag #lauraashleyusa.