Artist Cara Rosalie Olsen Shares Hand-Painted Shell Art
While you summer at the coast or holiday at your favourite seaside spot, we tapped artist Cara Rosalie Olsen of Rosalie Gwen Paperie to show us how to turn vacation treasures into home decor that can be used all year long.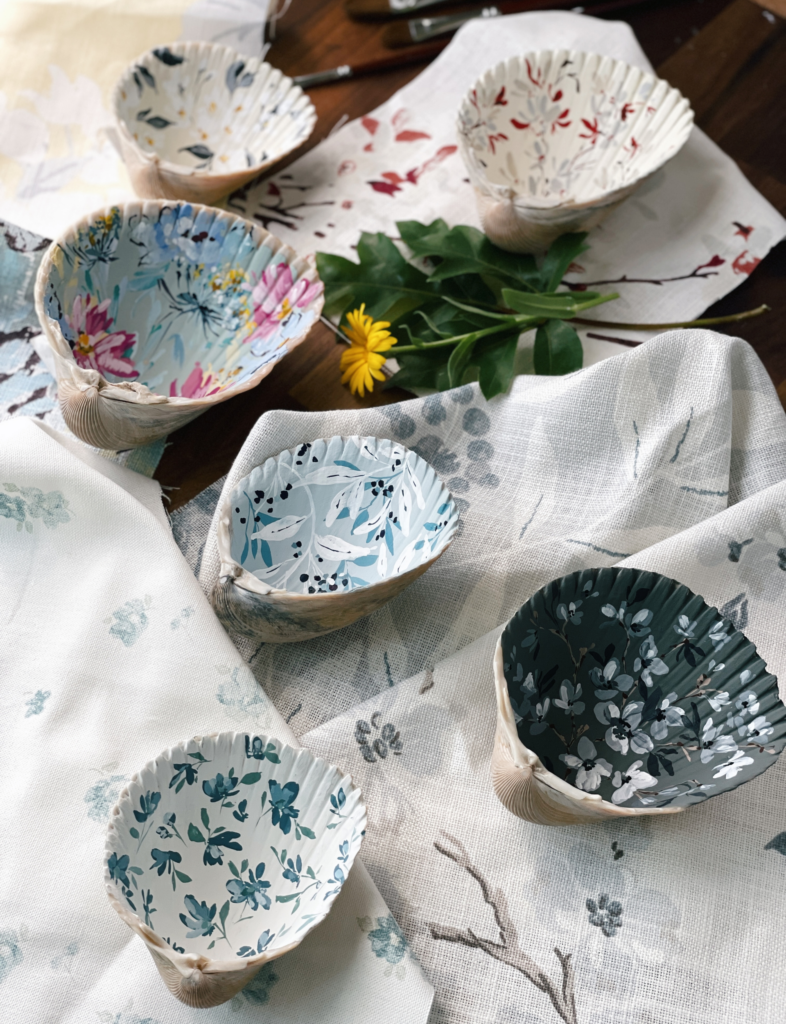 Cara is a fine artist and watercolour instructor, who specializes in painting florals. We recently collaborated by sending her popular Laura Ashley fabrics as inspiration and she showed her artistic creativity by painting our signatureflorals on the inside of the shells.

If you don't have a shell from a recent vacation, don't worry. You can find shells at your local craft store or online at Amazon. Cara shared her expert tips and offered these suggestions if you want to tap into your artistic side and try painting on shells.

Cara's Expert Shell Tip: "Prior to painting them, you will want to remove any excess sediment. If a damp paper towel doesn't work, sandpaper can be used to gently smooth the surface. I recommend using matte acrylic paint for the base and either acrylic for the design or you can also use gouache as I did. Holbein makes a wonderful Acrylic Gouache that works well!"
Recently, Cara created a stir on her Instagram @rosaliegwenpaperie by showing her followers that she uses the shells as a jewelry holder. We love this idea and think a painted shell would look lovely on a dressing table or bedside table for a beautiful place to hold your jewelry.

For a conversation starter, top off a stack of books on a bookshelf or coffee table with a painted shell to add interest and texture

Having a hand-painted shell would also be a great gift for guests at a baby shower or would look great at each place setting at a wedding shower.
Be sure to follow Cara as she paints her way through a life filled with florals at @rosaliegwenpaperie. For more Laura Ashley-inspired art, click here.
Tell us about your summer holiday and your favourite treasures brought home by commenting below or tagging us at @lauraashleyusa or #lauraashleyusa.